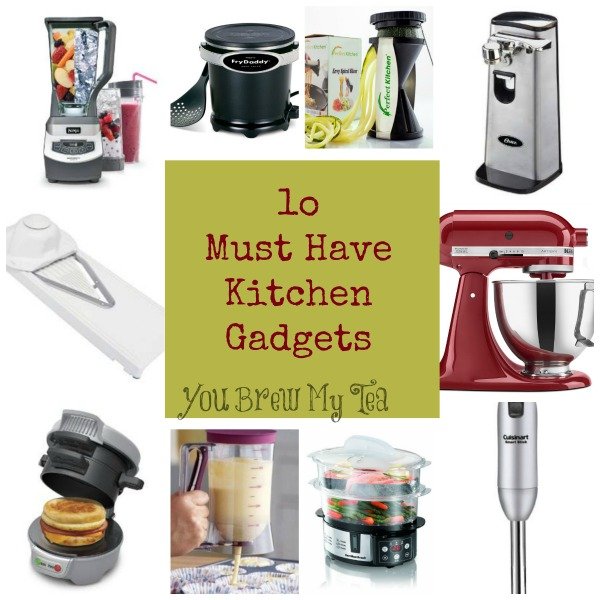 Are you a foodie looking for some suggestions for Christmas gifts for your spouse? Or are you on the hunt for the perfect kitchen gadget for your favorite chef?  I have gathered some of the coolest items in this list of 10 Must Have Kitchen Gadgets I could find for you to add to your collection. From the standard Kitchenaid mixer to spiral slicers you can find something that will enhance your cooking experience.
 10 Must Have Kitchen Gadgets
1.Cuisinart Immersion Blender- This is a must for the home cook when preparing  soups, sauces, drinks, purees, pancakes, crepes, and dressings.
2.  Kitchenaid Mixer- To me this appliance is THE most important one to have in your kitchen next after the refrigerator and stove.  I use mine easiy 4-6 times per week for mashed potatoes, cake batters, cookie, homemade whipped cream, and more.
 3. Ninja Mega Kitchen System- After the Kitchenaid I think this is a great general appliance to have, it is great for everything from a food processor, to ice chopper, to  drink blender, and even pulverizing things like cinnamon sticks or other dried spices.
4.Swissmar Borner V-1001 V-Slicer Plus Mandoline- Love thinly sliced white or sweet potatoes for frying or gratin? This is how you get them, it is just nearly impossible to get them thin enough with a standard kitchen knife
5.Hamilton Beach Breakfast Sandwich Maker- We are big breakfast eaters in my house, and this sandwich maker will make quick work of your morning sandwiches at home- no need for a run through the drive thru.
 6.Hamilton Beach Digital Steamer-  Lobster, fish, veggies, whole corn on the cob, potatoes, and rice can all made in a steamer, and even all at once. This is a great small appliance to have for busy, busy nights.
 7.Spiral Slicer- Have you seen the veggies cut into healthy spaghetti?  What if you could get your kids to zucchini noodles with marinara sauce? Would that change your dinner times or what? I had to throw this one in my cart, I have 2 picky kids here but I don't think they can resist fun veggie noodles.
8. Oster Electic Can Opener- A great replacement for hand cranked can openers this beautiful stainless look one would be pretty on your counter, and save your hands.
9. Presto Fry Daddy- If you fry much, or even just a few times a month this is a convenient gadget to have on hand.  Oil stays contained, and you can get more accurate readings on the temp which saves you from burning.
10. Cake Batter Dispenser- This was something I am almost embarrassed to say I didn't know even existed. Perfectly fills cupcake and muffin tins to the correct batter height. I also can see this making evenly dispensed pancakes and crepes too.