Our friend Jess is back again this week to share some of her 10 Tips For Traveling Alone.  There may come a time in life when you need to travel alone or perhaps you just enjoy the tranquility of traveling by yourself. However you look at it, traveling alone can be a huge risk. It's important to be prepared anytime you decide to travel by car, plane, or bus alone. Check out these tips for traveling alone.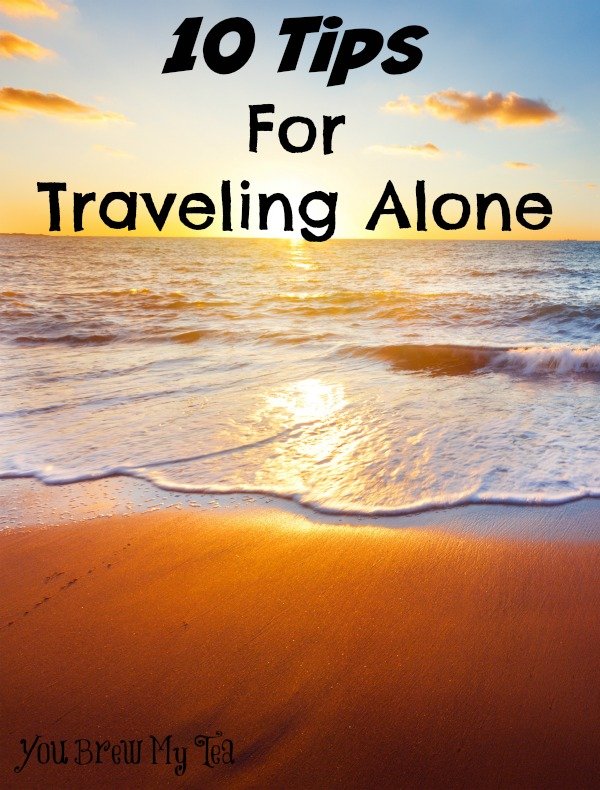 10 Tips For Traveling Alone
#1. Tell someone where you're going- As tempting as it is to want to get some isolation, make sure you tell someone where you're going. This is a very important step, you always want someone to at least have an idea of where you're going.
#2. Stay alert- It's easy to let your guard down whenever you're traveling alone. You can stay alert by knowing what's going on around you and paying attention to others. Always make sure to look in all directions, so you can become more aware of your surroundings and who is in your vicinity.
#3. Plan well- It's more than okay to have spontaneous parts of your trip, but for the most part it's important to plan well. Planning includes knowing where you're going and having a few pit stops in mind.
#4. Meet new people- Just because you're traveling alone, it doesn't mean you cannot meet new people. Step of your shell and say hello to a few people while you're traveling. Just be certain not to give out too much personal information.
#5. Bring walking shoes- Traveling alone means you will probably do a considerable amount of walking. Make sure you either pack walking shoes or some other pair of comfortable shoes.
#6. Write things down- A perk of traveling with others is you can double check a schedule with them. Traveling alone means you're relying on yourself. Always write things down to help you remember them better.
#7. Eat at restaurants alone- Although it may seem weird to "eat alone", you don't want to miss out on awesome opportunities because you're nervous.
#8. Keep track of your money- Don't place all of your money in one place. Try to carry some cash with you and leave some at your hotel room. You don't want to be lost without any cash to help you reach your next destination.
#9. Photo copy important papers- If you're traveling overseas, it's a good idea to photo copy your most important papers. If anything gets lost, you at least have photo copies. Leave a copy with a friend that is capable of faxing or mailing them to you and also email a copy to yourself.
#10. Take lots of pictures- You don't want to get so caught up in worrying about everything that you forget to document your experiences. Take lots of pictures and keep a journal of everything that you come across. (You can't rely on someone else to take pictures for you when you're traveling alone).
Traveling alone can be a marvelous experience. What are some of your best tips for traveling solo?
Jess Weaver is a copywriter and social media expert. She's also the mom of three awesome boys and a little girl on the way. During her free time you can catch Jess trying to crochet. She also has a wonderful husband in her life. She enjoys writing on topics of working at home. You can find Jess at www.jessleewrites.com.