We are HUGE American Girl doll fans at my house, we have one and a few items of clothing and accessories. While they are my daughters favorite toy they can get pretty expensive pretty quick.  Browsing on Amazon I found 12 great items that would be amazing to fill out your American Girl's wardrobe and delight your little girl without breaking the bank.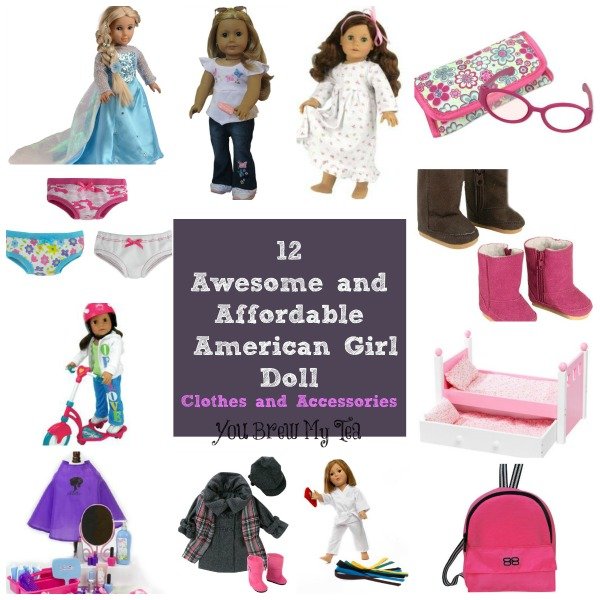 1.Elsa Dress - With the massive popularity of Frozen this one is a hot one on the little girl circuit.

2.Jeans outfit- Sweet from top to bottom this trendy outfit is adorable and will have your American Girl doll strutting.

3.Nightgown- Pretty for bedtime, a little flannel nightie to bring sweet dreams.
4. Glasses and case- I adore the cute little accessories that you can find to fit and personalize your doll. They things are especially nice for the  doll of a girl who has to wear them herself.

5.Boots- Even 18" vinyl dolls get chilly feet, warm them up in style with these inexpensive but stylish boots.

6.Trundle Bed- Sleepovers are just cooler when you have a cute little bed made for two like this on hand.

7.Backpack- For toting books or clothes, this backpack is pretty and is an awesome value!
8.Underwear-3 adorable pairs for the modest doll, your little girl will love these!

9.Coat set- Coat, hat, scarf , and boots make for a snappy winter ensemble.

10.Salon- I know my little girl could spend HOURS setting up and playing with this pretty salon set, so many pieces and ways to play.

11.Helmet and Scooter- For the girl and doll on the go this adorable set gets them rolling.

12.Karate Set-  Not all girls strive for pink tutus and a princess crown, whether your little girl is a karate kid or not show them their is more to them and their dolls than pink parasols.
This is a great list of awesome and affordable American Girl accessories that are perfect for going under the tree for your daughter this year!