I am currently looking for some plus size fall fashion pieces that will help me feel more put together this year in my new community.  I have gotten so used to wearing frumpy pajamas and leggings every day, that I have forgotten how much I like wearing something pretty every day.  I still love wearing leggings, but now I can grab the fun patterns from Legging Army and wear a nice tunic to really dress it up.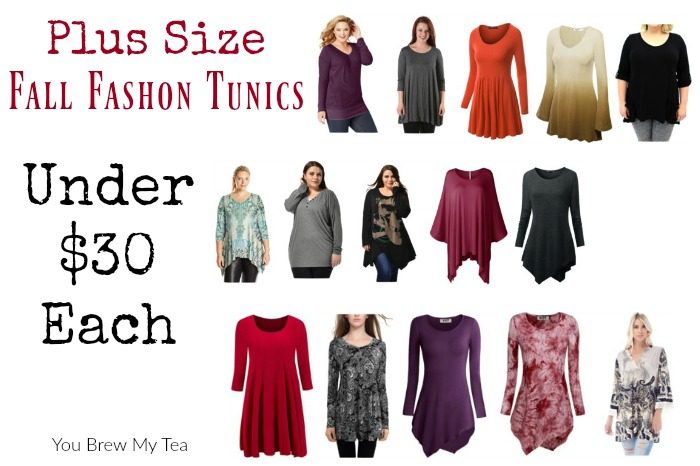 15 Affordable Plus Size Fall Fashion Tunics
This post contains affiliate links. 
These plus size fall fashion tunics are some of my favorites.  The best part of these is not just how versatile they are for going with leggings, skirts, or even jeans, but how affordable.  My goal was to find the best options available in plus sizes under $30.  Most of them are actually under $20 shipped.  That makes it even more reasonable to update your wardrobe.  Shopping results are some great options that are inexpensive, quality, and gorgeous!
I love wearing these with my Legging Army leggings.  Legging Army has some amazing fun colors and patterns that are under $20 per pair shipped.  They are also super soft and breathable so they transition well from summer to fall and into winter.  If you decide to grab some of them for your own wardrobe, make sure to put my name (Katie Hale)  as your affiliate when you purchase.
Plus size fall fashion doesn't have to cost tons of money.  For me, staying in budget is always a factor when shopping.  As I work to lose weight and get healthier, looking nice in the process is a must.  I am far from vain, but I have to admit that being able to look nice really makes a big difference in how I feel overall.  So, investing in a handful of pieces that fit well and flatter my body through the transition is a must.
More Plus Size Fashion Tips: