As we head toward another back to school season, I thought I would share my top 20 Major Pros And Cons Of Homeschooling with you.  If you have been around here for long, you know that homeschooling has never been my first choice.  I am happy about many aspects, but having been homeschooled myself as a child, I never wanted to do it with my own children.  However, life, bad school districts, and a desire for our son to learn more meant we have for the last few years.  This year will hopefully be our last year homeschooling, but that doesn't mean we won't be without some sadness with the change.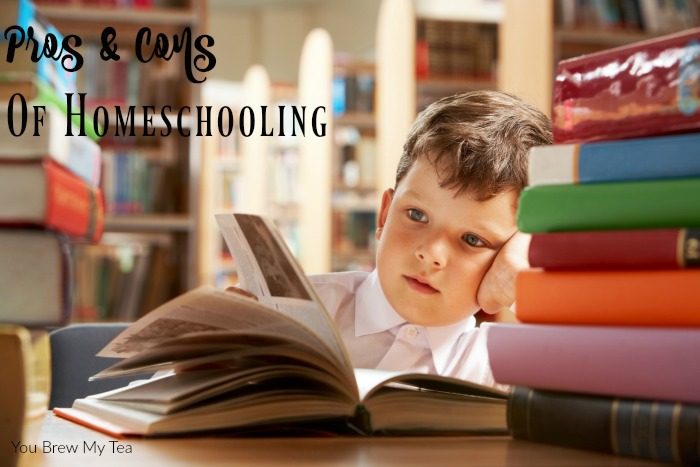 20 Major Pros And Cons Of Homeschooling
I am always asked what the pros and cons of homeschooling are from my friends considering taking on this educational adventure.  It's easy for me to pop out the pros right away, and then I have to face the truth of the cons.  For us, homeschooling just isn't a natural choice, so there are some cons that we think of right away.
Pros of Homeschooling:
Convenient for easy scheduling around travel, work needs, appointments, and family events.
We can educate our son on his level and for his specific needs.
We learn new things as we teach him.
Education becomes a part of everything we do, not just in the classroom setting.
Being able to teach more than just the basics shown in the curriculum.  In-depth studies on topics your child loves.
No set hours or times you have to get up and start school work each day.
Seeing your child understand something for the first time.
Tons of free resources for every subject your child loves.  Robotics, building, engineering, programming, and science are big in our house.
Better relationship and understanding of each other as a family unit since you spend so much time together.
No special brand of clothing, uniform, shoes, or accessories to meet dress codes.
Cons of Homeschooling:
You are solely responsible for your children learning and being educated properly.
Judgment from those around you that don't understand your choice.
Lack of secular curriculum available free or inexpensively.
Keeping track of documents, forms, portfolios, and all of the necessary papers required by the state can be a hassle.
Worrying that your child won't be up to standard with other students their age.
Lack of homeschooling groups that aren't directly associated with a specific church or religious group.
Frustrations when your child doesn't understand a concept and you can't figure out how to make them "get it".
Nobody to teach them about art, music, or physical education concepts without more out of pocket expense.  (These aren't easy for us).
Having an only child who struggles to find playmates in our current neighborhood and doesn't fit into the local co-op groups.  (Soon to change as we move to a better area for kids).
Lack of personal time away from your child.  There is never a break which makes it tough for me to work some days, and for us to have alone time as a couple.
If you are considering homeschooling, our list of pros and cons of homeschooling may be a great place for you to consider the benefits.  This list is short, but it really does capture all of the most important things for our family.  We love the flexibility of homeschooling our son, and he has thrived in many ways, but we do wish we had been living in an area with more kids and better opportunities for him to socialize more frequently.  As we move to a new neighborhood and home, I look forward to seeing him thrive both in homeschooling as well as the transition to a traditional public school next year.
Are you looking for more homeschool support?  Come join our Homeschooling Lazy Parent Style group today!
More Homeschooling Tips: