Busy moms and busy families mean it can be tough to feed your family a healthy meal on a busy weeknight. These 5 Ways To Save Time On Weeknight Meals will help take some of that stress out of your week and allow you the privilege of sitting down for dinner, relaxing in front of the TV or even shooting hoops with your son after school and still feeling like you are giving them the best you can on their plates each night. A healthy meal can happen easier when you spend some time prepping ahead and making things come together for fast and easy dinners everyone will love.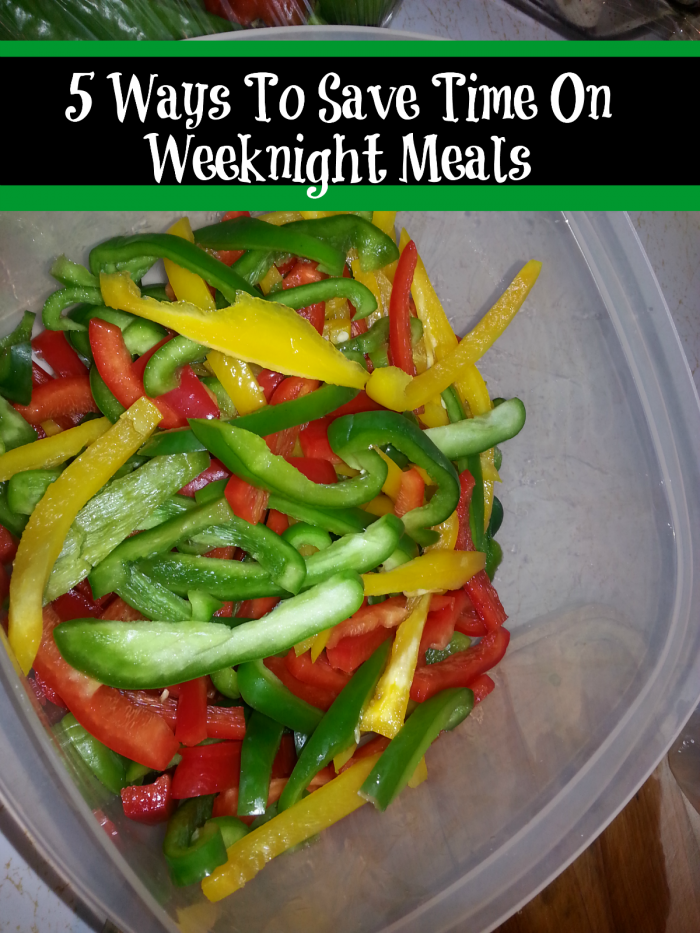 5 Ways To Save Time On Weeknight Meals
This post may contain affiliate links.
Prep Vegetables In Advance. Each weekend when you get home from buying groceries immediately prep your vegetables for the week. Slice peppers, onions, squash, tomatoes and any other commonly used vegetables and store in airtight containers or plastic bags for easy grab and cook healthy meals throughout the week. It's much easier to simply grab a bag out of the refrigerator and toss into a pan to cook than to clean and prep as you go each night.
Cook in large batches for leftovers. Make a double batch of your favorite healthy meal so you have 2 nights of food instead of just one. Things like tacos, spaghetti, lasagna and even grilled burgers can all be done in larger batches to allow for two or even three evenings meals. If your family doesn't like to eat the same thing two days in a row, simply store and freeze the excess in well-labeled containers to pull out at a later date.
Use your freezer. As mentioned above, make double batches and freeze half for future use. Most casseroles, soups and many meat dishes are easy to freeze and last for 2-3 months if stored properly in your freezer. Always make sure to mark appropriately with the meal name and date frozen. This can make grabbing a healthy meal from the freezer easy for anyone in the family.
Get kids involved. Even your youngest kids can help with things like getting salad dressings and toppings out and on the table or even stirring the cheese into your macaroni and cheese while you get the chicken out of the oven. As soon as they are old enough to understand basic kitchen safety, get them involved in weeknight meal prep. It gives you time to chat and helps them learn more responsibility.
Go vegetarian. One of the most time-consuming parts of our evening meal tend to be cooking the meat portion of the meal. Pick 2-3 nights per week when your family goes all vegetarian for dinner. Meatless pasta, vegetarian quesadilla's, bean burritos, curry, vegetable soup and many more options are quick and easy meals that can be prepared in 15-20 minutes and satisfy the pickiest of eaters.
Remember that menu planning and teamwork go a long way toward making healthy meals in the evening as a family doable on busy weeknights. Make sure to include everyone in the menu planning so no family member feels left out of the decision-making. Prep as much as you can ahead of time so when meal time comes all you have to do is assemble. Enjoy the time with your family and remember that semi-homemade is just fine on occasion.
Check out some of our favorite easy healthy meals for busy weeknights!
Unstuffed Cabbage Roll Soup
Homemade Refried Bean Dip
Penne Pasta with Parmesan, Garlic & Red Peppers
Cheesy Ranch Chicken Quesadillas
Slow Cooker Teriyaki Chicken