If financial stability is on your list of goals or resolutions this year then this list of
best ways to save money
 is a great start to meeting those goals.
Apply some simple principles to your daily life and shave some money off your budget easily.  While not all of these will apply to your family and household you are sure to find a few things on the list to help you begin your journey to financial security.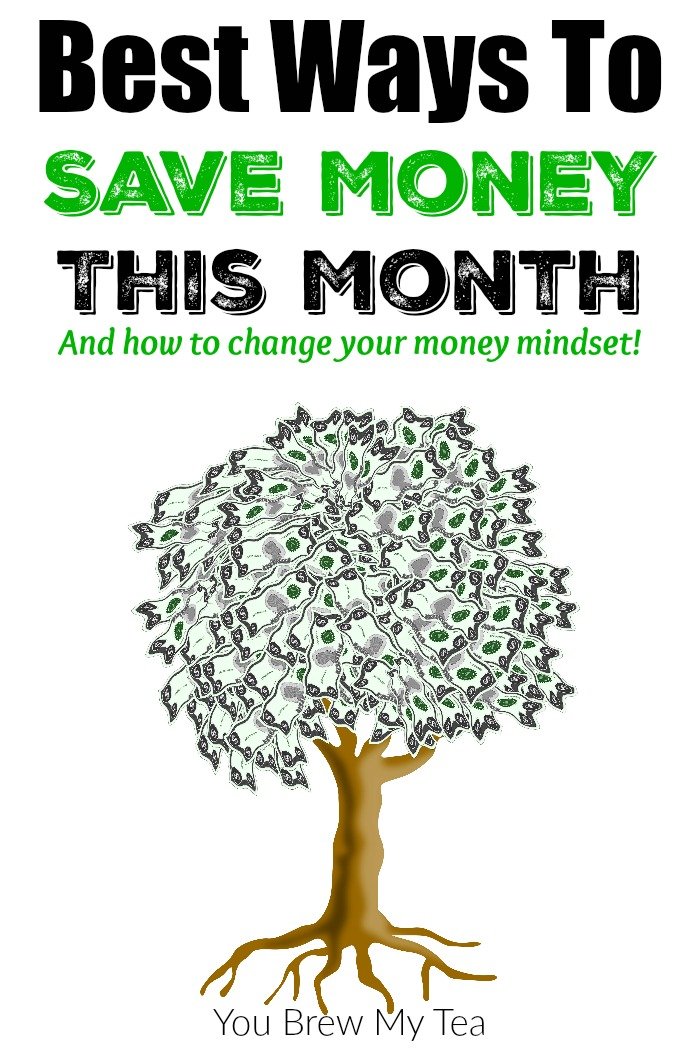 Best Ways To Save Money This Month
This post contains affiliate links.
Everyone is on the lookout for the best ways to save money.  This list gives you an easy $100 each month.  There are a ton of other ways to save and make money which we will share at the end of this post,  To begin, we will start with the basics.  This list gives some of the best ways to save money that literally anyone can implement into their routine.
Get rid of paper products and use cloth instead.  
Pick up a yard of sturdy cotton or linen fabric at your local craft store for under $5.  Cut into 10"x10" squares and hem the edges for a simple cloth napkin that will cut back on your paper towel usage at meal time.  For a family of 4, within a year you have saved $60 or approximately $5 per month on paper towel costs. 
Some women even use Mama Cloth, and my friend Christine from Saved By Grace Blog has a great tutorial on how to make your own homemade cloth sanitary napkins.  This along with cloth diapering has become a really popular trend that with a small upfront investment can save hundreds or thousands over a few years. 
Skip the specialty food items.  
The average large plain coffee is $2.50-$3.00 at a local coffee shop.  Add in your favorite flavor, cream, and sugar and you have a $4-$5 expensive morning drink.   This same thing happens when you pick up meal kits, take out, rotisserie chickens in store, and a multitude of processed and specialty foods.
The best thought process to avoid spending too much is to really focus on menu planning and remove the specialty food items when possible.  That doesn't mean you shouldn't enjoy flavors or try new recipes.  It means that instead of taking your family out for a special dinner, you should explore making that meal from scratch at home.
I love my friend Kristi's Meal Planning Guide and the tips she uses around shopping at Aldi.  She just shares real solid tips for making a meal plan work for your family.  Plus, I love that she focuses on easy foods that are super family friendly.  I love to cook exotic treats and try new flavors, but when you are budgeting it's a good time to focus on the things you know your family will love.
Cut back on entertainment expenses. 
Instead of going out this weekend for dinner and a movie with the family create a fun movie night in.  Make your own pizzas, pop popcorn and grab a few bags of your favorite candy at the dollar store.  View a movie from your collection or rent at one of the local $1 kiosks like Redbox or Blockbuster.  Spend $15-$20 for movie night in instead of $100+ for a movie night out.
We also love looking for what we call "Cheap Seats" theaters.  We currently have one in our new hometown in Michigan that charges $4 for any movie before 5pm.  After that, it is only $6 per ticket.  The best part is that these are often new release movies and are on the same awesome larger screen you love.  We can skip the snacks and easily go to a new release movie for only $12!
Date nights are something we really feel are important as well, but that doesn't mean you have to spend a ton of money to make them happen.  We really feel there are some major benefits to keeping your relationship strong by continuing to date.  My friends Tatanisha & Derrick from A Worthey Read have shared a list of 99 Free or Frugal Date Night Ideas.  I love this list because it includes some quiet things and some super fun things that will help you to get outside your comfort zone with your spouse.
Some more tips for keeping your relationship strong while living on limited income: 
Focus on NEEDS versus WANTS.
Hands down, one of the best way to save money is to really think about your needs versus wants.  How much of what you use and buy each day has more to do with what you want than what you need?  We've given tips in the past about dropping things like cable television or getting rid of a second car.  These are all good ideas.  You know the drill.  If you are looking for ways to save money, you have read these things before.
Let's get serious though for a minute.  In my opinion, it's not just about getting rid of those little daily expenses.  It is about getting a new attitude that focuses on your big picture goals.  What do you and your family NEED to do to make the big picture goal to happen?
I am one of the first people to tell you that living paycheck to paycheck is something nobody wants to do in their life.  I also understand how hard it is to get a job in this society.  Especially if you have ay kind of issues in your past.  Whether you lack education, or you have a criminal background to overcome, it is tough.  That doesn't mean you give up.  What are your needs?
Spend time every day focusing on your needs.  Yes, make a budget and get rid of the things that you don't need to pay for.  Also, take a good hard look at what else you could do to increase your budget and eliminate the paycheck to paycheck mentality.  If you need an extra $50 to pay rent this month, what in your home can be sold to make that happen?  If you need money for groceries, who can you help by babysitting, cleaning, cooking, or even running errands for?  Stop thinking about what you want and take a big chunk out of the financial elephant in the room by focusing on what you need.
Stay close to home. 
Do you pay attention to how much you run around your own hometown?  It may not seem like much, but those errands add up.  I'm not talking just about vehicle expenses. I am talking about the time it takes you to go across town for just one item or the inevitable drink or snack you pick up while you are there.  We waste so much money not just on gas and commute expenses, but on those impulse buys.
Take a moment to focus and look at your expenses from last month.  How many candy bars, drinks, packs of gum, or other little incidental purchases did you make out of convenience?  We seem to get distracted by those little $1-$2 purchases not being much.  The problem is, they add up fast.
Become satisfied with your appearance. 
This one is tough, but it is worth mentioning.  I'm not talking about being healthy or losing weight here.  I am all about fitness.  What I am talking about is that desire to buy something new or different so you feel like you look better.  Yes, it is okay to practice self-care.  I am all for taking time for yourself, and even splurging.  The problem comes when our splurges are no longer occasional and soon become routine.
A few things to consider: 
Rather than buy new clothing, update something you own with fabric dye, embellishments, or tailoring to a new fit.
Cut and color your hair at home instead of going to a salon regularly.  For many, it is super easy to spend less than $20 one time on a set of Wahl hair clippers and practice cutting their own hair at home.
Buy nail polish and a manicure set to update your nails at home instead of the salon.
Sure, these things may already be on your list.  I understand that.  They are often some of the first things we drop when finances are tight.  Yet, have you really looked at it as not just a want, but an internal satisfaction with yourself?  One of the best ways to save money is to become content with what you have and who you are.  It begins inside, and this is one great place to start working on it in your own life.
Live with a bit of discomfort. 
When I met my Beau, the first summer together I felt like he was torturing me with the air conditioner being turned up so high in the house.  Don't even get me started on the fact that he rarely turned the air conditioner on in the car.  I was miserable in the heat.  Funny thing about it was that within a few days, I had acclimated to the higher temperature.
He wasn't trying to keep me from being comfortable.  He was simply trying to adjust to save us a little bit of money.  You see, to him, an extra $20 he didn't pay in utilities meant a date night to a movie for us later that month. He was trading a minor discomfort for time out with me.  I can't complain about that, can I?
Over time, I realized that it really is easy to turn the thermostat up or down a few degrees depending on the season.  I also learned very quickly that you can always use a fan or add more layers of clothing or blankets if needed.  The result was a minor discomfort, but a ton of savings over the course of a year.
Change your thermostat 2-5 degrees for heating and cooling savings.
Use a programmable thermostat to avoid cooling or heating your home when you are away.
Take shorter showers and fewer baths to conserve water.
Eat more leftovers and have fewer of your favorite or preferred meals.  (For me this means giving up chicken breasts in favor of chicken thighs when they are cheaper).
Skip soft drinks, juices, and alcohol and choose water instead.
All of these methods are easy things you can do that might often be considered common sense things anyone would think of.  But if you are like me, you forget about the basic things sometimes.  More so, I really wanted to focus not just on the "things" to change, but on the mentality behind it.
To really use the best ways to save money to your advantage, you need to begin inside.  Your own attitude and determination are what makes the effort worthwhile.
More Frugal Tips: