I participated in an Influencer Activation on behalf of Influence Central for Folgers. I received product samples to facilitate my review and a promotional item to thank me for my participation.
It is no secret that I love coffee.  I especially love flavored coffee.  This summer I got to enjoy and review Folgers Iced Coffee Flavors, and now they have given me the chance to review their all new Folgers Flavors Coffee Enhancers as part of their #RemixYourCoffee campaign.  These fun little bottles of flavor are so easy to add to your coffee on the go!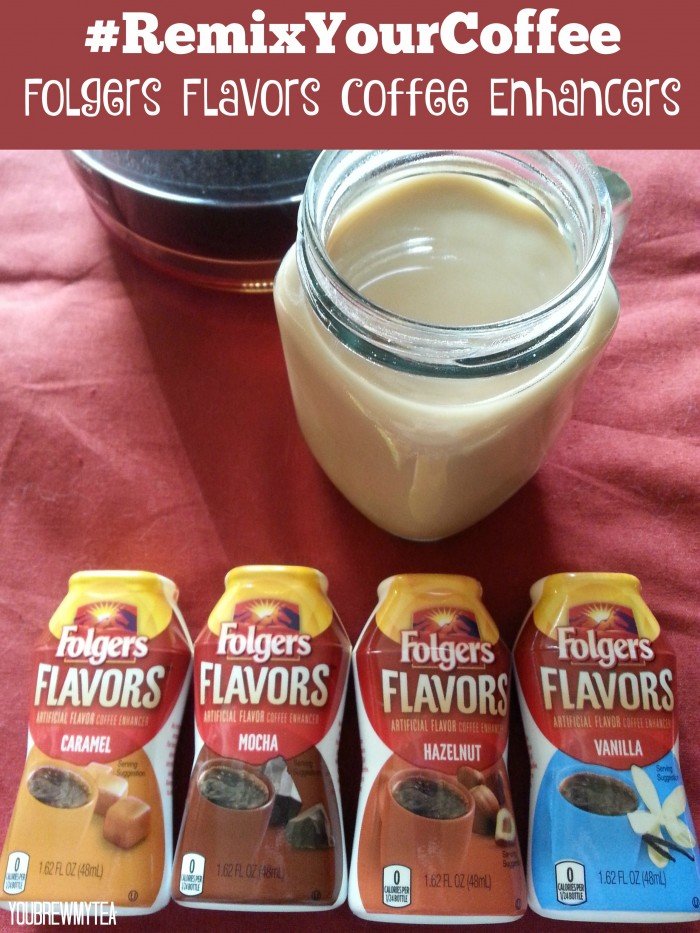 #RemixYourCoffee With New Folgers Flavors
I love coffee, but I hate paying a premium for it when we are out and about.  The fancy coffee drinks with fun flavors are just overpriced in my opinion.  In the past, I would usually just skip buying it, but now I can keep my favorite Folgers Flavors in my purse and use no matter where we are.  To me, this is the ideal solution.  Instead of paying $5 for a caramel coffee, I can pay $2 for a plain coffee and add my Folgers Flavors Coffee Enhancers Caramel flavor to my coffee instead.  How about that for a frugal way around pricey coffee at the local shop?
I was sent 4 Folgers Flavors to test: 
Folgers Flavors Coffee Enhancers Caramel
Folgers Flavors Coffee Enhancers Mocha
Folgers Flavors Coffee Enhancers Vanilla
Folgers Flavor Coffee Enhancers Hazelnut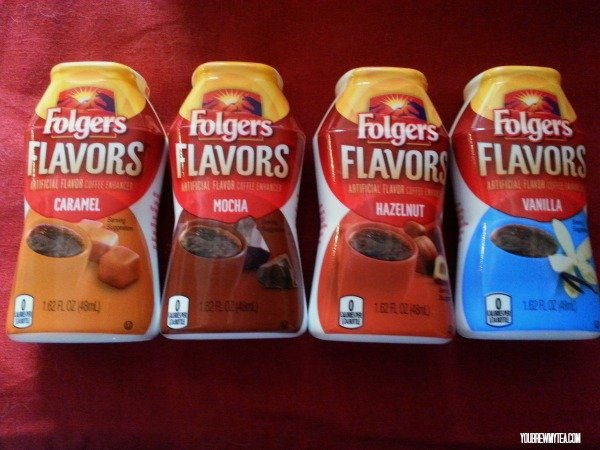 Why are Folgers Flavors Coffee Enhancers a great new addition to their product line?  Because the offer convenient, affordable, low-calorie flavors for your coffee no matter where you go.  I drink coffee at home most of the time, and since I am the only coffee drinker regular flavors tend to go bad before I can use them all.  When I am out and about, I love having flavored coffee, but I hate the high sugar and calorie content and the extreme price hike that comes with the flavor.  Adding these to my bag made them a great solution.  Especially for our long Tuesday's when we get out of the house a few hours earlier than normal, and I always end up needing a bit of extra caffeine to keep going.
I personally loved the Folgers Flavors Coffee Enhancers Caramel and Vanilla the most.  Both Mocha and Hazelnut are great as well, just not my favorites in the group.  I love that these don't need any refrigeration and are so small they fit easily into my small bag.
Check out this fun and cool revamp of the classic Folgers Jingle done by Mike Tompkins!  We love this video and his fun YouTube channel!
My favorite way to #RemixYourCoffee: 
1 cup hot coffee
1 tablespoon Fat-Free Half & Half
1 Tablespoon Unsweetened Coconut Milk
3 Squirts Folgers Flavors Caramel Coffee Enhancers
We love our Folgers Flavors Coffee Enhancers and are sure you will also love them!  Add a few of these to your fellow coffee lovers stockings this holiday season for rave reviews!
Folgers has given our readers a chance to win their own set of Folgers Flavors Coffee Enhancers!
Giveaway ends 11/10/15 at 11:59 pm CST
How To Enter: 
(1) Leave a comment on this blog post letting us know your favorite coffee flavor.  (We do moderate comments so it won't appear immediately, don't worry – it is there!)
Contest entrants are only eligible to win once per sweepstake, per household as part of a campaign sponsored by Influence Central.  Must be 18 or older to enter.  Void where prohibited.  This giveaway prize will be provided by Folgers.  The blog is not responsible for delivery of contest winnings.  One winner will be chosen via Random.org and emailed from [email protected] within 24 hours of end of giveaway.  Winner will have 24 hours to respond to email to claim prize or forfeit winning and new winner will be chosen.