Thank you Qixels by Moose Toys for sponsoring this post. Click here to learn more about Qixels and how to create your own!
The Wee Child loves projects.  He loves crafts, and kits and painting and anything he can create with.  He has been this way since he was just a little toddler, and it gets better every year.  When I found out I was going to get a chance to have him review Qixels on the site, I was really hopeful that this would be another great kids activity that didn't involve batteries, tons of extra supplies or noise.  I wasn't disappointed!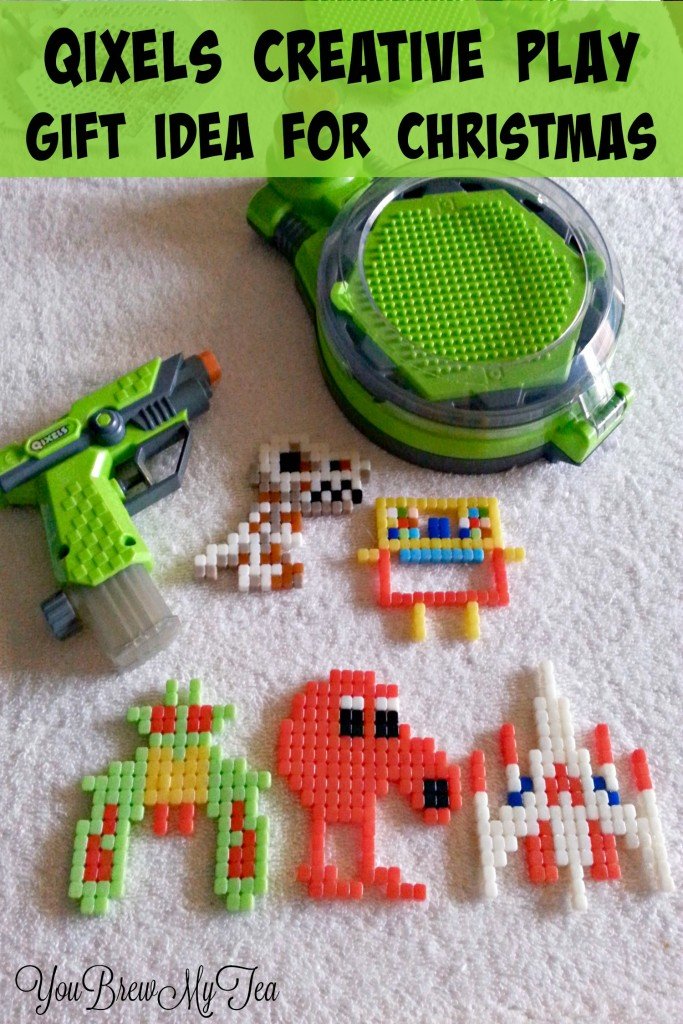 Working with Clever Girls and Qixels on this sponsored post meant I received a box with 3 distinct Qixels kits for our son to test out.  It was a huge box that included a Qixels Turbo Dryer, Design Creator, and Fuse Blaster.  Now, let me tell you – if you want an excited 8-year-old boy – just tell him that huge package in the living room floor is all for him to test out and review.  As soon as he opened it, his eyes lit up.  He has done similar projects in the past, but this fun new design was something he spent literally an hour reading about before he got started.  His all about instructions and learning – so he not only read the instructions included but went to the Qixels website for ideas, tips and suggestions.
Each box contained different things, but all could individually be purchased and used with no other supplies required other than regular tap water.
The Qixels Design Creator came with 1200 Qixels in various colors, plus some fun ready-made design templates to create things like little monsters, space ships, and even swords.  This was a great way to start since it gave the Wee Child some good ideas of how to use the design pads.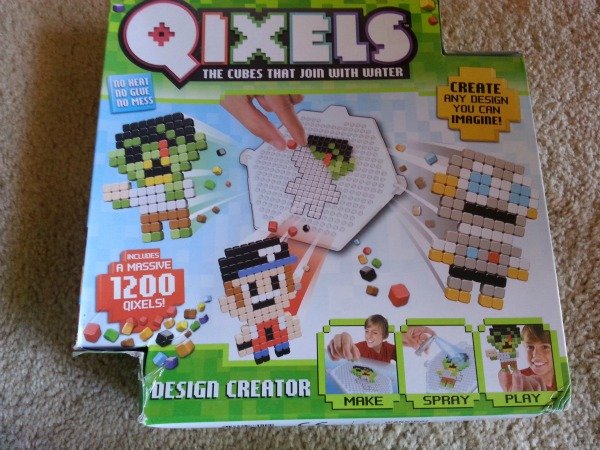 The Qixels Fuse Blaster comes with similar design pads, Qixels in various colors and a Fuse Blaster which is basically a water gun meant to use when creating your Qixels.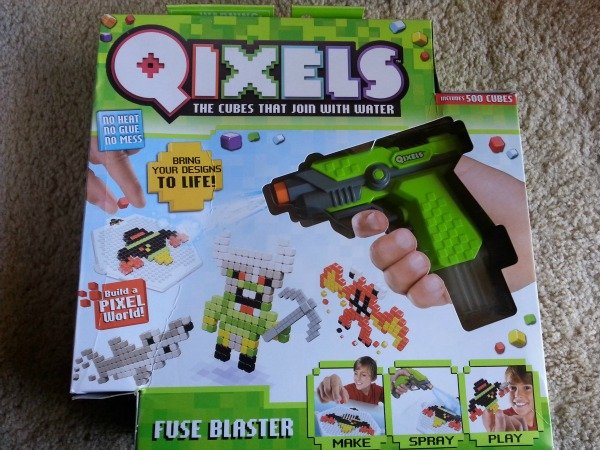 The Qixels Turbo Dryer is a great and fun way to help your Qixels dry faster.  It is a simple hand cranked system that allows you to turn the handle and spin your design plate to help the water dry and your Qixels to set faster.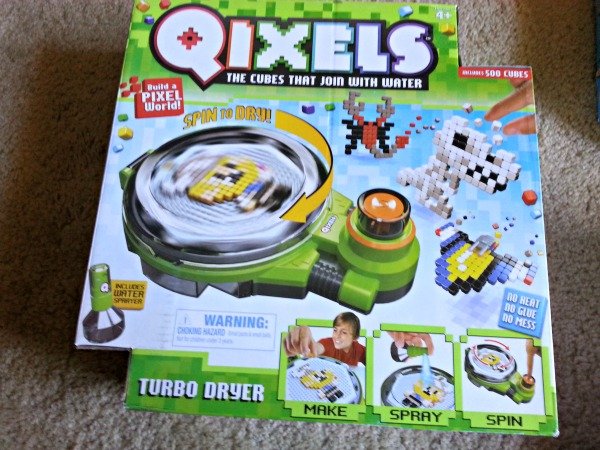 Why Qixels Creative Play Gift Idea For Christmas?
Here is the thing – these Qixels are seriously awesome.  Like, oh – hours of time my son has spent creating not only designs they provided, but his own unique ideas.  While this isn't a kit I would recommend for younger kids, or kids prone to putting things in their mouth (the Qixels are basically tiny plastic beads), it is a great choice for your kid who is in that middle age group of 5-10 years old.  Still into crafts and projects, but old enough to not put small pieces in their mouth.  Just to see how much he got in all 3 kits, he laid them out on his craft table and took a picture for you to ee.  That's a ton to work with!!!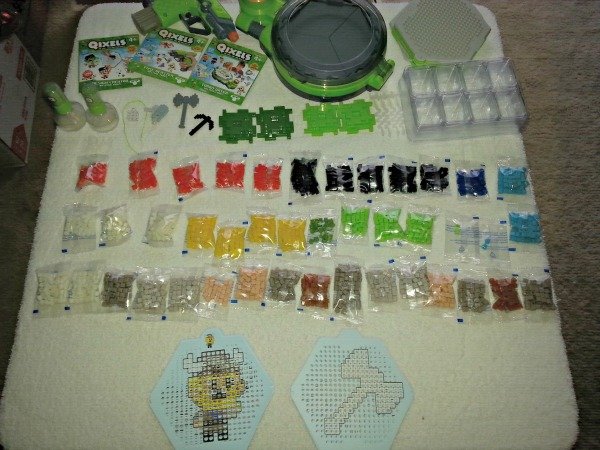 Nothing needed but water.  No electricity. No batteries. No iron like similar products require.  All you need is the design plate, the Qixels themselves and water.  That is truly all you need to use these.  For a busy mom like me, it's nice to be able to setup the Wee Child's table with his Qixels while I work and know that I don't have to jump up and monitor him using a hot iron or even plugging in a piece of equipment.  All he has to do is create, spritz with water and spin (if using the Turbo Dryer).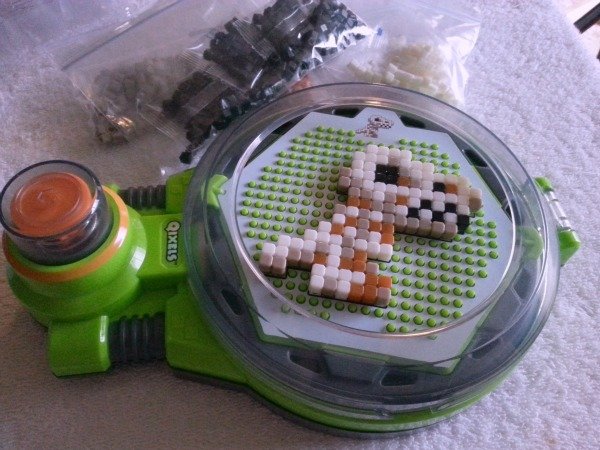 To see how they work live in action, you can check out the Qixels demo here.

Great encouragement for imagination.  As you can see in the pictures, my son not only did one of the ready-made designs for the Robot and T-Rex Bones, he immediately went to his favorite old school video games and created characters.  For those not, "in the know", that is QBert and two of the creations from the game Galaga.  He looked up their images online and simply copied the patterns all by himself.  To say I was impressed is an understatement.  He loved being able to bring to life his favorite character, and he could do this all on his own!  This is a great way for him to get away from his favorite video games and build an 8-bit character that he can play with off screen!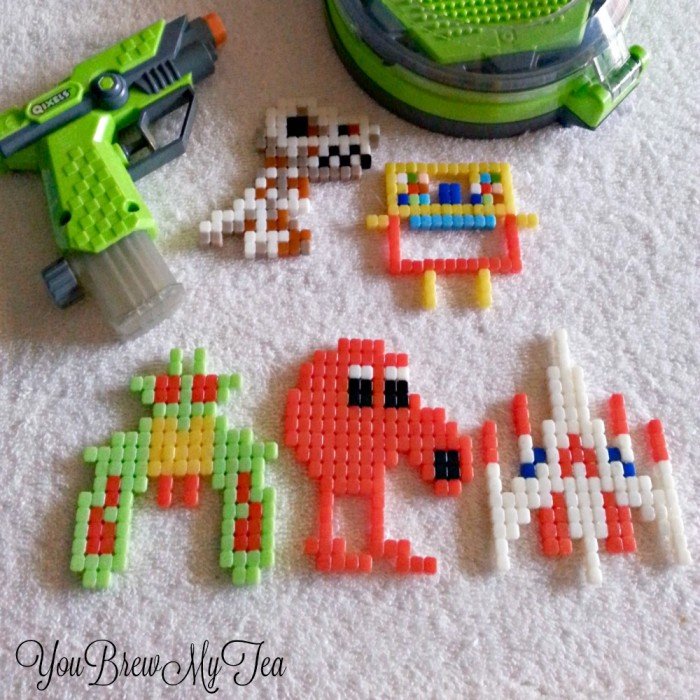 Seriously affordable.  So, I am pretty frugal and I often find toys and craft projects seriously overpriced.  When I headed to check out the prices on these in our local Target store, I was floored.  There are tons of refill options, different designs and, of course, these three kits all at great prices.  Most of which are in the $9.99-$19.99 range with a few larger pieces like the Turbo Dryer only $19.99 at our local Target! For a holiday gift that won't break or be thrown away in a week – this is a great deal.
I try to be brutally honest in reviews of products on this site.  I'll tell you if I like it but think it is too pricey, or if I think it's not so great quality but still a cool idea.  I can tell you with 100% satisfaction I wouldn't change a thing about Qixels except to have more in my home right now.  In fact, after we saw how much our son loved them, we went right away and bought refill packs to put under the tree this year.  They are sure to be a hit with him, and I am so excited to see what he comes up with next!
I was selected for this opportunity as a member of Clever Girls and the content and opinions expressed here are all my own.