We are always looking for fun things to do in the summer with our son.  Living in a hot and humid southern state means staying cool is a big part of our focus.  So, when the Mom It Forward Blogger Network contacted me about reviewing a product this summer, I knew it would fit perfectly into our tips for summer fun!  This post is a result of that collaboration, and also our need to always stay cool and have fun during the summer with our son!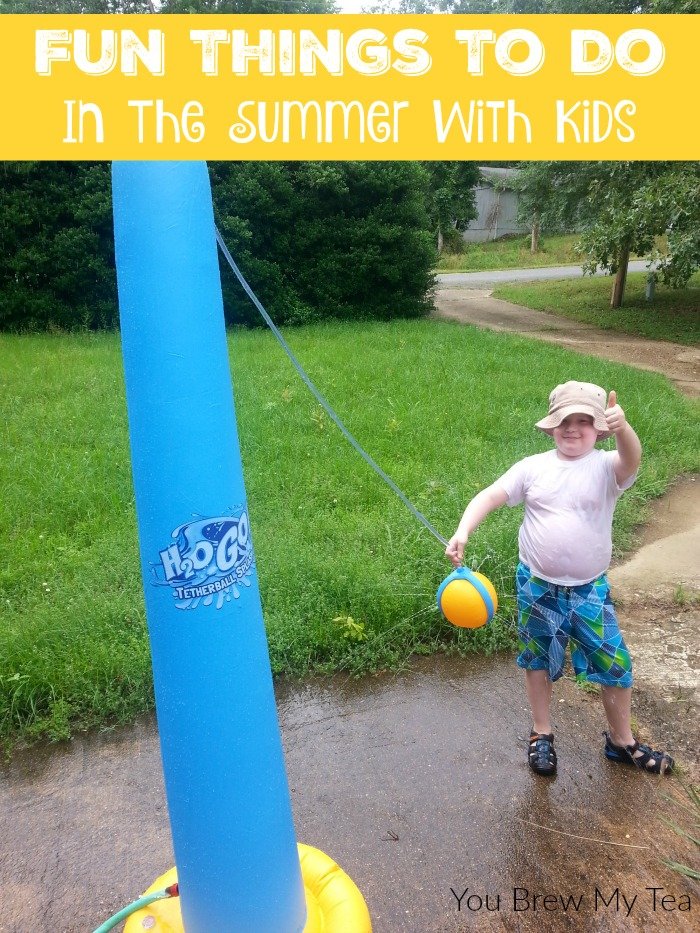 Fun Things To Do In The Summer With Kids
We do a lot of traveling most summers to avoid the heat, but this year we will be in Arkansas all summer since we are saving money for a move in the near future.  With that in mind, we have come up with some fun things to do in the summer with kids to keep them cool and happy.
Play outside in the water. We recently received an H2OGO! Tether Ball Splash™ to review.  It fit perfectly into our need for fun things to do in the summer to stay cool, and of course, resulted in our number one on our list.  Playing outside in the water is a must in the summer months.  Whether that is in a pool, the lake, or in your front yard with a great outdoor water product like this one from H2OGO!, it is one of the best, if not the best choice you can make for staying busy, having fun, and staying cool in the summer months.
The H2OGO! Tether Ball Splash™ is perfect for using when you have a group of kids since they can easily play together swinging the ball back and forth.  Since the ball itself sprays water from small holes, it makes sure everyone playing gets wet and stays cool.  Our son loved playing with this by himself the other day when it was over 90 degrees outside.  In fact, it was the longest we have seen him stay outside playing since the hot temperatures this summer began.
The H2OGo! Tether Ball Splash™ is what they call a "tether ball meets sprinkler spray ball".  With an inflatable pole that has a built-in water chamber for stability, it is an ideal choice in fun things to do in the summer with kids.  Standing at 79″ tall, it is perfect for kids of all heights, as well as the adults that might want to get out the and have fun.  There is absolutely no need to make this a kids only outdoor toy when you can join in the fun!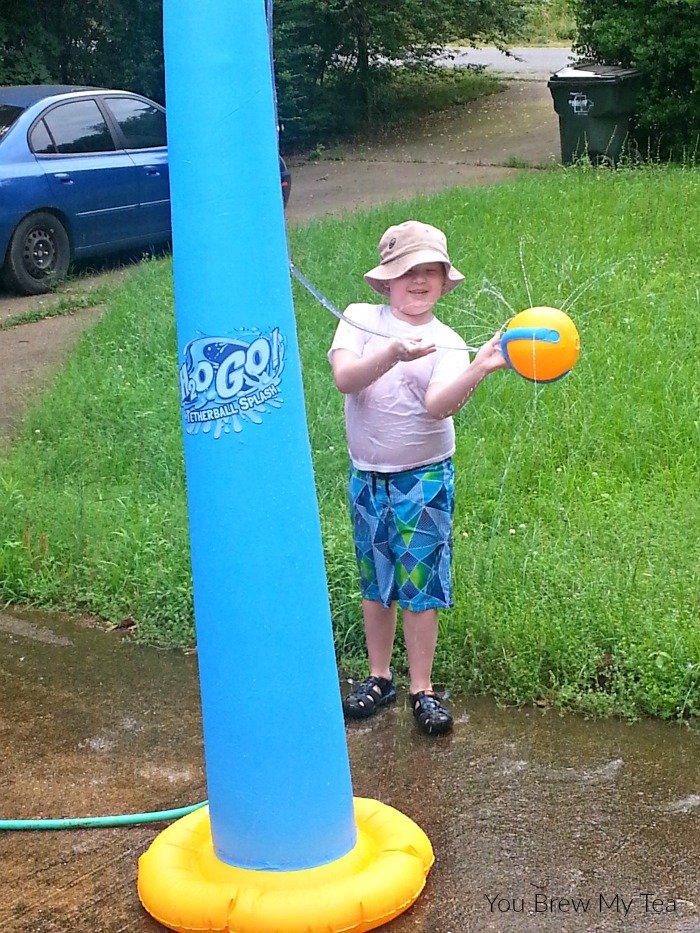 Make homemade ice cream or frozen treats.  Some of my best childhood memories are of ice cream socials at church during the summer.  Making homemade ice cream is one of the easiest and most fun activities you can do in the summer with your kids.  There are dozens of no-churn recipes if you don't have an ice cream maker, or you can set up your H2OGo Tether Ball Splash™ outside, put the ingredients in a bag with ice and rock salt, and toss the bag of ice cream around while the kids are playing in the water.  The possibilities are endless!  You can even make simple frozen treats using your favorite juice, soft drinks, or smoothie blends!
Play board games as a family.  After a long day of playing outside with the H2OGO! Tether Ball Splash™, come inside to cool off and relax with a board game or two as a family.  We love playing Parcheesi, Clue, SkipBo, Phase 10, and even an occasional game of Risk.  It's a great way to unwind after a long and busy day staying cool outside with the kids.
If you are looking for fun things to do in the summer with kids, these are our top 3 picks.  Whether you spend all day a the pool or at home wth a great H2OGO! product to stay cool, you can easily beat the heat and have fun with your family using our favorite tips this summer!
Other Summer Fun Ideas: