I admit that summer is not my favorite time of year.  Alas, considering summer activities that require any outdoor time just doesn't float with me.  That said, I am always looking for some fun things for the Wee Child to do that get him up and active, and no longer sitting in front of a video game or TV all day long.  Not saying those are bad things, but if we are honest, they can be bad when not limited and creating a sedentary lifestyle.  So, I grabbed a few ideas and decided to share a new thing or two we've added to our summer activities arsenal.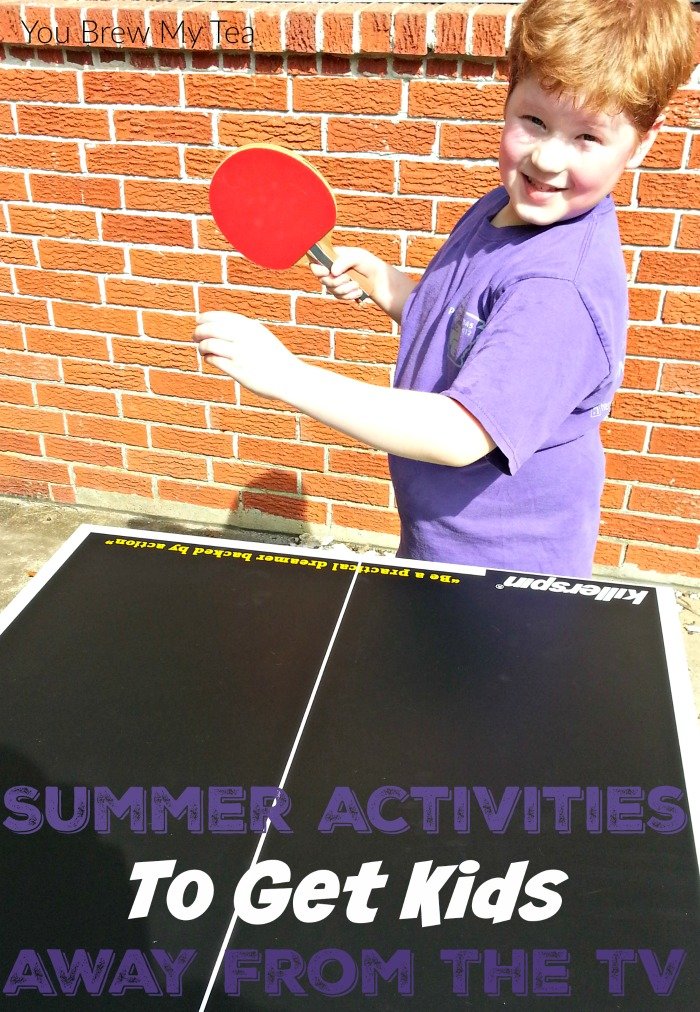 Summer Activities To Get Kids Away From The TV
Even though this is a sponsored post, I really wanted to share with you some of the Wee Child's favorite things to do.  I feel like there are a lot of kids like ours that just don't like the outdoors.  Oh, he would love to be outside more but living in Arkansas means that summer days are usually 90-105º weather with heat indexes 10-15 degrees more.  That means just walking down the drive to get our mail can end up with him coming in red-faced and sweating.  It's just not really safe for him to be out in the heat a lot, so the classic, "go out and play" doesn't work for us. So, our ideas include some classics, as well as fun new ideas we have enjoyed this year to help him UnplugNPlay.
Learn about a fun new sport.  I was recently sent this cool item to review and share with you, so when I was thinking about summer activities for kids to help them unplug and play, it was a perfect fit and I knew I had to share it with you.  Let me just say right off the top – this brought a whole Forest Gump feel into our house this month.  I remember that scene of Forrest coming home from war and having an entryway full of ping pong products.  That's how it felt when we saw this box on our front porch!
The Killerspin tabletop games are the ideal way for kids and families to move away from electronics to more active play that uses their minds and bodies.  We received a great Killerspin Table Tennis setup with accessories as part of the UnplugNPlay program from Killerspin.  Let me just say, this was an ideal choice or our son.  He loved bouncing the ball back and forth, and even though we show it pictured outside (better lighting), it is small enough to fit in our living room so we can play in the comfort of the air conditioning.  In fact, it collapses easily to fold up and go in the game closet, or even behind the couch!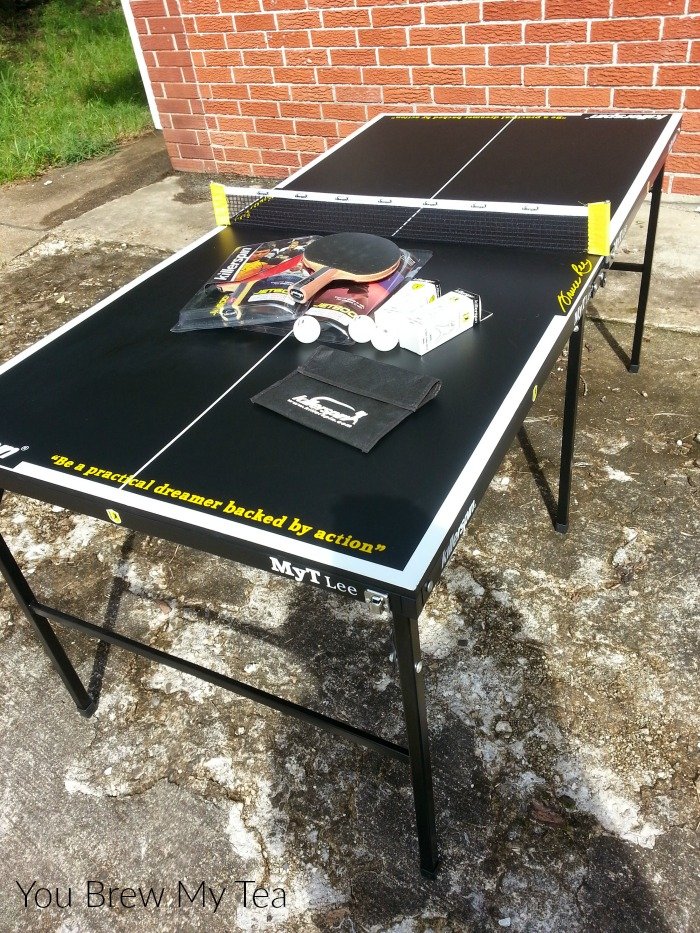 I love the high quality of this set from Killerspin.  Not only did we get the table tennis setup itself, we recieved a couple of paddles and several balls.  They came with a nice cloth case to store, and are obviously not the cheap variety you often see in game rooms.  This is quality and the right set for active boys to use for years to come.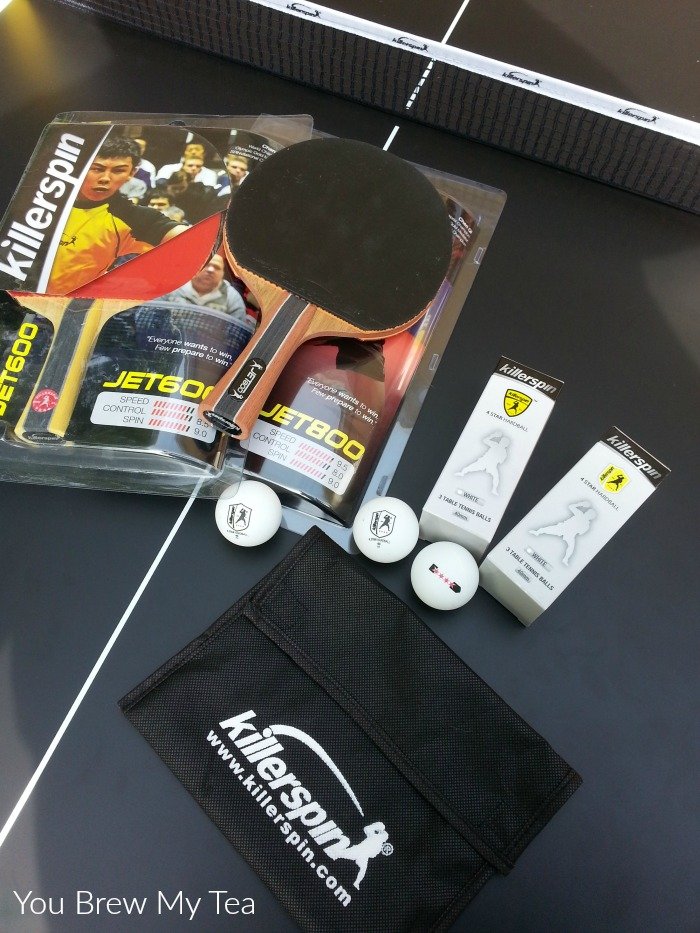 Board games, card games, and puzzles.  We love using board games year round, but especially in the summer when the temptation to just veg in front of the TV is such an issue.  Our son loves playing a variety of both board games and card games.  His grandma even taught him a few classic card games you can play by yourself.  This helps him to have fun and stay occupied without us if we have to work and can't sit down to play with him right away.  Grab a few new card games, board games, or even brain teaser puzzles for them to work through on their own or with your help.
Reading.  This is hard to get some kids interested in doing, but we've had great success with the Wee Child by providing him with fun adventure books.  I read to him as a baby and toddler, and I truly believe that helped him enjoy learning to read as a young child.  Now that he has a great grasp on reading, we can't keep books out of his hands.  He reads on a high school grade level already and loves to read not just his adventure books but things about science, animals, planets, and travel. Encourage your kids to read by grabbing books about things they are already interested in doing.  There are even great books and comics out there about popular video game characters that could entice them to read.
Learn a new craft, hobby, or language.  I remember learning how to crochet when I was 8 or 9 years old.  I never made much, but I can still crochet a simple stitch and make a scarf, pot holder, or another small item if needed.  I also have tried various crafting projects through the years, and as a kid, I loved using scrap paper and old cards to make little boxes, fun new cards, or even a collage with a theme for my summer.  These are all great ideas for getting your kids off the couch and active during the summer months.
As you work with your children for fun summer activitities that help them UnplugNPlay, consider the Killerspin Table Tennis set as a fun addition to your family room.  This summer, your kids can have fun inside and outside as they enjoy summer activitites that focus on more play.