People have asked me How Do You Cope When The Hard Times Hit? One thing I usually avoid on this blog is cursing, however, sometimes when the hard times hit, shit happens.  I found it timely, recently, that while contemplating how to share some coping tips, a friend and fellow blogger came to me about a review for a game called Shit Happens.  I thought about this for awhile, I played with it, I thought some more, and finally decided this was how I would share.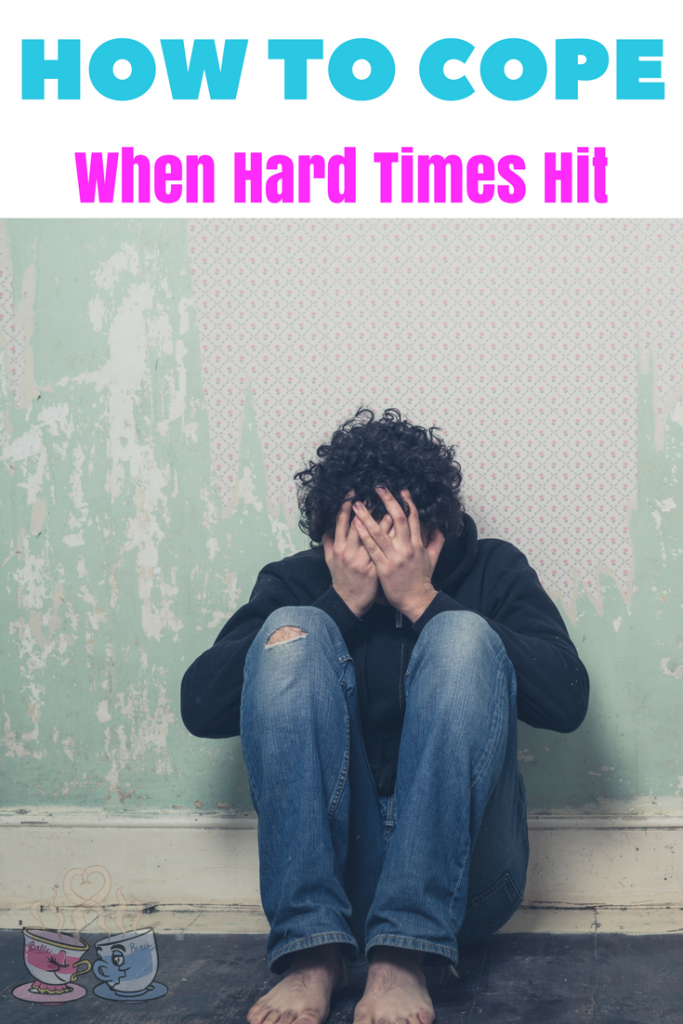 Why I am sharing this now
Specifically, in this post, I am going to share a review with you about a new card game I received in exchange for my review, that is called, Shit Happens.  This is a review of a card game but also a look at how I cope with life when it just sucks.  So, please overlook the harsh language, understand this is going to be a PG-13 post.
If you are not up for that, turn away and come back for a different post another day.  We'll understand.
You Aren't Alone When The Hard Times Hit
You've probably had at least one day or two in your life when you were pretty sure that it couldn't get worse.  Well, just as soon as that came out of your mouth, it did.  Me too.  Sadly, a few too many times.
Have I ever told you about the time I spent 9 months pregnant in a house without running water?
Yes – that happened. 
What about the day that I used the last $5 I had on groceries to make a casserole that would feed us for 2-3 nights, and the Pyrex dish it was cooked in exploded seconds after I pulled it from the oven.
Did you know that mustard on Ramen really isn't as bad as it sounds? 
Buying a house with projected $6500 in roof repairs only to find out that the original 100 year old cedar planks were hidden under everything and it was actually going to cost 3 times that to remove those and repair?
Sitting in the midst of that right now. 
Obviously, I get it.  I've been there. I've had a baby daddy walk away when I told him I was pregnant. I have hidden a pregnancy from my family out of fear.  I have lost jobs. I have gone through a horrible divorce.  I've had a felony conviction (oh yes, that too).  I've struggled to pay bills. I've borrowed money, struggled to pay it back.  I've been in debt, filed bankruptcy. I've been fat, skinny, and everywhere in between. Oh, yes, I also had back surgery, a hysterectomy, attempted suicide twice, and a minor cancer scare in the midst of all of that – all before I turned 34.  I get it.  Life sucks and sometimes it just isn't pretty.
When the hard times hit – I am the one you can come to for a nod of understanding.
I will most likely let you wallow in self-pity, hand you a bag of cheese puffs, a glass of wine, or a vat of Ben & Jerry's and say, "I get it!".  The thing is, we can't just sit there every time and do nothing.  As I have talked about before, depression can rule, and sometimes we need something to distract and get our minds off the struggles.  So, I have a list of things I turn to when the hard times hit. This is not perfect, but it is a beginning.
Talk to your counselor if you have one.  If you don't, seek a good friend, your spouse, or find a counselor.  There are many local free clinics or churches that offer discounted or free mentor programs you can use if you are short on funds.
Look at it like the elephant for dinner. Take one bite at a time.  You can't accomplish, fix, or tackle it all at once, but you can go through it one small bite at a time.  Sometimes this begins with a plan and writing out how to tackle things.  Sometimes it is just taking a bite and working through it a step at a time.
Ask for help.  I just reach out.  Not just to talk it out with a counselor, but in desperation, I often say, "help me" to my Beau.  He knows I don't always know what I really need him to do, but he is there to hold me while I cry and to attempt to make a plan with me.
Cry it out.  Tears are okay.  It's okay to cry.  It's okay to be upset, sad, and sometimes even angry.  Don't bottle your emotions.  Let them out in a healthy manner.  However, don't allow them to take over.  Vent, and move forward. If you feel they are taking over – that is when you reach out for the counselor, help, or a medical professional to move you forward.
Find a way to have fun and laugh.  For me, that is music and games.  I just need a mindless funny distraction.  Loud fun music is ideal so I can dance, sing and just work my emotions out.  Hilarious silly movies and games are also perfect.  Shit Happens fits into this for my mind perfectly.  While others may find it inappropriate humor, it works wonders for my emotions to laugh at the silly options in the cards.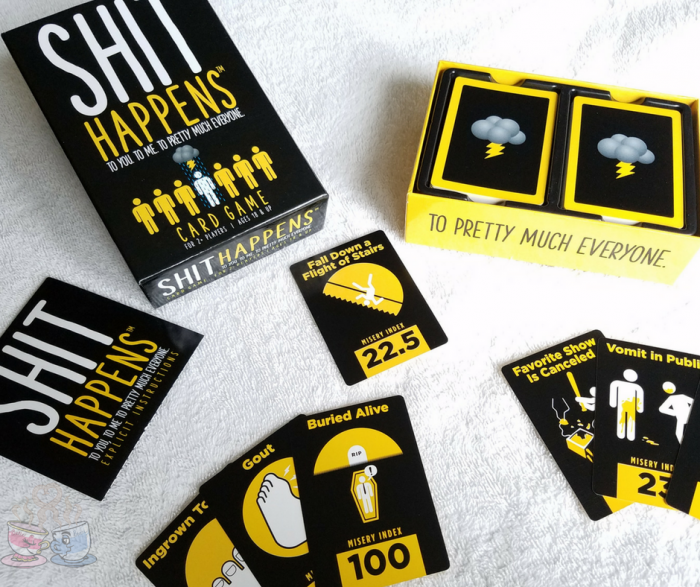 When The Hard Times Hit: Play Shit Happens
Having fun is really one of the best ways to get through things when you are stuck in the pit of depression and frustration.  It's not easy. It just isn't.  I struggle HARD with depression.  There are a lot of times when I just can't get past it.  There is no laughter. There are absolutely no days of fun and no games to play.  However, when there are some glimmers of hope, a game like Shit Happens is perfect.
It's a fun spin on sarcasm and laughter that is meant to be satire and a way to laugh at life.  It takes all of the tough days of life and makes them into cards you draw in a game to see who can have the worst day.
Shit Happens Is Not Family Friendly
No, as much as we are a family friendly blog – Shit Happens is not a game for the kids.  This is PG-13 or more.  Honestly, I'm not sure I would want to play this with my teens. It just depends on the family dynamic you have.  Review the cards in advance for sure.  It's raunchy. It's crude.  It is making fun of all the bad and icky things in life.  It definitely has sexual innuendos included and some topics I wouldn't want to have in a conversation with my children teen or adults.  It is meant to help you laugh at struggles and just get past the bad horrible shit happens days.
Why am I sharing it with you? 
Frankly, we take things too seriously.  We get so wrapped up in being politically correct, proper, and always serious that we forget sometimes you just need a good old-fashioned belly laugh.  Playing this game with friends or family can be a real riot.  It also teaches you about others worst fears.
The idea of having hemorrhoids isn't all that frightening. 2 kids, back surgery, and a hysterectomy later – trust me – they are nothing.  Vomiting in any form ranks high on my list – I hate to vomit.  So for me – these would be opposite.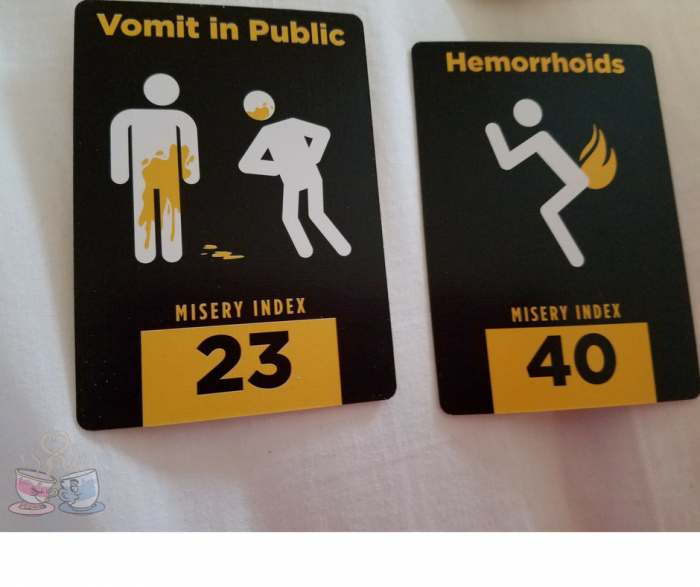 My Beau wouldn't mind dangling around on the roller coaster, but I'd rather have blood in my urine any day over that.
You learn what causes others fear, and you learn to have a good laugh over some of the funny, quirky, and often totally inappropriate things in this card deck.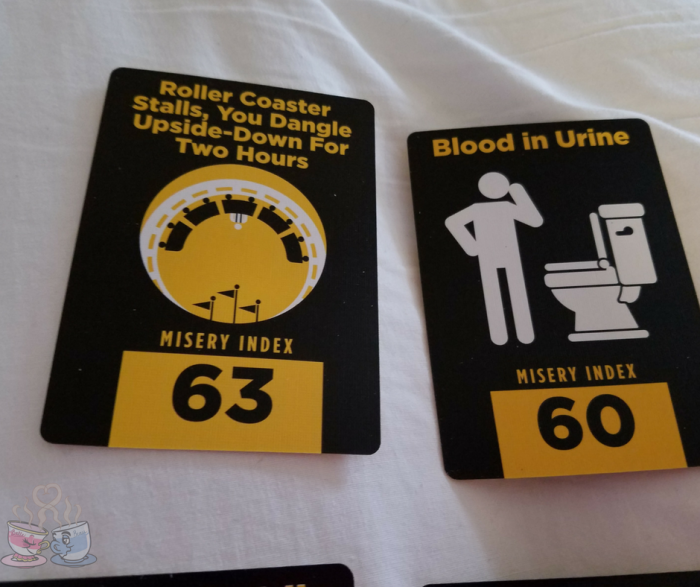 When the hard times hit, I hope you know you aren't alone.  I have some experience with the tough days, and I have some basic tips for getting through.  I also know that laughter is one of the best ways to cope.  A fun game like Shit Happens is an excellent way to wind down at the end of the day with your spouse and have some laughs  Sometimes, that's all you need to come together, and realize that although the hard times may be there again, you aren't alone.