I adore coconut and these 25 Coconut Recipes For Summer are just a few of my favorites.  I love that coconut is such a versatile food.  Not only can you have coconut flavored foods, but you can drink the milk, eat the flakes, cook in the oils and you an even use coconut oil for beauty products.  Coconut is one of the most versatile food products.  We love coconut oil for cooking, but also love coconut milk in our smoothies, curries and just to drink.  This list of yummy coconut recipes includes some of our own personal favorites as well as a handful of fun spins on classic treats.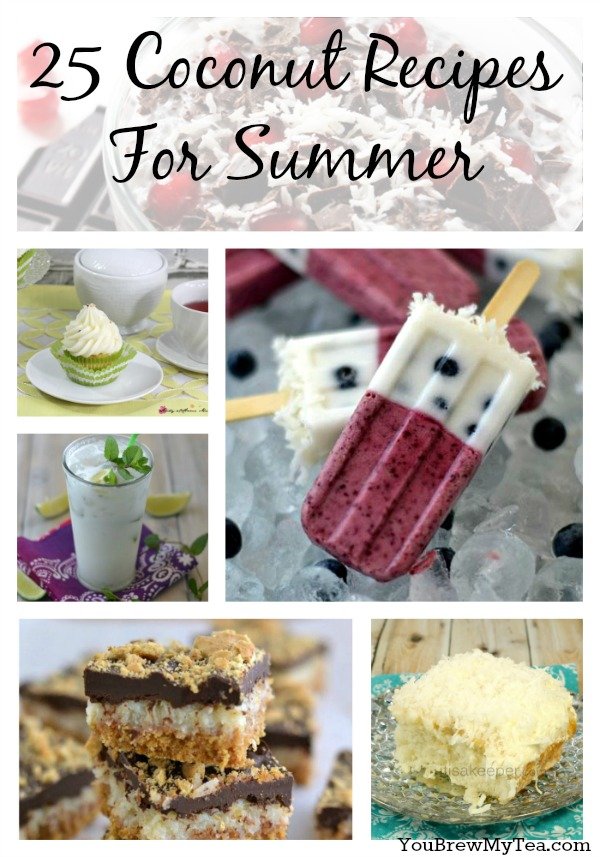 25 Coconut Recipes For Summer
Coconut Mojito - Flour On My Face
Coconut Pomegranate Chocolate Chia Seed Pudding - Natural Chow
Blueberry Coconut Ice Pops - Flour On My Face
Creamy Homemade Coconut Milk - Natural Chow
Coconut Cream Cheese Pie - I Love My Disorganized Life
Coconut Date Rolls with Orange & Carob - Midwest Modern Momma
Coconut Whipped Cream - Natural Chow
Dark Chocolate Coconut Truffles - The Latina Homemaker
Lemon Vanilla Coconut Butter Bites - The Rising Spoon
Coconut Lime Muffins - You Brew My Tea
Bok Choy In Coconut Milk - Hooked On Heat
Banana Coconut Smoothie - 3 Boys & A Dog
Coconut Oil Chocolate Sauce - The Rising Spoon
Chocolate Covered Coconut Bars - Flour On My Face
Kale & Coconut Chicken Soup - Sublime Reflection
Coconut Lime Cupcakes - Study At Home Mama
Samoa Bars - It Is A Keeper
Red Chili Coconut Jasmine Rice - 3 Boys & A Dog
Coconut Chocolate Chip S'Mores - Life Over C's
Gluten Free Coconut Chocolate Chip Cookies - 5 Minutes For Mom
Coconut Chicken Curry -Hooked On Heat
Toasted Coconut - Faith Filled Foods For Moms
Coconut Poke Cake - It Is A Keeper
Orange Coconut Salad - 3 Boys & A Dog
Chocolate Chip Dried Cranberry Muffins - A Life In Balance
Grab some high quality coconut oil to have on hand for these recipes and more.  Keep coconut on hand for all of your cooking needs.  We stock cartons of coconut milk and bags of unsweetened flakes in our pantry and freezer at all times.  A little coconut goes a long way, but it can add the healthy fats to your diet you need and want.
Check out our other great round ups of delicious recipes to try!