When I think of Lent I automatically think about various fish dishes being served on Friday's.  Of course, fish dishes are served every day of the week, but Friday was the traditional day to give up meat during Lent.  From the yummy fish sandwiches to baked, broiled or deep fried there are tons of ways to make fish the star of the show. I've gathered some of my personal favorites along with some great recipes from fellow bloggers to share with you.  I've even divided them by type of fish to make it easier for you to navigate.

40 Great Fish Dishes For Lent
During the Lent season, many grocery stores will have amazing deals on fish.  Check for high-quality fish and stock up and freeze for later months! Test out some of all of these delicious fish dishes  Lent or just for a fun and different weeknight meal any time of year.
Tilapia Recipes
Easy Lemon Pepper Tilapia from You Brew My Tea
Parmesan Crusted Tilapia from DIY Budget Girl
Tilapia Fish Tacos from Momma Young At Home
Crockpot Poached Tilapia with Hollandaise Sauce from Parenting Chaos
Tilapia with Peppers from My Life Cookbook
Grilled Tilapia with Mango Salsa from Feeding Big
Tilapia Piccata from The Gardening Cook
Crab Stuffed Tilapia from It's A Keeper
Baked Citrus Ginger Tilapia from Fluster Buster
Tuna Recipes
Not Your Mama's Tuna Noodle Casserole from You Brew My Tea
Weight Watchers Healthy Tuna Salad Wraps from You Brew My Tea
Tuna Avocado Lettuce Wraps from Flour On My Face
Tuna Patties from The Rising Spoon
Classic Tuna Melt from Spaceships & Laserbeams
Tuna Meatballs from DIY Budget Girl
Salmon Recipes
Foil Baked Salmon with Asparagus from Frugality Gal
Broiled Dill & Caper Salmon from You Brew My Tea
Panko Salmon Cakes from Premeditated Leftovers
Buffalo Salmon from Real The Kitchen & Beyond
Spinach & Beet Green Salad with Honey Glazed Salmon from Midwest Modern Momma
Lemon and Herb Salmon with Honey Mustard Dressing from 5 Minutes For Mom
Herb Crusted Salmon from True Aim
Honey Soy Salmon Skewers from Caroline's Cooking
Salmon Blueberry Salad with Raspberry Vinaigrette from Premeditated Leftovers
Salmon Noodle Romanoff from Natural Chow
Lemon Dill Salmon Crostini from Momma Young At Home
Blackened Salmon with Mango Salsa from Midwest Modern Momma
Cod Recipes
Grilled Cod from Sassy Southern Yankee
Salted Codfish Casserole with Peppers & Tomatoes from The Gardening Cook
Lemon Parsley Baked Cod from Taste of Home
Lemon Parmesan Cod with Garlic Butter from Cooking With Mama C
Cod in Creamy Roasted Red Pepper Sauce from Little Broken
Trout Recipes
Steel Head Trout with Lemon Parmesan Sauce from The Gardening Cook
Ginger  Glazed Trout from Super Duper Fantastic
Spicy Lemon Trout from Cooking Light
Pan Seared Trout with Pecan Brown Butter from Steamy Kitchen
Catfish Recipes
Thai Coconut Catfish from 3 Boys And A Dog
Cajun Catfish Sandwich from Feeding Big
Southern Fried Catfish from Deep South Dish
Easy Blackened Catfish Recipe from A Cowboy's Wife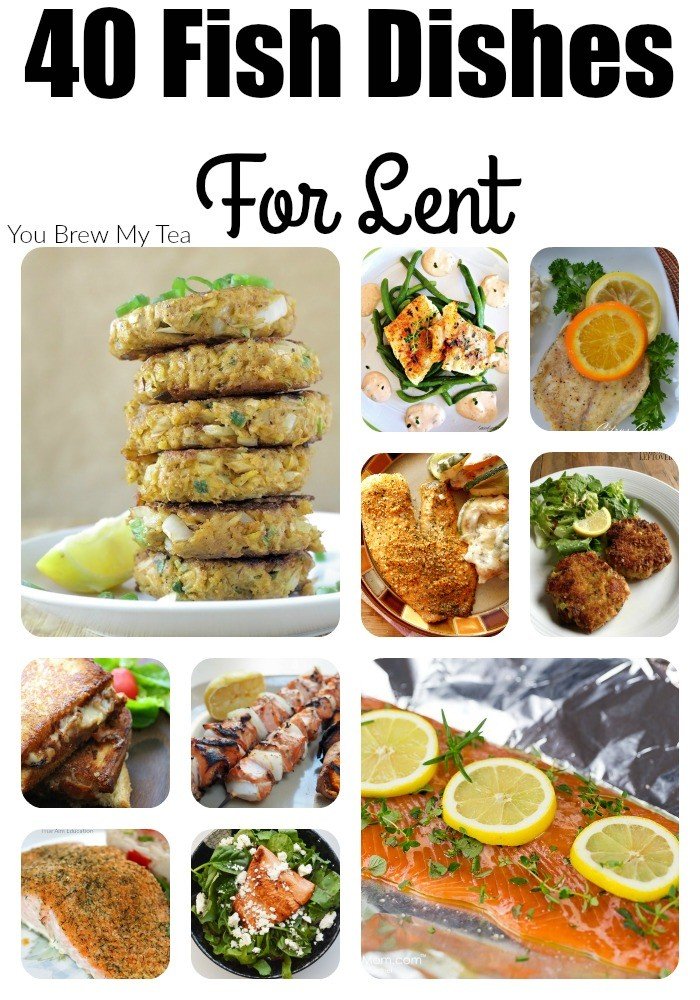 These fish dishes are some great ones to make for your family this Lent.  Play with new flavor combinations, different side dishes and even try a new fish this year.  There are great healthy and flavorful choices as well as classics on this list to give you some great ideas for Lent recipes everyone will enjoy.
If you aren't familiar with Lent or Lent traditions check out some great books that explain why his time is so important to Christians, but specifically Catholics.
40 Things To  Up For Lent And Beyond
Check out some of our other popular recipe roundups! 
50 Delicious Asparagus Recipes