Since food is necessary for survival, these 5 Foods That Stretch Your Grocery Budget Farther are important for every family to consider.  Unless you are independently wealthy, you are likely frustrated at the amount of money you spend just to eat.  These tips are going to revitalize your grocery budget in ways that will save you money, all while giving your family healthy and delicious foods to eat.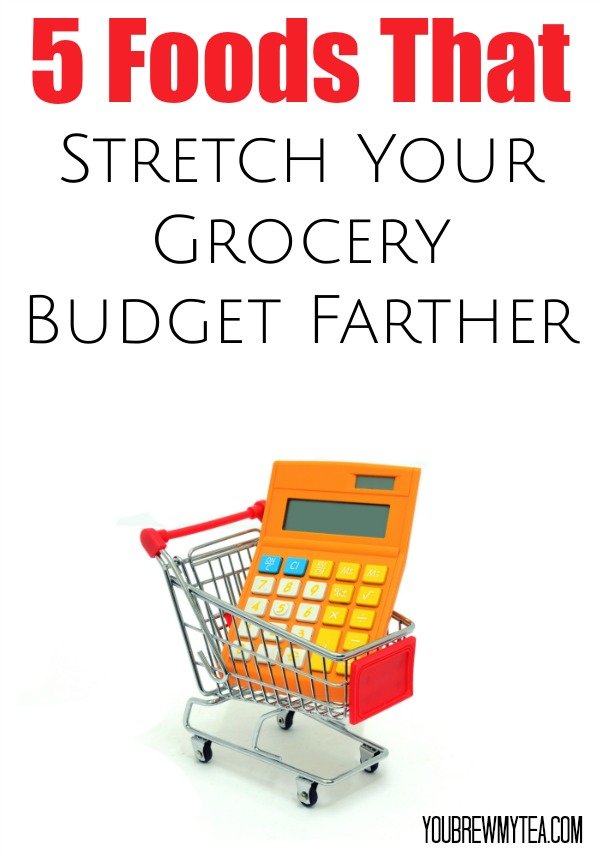 5 Foods That Stretch Your Grocery Budget Farther
This post may contain affiliate links. 
Dry Beans
Have you ever tried dry beans? While they're not the first "thing" you think about putting on the table for dinner, they can be a lifesaver when it comes to stretching your grocery budget. In fact, a little know fact is that the always popular Crockpot was actually created to help cook beans without as much constant tending.  We use beans in soups,tacos, taco salad, burritos, casseroles and by themselves.
Make a few of these meals with dry beans in your home:
Bean Soup
Chili
Fiesta Beans
Rice
Rice is a yummy side dish or main dish and there's so much you can do with it. You can make anything from chicken and rice to your favorite Chinese meal. Rice can taste yummy plain or with seasoning on top. Add a little bit of cheese and seasoning to your rice and you will be in heaven!
Here are some other budget friendly meal ideas to make with rice:
Black beans and rice
Rice with peas and soy sauce
Vegetable fried rice
Rice pudding for breakfasts or desserts
Potatoes
In most areas of the country, you can pick up a sack of potatoes fairly cheap. It amazes me what you can do with potatoes to create a filling meal. If you have a home garden, growing and storing your own is super easy.
Here are some meal ideas for potatoes:
Potato soup
Baked Potatoes
Mashed Potatoes
Stuffed Potatoes
Homemade Fries
Flour & Yeast
There is so much you can do with flour in the home. It's fairly inexpensive and you can make lots of staples from it.  We make our own bread, hot rolls, cakes and bread sticks for much less than ready made!
Some of our favorite meals to make with flour and yeast include:
Homemade pizza
Homemade bread
Bread bowls
Eggs
Yes! Eggs are so cheap and they can go so far. Whether you're making eggs for breakfast or for a quick meal, they are the ultimate food to help stretch your budget.
Here are some meal ideas for eggs.
Hardboiled eggs
Breakfast casserole
Use eggs to make pancakes or French toast
These foods that stretch your grocery budget farther are staples in our home.  Not only can we make sure we are feeding our family within our budget, making real food from scratch is so much healthier for everyone.  These items also help us to limit the number of chemicals and preservatives in our meals.