My sister and I were raised in a home where showing hospitality came naturally. Sure, our family was far from perfect but one thing we did well was welcome others into our home. Often, we shared meals, clothes, laughter, tears and late evenings with friends, family, and even strangers who became friends or family. I often joked that our mom was like the MacGyver of the kitchen. She could whip up a meal for ten out of the smallest amount of food and everyone would leave full. Our dad could sit and listen to people's troubles and even if he didn't say much the person would leave feeling heard and helped. As an adult, it has stuck with me that hospitality is a gift both to the giver and the receiver. I've learned to not let my budget or keep me from showing hospitality. As a result, I decided to share these frugal tips for showing hospitality with you.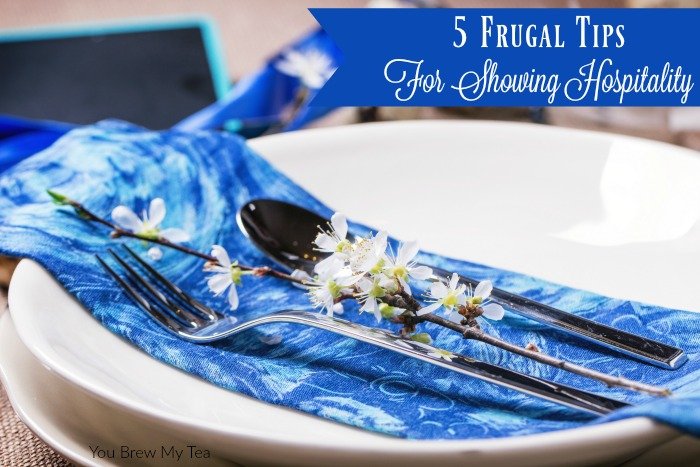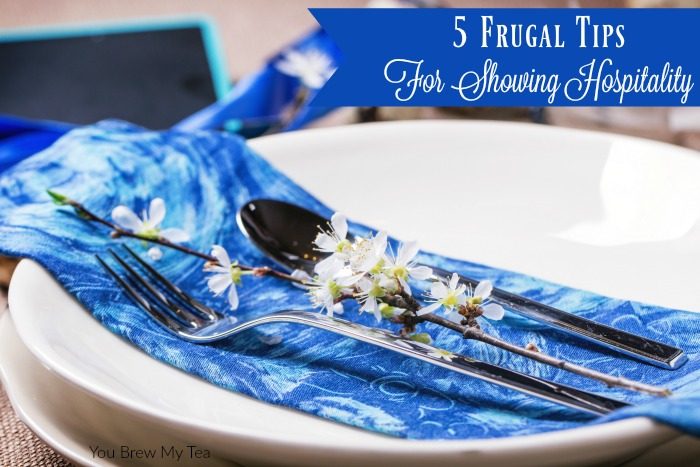 5 Frugal Tips For Showing Hospitality
This post contains affiliate links.
Don't Wait Until Your Home is Perfect. Growing up we moved around a lot, mostly rented and never lived in what I would call a fancy home. Our home was always clean and safe but often my sister and I shared a bedroom, all four of us shared one bathroom, furniture was mismatched and other fixtures in the home where outdated. Not one time did any of our guests mention this as being an issue. In fact, I remember one holiday where we lived in a two bedroom, one bath home and we had fifteen people stay for a few days. The sewer backed up, it poured rain and 4 people slept in a camper outside. One of the guests was sick for part of the trip and had to go to an urgent care. No one complained and it became one of our funniest memories. True hospitality covers the need for perfection and your guests will see your heart. If you wait until your home is "perfect" to invite others in, you will miss out on some great memories and opportunities to be showing hospitality.
Do Little Things to Make a Guest Feel Welcome. I truly enjoy having people in my home and always try to think of ways to make them feel special. Serve a snack, dessert or meal you know is a favorite for your guest. Encourage your guests to sit in the most comfortable seat in the house, make sure the temperature is comfortable and turn off the TV so you can focus on a good conversation. Our son is almost sixteen but I still have a bag of his toys that we've collected over the years. He is way past playing with them, but I pull them out when children are at my house. If you don't have kids, but you often have guests who do then you can pick up a few books and good quality toys inexpensively at yard sales or the dollar store and create your own toy bag. I've found that this helps parents relax and kids love the excitement of playing with different toys.
Just Serve Dessert. When your budget is tight, offer your guest a dessert instead of a meal. For just a few dollars you can prepare a boxed cake mix or purchase a pie that will feel like a treat to your visitors but won't break the bank. Feeding people is deeply rooted in me and I find it hard to not offer guests something to eat no matter what time of day they visit. Sometimes, people can visit and not eat and that is perfectly fine and even good. But, if you are like me and you have a hard time not offering them food, then set out a tray of cookies, a bowl of trail mix or assorted candies. Inexpensive store bought cookies can look fancy when taken out of the package and placed on a pretty tray or plate. This works the same way with candy or trail mix once poured into a serving bowl, it looks fancy but is budget friendly.
Pay Attention to the Details. It doesn't cost anything to pay attention and the rewards can be huge. Each time I have guests coming to stay overnight, I try to think about the details. I make sure there are clean sheets on the bed, pillows fluffed and plenty of towels and washcloths available. I will take a moment to be sure there is an extra blanket in a noticeable place for them to use. Two inexpensive items I have in my guest room are an alarm clock and a box fan. It can be hard to sleep in an unfamiliar place and the noise of a fan can help a guest sleep better and doubles as a way to keep cooler if needed. I also, make sure there is extra toilet paper in the bathroom. In the guest shower, I try to keep soap, shampoo, and conditioner. Often, it just a small trial size that I picked up at a hotel, but it is helpful if a guest forgets their own.
Relax and Enjoy the Visit. Remember, if you are relaxed then your guests will pick up on that and relax too. A big part of showing hospitality is understanding that people aren't looking for perfect or unrealistic, they are looking for a connection. I believe true hospitality comes when we learn to balance opening our home, serving others and relaxing in the space we are sharing with them. Some of the best and most rewarding moments of hospitality come when you leave the dishes in the sink, everything not put away and the expectations low. It is in these moments that you can relax and enjoy the visit and your guests will leave feeling touched by true hospitality.
Showing hospitality to our friends, family, and even strangers is a wonderful way to give back and do something good for someone in need.  Even if your friends aren't what you would consider a needy situation, you never know what their emotional needs are, and doing one little thing like opening your home can be just what they need.
More Posts For You: