As we continue working to improve our health, we have discovered that batch cooking is a great method to keep us on track.  I have worked with my friend Alea from Premeditated Leftovers for several years and was thrilled for her when she announced the new release of her cookbook.  I was even more excited to know she was offering me a chance to review her cookbook here.  Why?  Because she has taught me so much not only about blogging, but about homemaking, cooking and ultimately better health.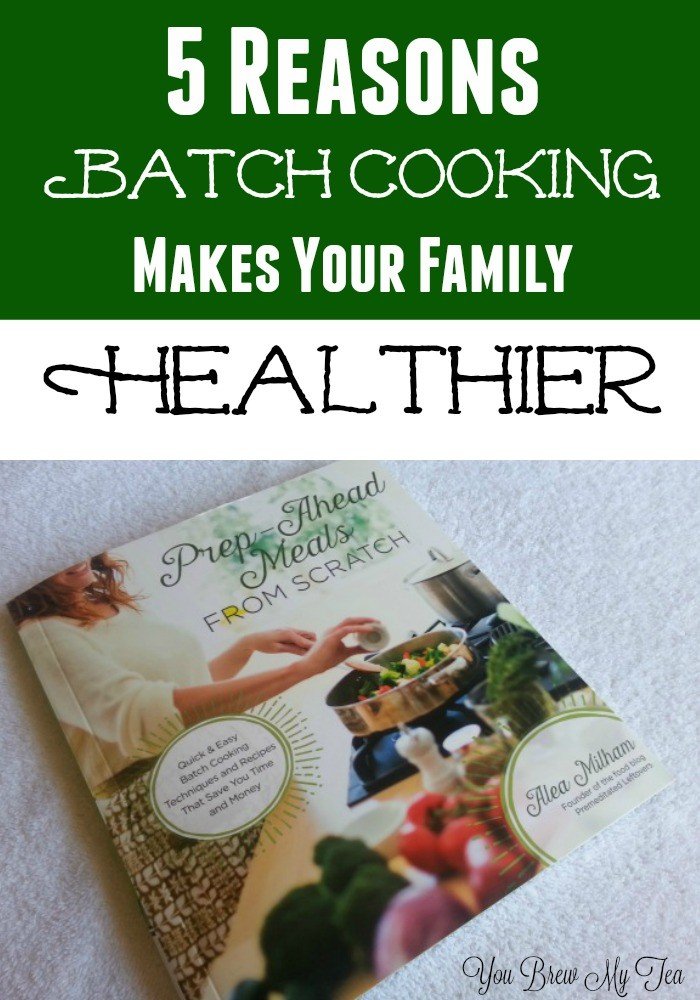 5 Reasons Batch Cooking Makes Your Family Healthier
Alea's cookbook, Prep Ahead Meals From Scratch, is a great new cookbook that not only includes some amazing recipes that we've already fallen in love with, but her own tried and true methods of batch cooking foods for her family.  Batch cooking is not like freezer meals.  This is a method of cooking only specific foods and having them portioned to go alongside healthy vegetables.  It takes tons of time out of your weekly meal prep, and it gives you a chance to take advantage of great sales on proteins for your menu plan.
Batch cooking gives you better control over meal time.  Many healthy meals take time to prepare.  Especially if you are use to grabbing bags of frozen chicken nuggets, fries or other convenience foods to make meal time easy.  By batch cooking broiled chicken, slow roasted pork or beef or even cooking your ground meats in the slow cooker and draining off excess fat before portioning you can have much more control over the health of your meals.  Batch cooking gives you the chance to have easy to prepare meals that are healthy without taking tons of time or money.
Batch cooking is done with healthy methods.  Rather than frying or cooking in tons of oil or butter, batch cooking meats is done in healthy methods like baking, broiling, roasting or using a pressure cooker.  This helps you to stay healthy by taking away the problem cooking methods that may often be faster or easier on a busy weeknight.
Batch cooking allows you to customize your menu plan easily.  Since this method of batch cooking focuses on prepping basic ingredients in advance, you aren't forced into using recipes your family doesn't enjoy.  You are making the core ingredients that you can build almost any recipe around.  This makes it easy to customize a menu plan with your family favorite dishes as well as occasionally including fun new ideas.  That means you can keep your menu low in salt, and compliant with specific diets like gluten-free, dairy-free or even Whole30.
Batch cooking gives you more time to relax and rest.  For your own health, you need to make sure you are getting enough rest.  One thing I have learned as a work at home mom is I often don't take time for me.  Not having to spend hours in the kitchen each week frees up my time not only to spend with my family, but also to do things like take a walk or simply take a nap.  Getting to bed on time is a lot easier at night when I am done with dinner in half the time and have fewer dishes to do after we eat.  Batch cooking all around helps improve my ability to be a healthier wife and mother.
I love that Alea has shared her own personal recipes that are simple and delicious along with the great tips on how to make them in less time.  As we have experimented with her recipes, we have found that one of our favorite things is how they are so affordable.  She creates great flavors without tons of odd or expensive ingredients.  That makes it so easy for our healthy lifestyle to continue being affordable for our family.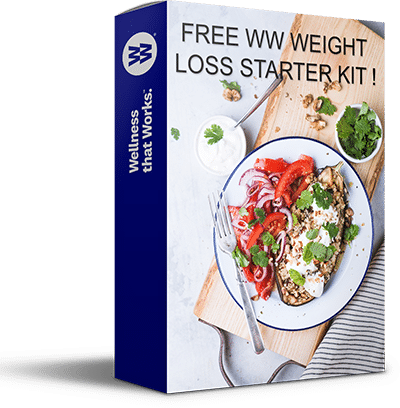 FREE WW WEIGHT LOSS STARTER KIT
+ exclusive tips, recipes & more to lose weight, increase confidence, and live a healthier and happier life !