I've always loved the idea of Spring Cleaning and my spring cleaning tips are much needed for busy moms like you and me.  It's a way to get rid of all of the junk in the house and it means sunshine is on its way. However, cleaning with kids at home can be a true nightmare. Not to mention, I'm super busy, so it's not always easy to get things situated and ready for cleaning. Over the years, I have found some tricks though and I hope they make spring cleaning easier for you like they have for me!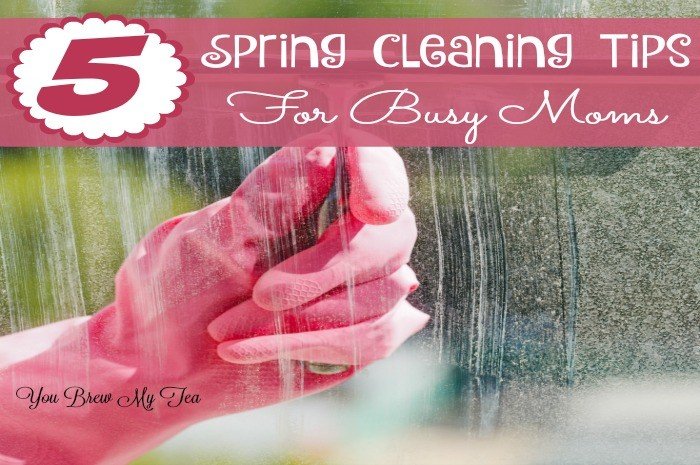 5 Spring Cleaning Tips For Busy Moms
This post contains affiliate links.
Have your spouse take the kids somewhere: If I'm smack dab in the middle of Spring cleaning, I really like it when my husband takes the kids somewhere.  This is one of my favorite Spring cleaning tips because sometimes it is the only way I can get the house cleaned. It's not always for a super long period of time, but if the kids aren't in the house, I can get so much more cleaned than ever before.
Don't expect too much: I've also learned that when spring cleaning with kids around, don't expect too much. You can't possibly get as much cleaning done as you want when your kids are all there. I always start doing one task and finish it before moving onto the next. If my kids have had enough with me trying to clean, then I just stop. No sense in fighting with my kids, all while trying to have a clean house.
Clean as you go: One tip I've found very helpful while having little ones is to clean as I go. It's much easier to spring clean while I do my regular cleaning. If I'm putting away laundry, I pull out the clothes that are too small. I even invested in a sorting hamper to help make that easier.  If I'm doing dishes, I try and scrub the cupboards as I go using an all purpose cleaner and microfiber cloth.  These little cleaning tips make it much easier to do a good deep clean later.
Schedule in spring cleaning time: One tip you'll want to take note of is to actually schedule in spring cleaning time. You know, put it on your calendar and in your phone. You certainly don't want to forget to spring clean your home, especially since it makes your house look and feel so much better.  It's also the time of year you want to remember to check batteries in smoke detectors and do basic household updates like checking windows and doors for seals and scheduling a check-upfor your air conditioner.
Ask for help: Yes, the dreaded "ask for help" is one of the best Spring cleaning tips. You're only one person with multiple little ones running around, take the time to ask for help. And if all else fails, just hire someone else to do it. I've been known to hire help if I can't get to the task. Why not?
What tips do you have for spring cleaning as a busy mom? I'd love to hear your tips!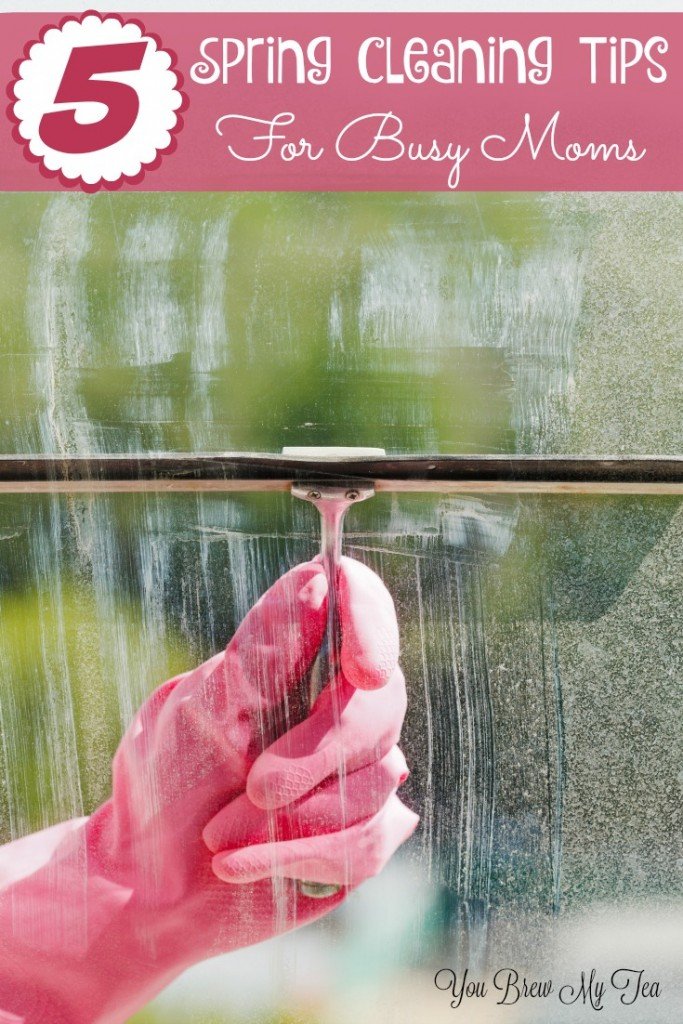 Check out some of our other great cleaning and organization tips!
12 Easy Tips To Spring Cleaning
15 Homemade Household Cleaning Agents
Ultimate List of Cleaning Hacks & Tricks