If you've been around for long, you know that traveling is our thing.  Since we've flown multiple times as a family, I thought it was high time I share some tips for air travel with kids.  So many people complain about getting stuck in a plane with kids.  While sometimes kids can be a bit loud and chaotic on a plane it doesn't have to be frustrating for you or those around you.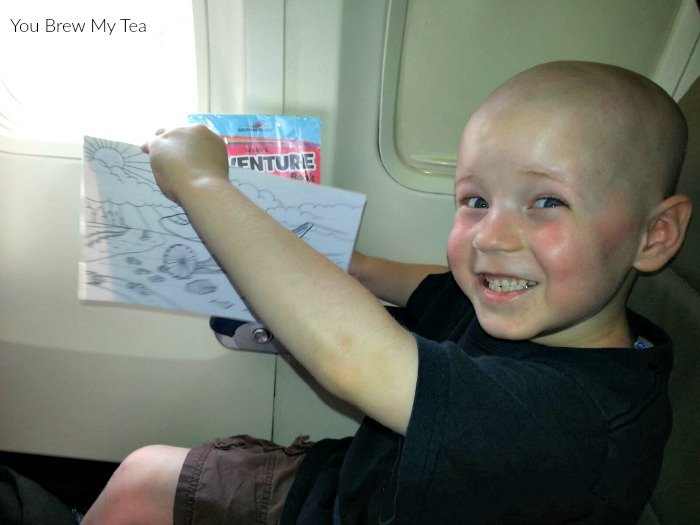 Tips For Air Travel With Kids
This post contains affiliate links.  Purchases through these links may earn me a commission. 
Travel with kids is all about going in prepared.  We started flying with the Wee Child when he was 5 years old.  He was old enough at that time to understand about being quiet and respectful of those around him.  That said, a lot of families have to travel with kids that are much younger, and flying can be a tough thing to manage.  Our tips come from our own personal experience as well as that of our friends with children.
Don't check baggage when you travel with kids.
This eliminates a large portion of wait time and running around in airports.  If you have a lot of luggage, it's time to really think twice about what you are packing.  Usually, it just isn't needed.  Remember that in most travel situations, you are near a store that can be perfect for grabbing things you need once you arrive. 
Taking carry-on bags only is especially important when you have layovers and plane changes that have minimal time between each other.  Nobody wants to lose luggage when traveling.  Especially not when you plan to travel with kids.  Most airlines now offer one carry-on piece of luggage and one personal carry-on that will stow away underneath your seat easily. 
When we fly, it is all pretty organized by using specific bags to make it easier to pack.
Swiss Gear Pilot Case: These rolling bags are easy to pull through an airport and have a ton of extra pockets that make it simple to store everything you need and utilize as your carry-on.  I like that there is a storage space on the back side padded and easy to slide your laptop into if you desire.  In my case, I usually stuff my flip flops into that area since they are thin and easy to put there. There is also an extra zipper that expands the bag space at the top for another 2".  When it is full to capacity, it's harder to fit into the overhead compartment, but it is still a bonus to this bag.  Another bonus is that there are front pockets so grabbing toiletries for the security checkpoint only requires unzipping the front pocket instead of opening your entire bag.  We have had our bags for almost 4 years now.  They've been taken to Hawaii, driven cross country multiple times, and used fo simple overnight trips.  There have been no issues in the hundreds of uses, and frankly, they are the best investment we've ever made for travel.
Swiss Gear Backpack: We actually just discovered this a few years ago and fell in love.  This backpack has extra padding and spaces perfect for carrying electronics like our laptops.  We have two of these.  My Beau carries one and the Wee Child has one of his own.  They limit what I am allowed to lift (silly guys), so usually my laptop ends up in one of these along with other charges and similar items.  They are super roomy, durable, and the adjustable padded straps make them comfortable to carry around easily in the airport.
Military Style Messenger Bags:  I bought one of these 5 years ago and I love it.  Why?  Because it has 5 exterior pockets, a large roomy interior with a zippered pocket, and a lovely flap that is velcro so easier to get open as needed.  I seriously adore this bag because I can keep an itinerary, books, snacks, and yes, even my laptop all in one easy location.
All of these things make it easier to avoid checked baggage.  They also make it easier to bring along items that occupy your kids.  If you are going to travel with kids, do it with the right tools on hand.
Bring your own snacks when flying with kids.
Although the airline typically provides a snack and beverage even for the shortest flights, it is wise to bring something along that your child likes.  Most airlines allow foods in packages that are unopened.  Just make sure to have them in an easy location to show at the security checkpoint if needed.
We pack in a gallon sized Ziploc bag and simply pull out and put into the tub along with electronics, etc. at the security checkpoint.  That way it is out and easy to access if they care to look at it.  
We have packed various items through the years, but this is a great place to begin for ideas:  bananas, fruit snacks, peanut butter crackers, pudding cups, beef jerky, cereal bars, granola bars, single serving boxes of cereal, graham crackers and other already portioned single serving sized non-perishable snack items.
Bring items to occupy and comfort on the plane. 
Create a bag of things your child can do that will be quiet and not require a lot of assistance.  Coloring books, magnetic puzzles, activity books and even books for reading if they are old enough.  Tons of items are available online or at your local dollar stores.  We love bringing coloring books and crayons, but also things like magnetic puzzles.  
A comfort item is another must when you travel with kids.  Whether it be their favorite stuffed animal, a blanket or pillow make sure to save room in their bag for their comfort item.  Flying can be scary for kids and having to stay in strange places can be tough to adjust to.  Having a special item from home makes all the difference in the world toward their comfort and ease on a flight or in a strange bed in a different city.
Don't forget the electronics when you travel with kids. 
I am not typically a fan of video games and electronic devices to occupy children but on long trips in the car or by air I make a giant exception.  Pre-load your laptop, Kindle or Smartphone with movies or televisions shows your child likes.  In the old days, I would suggest packing a portable DVD player, but anymore that seems excessive with so many easy options on smaller devices.  
Netflix and Amazon Prime are our personal favorites for streaming.  If you don't have Internet services while flying, you may prefer to use games or other movies loaded to a device instead.  Amazon Underground is my favorite app for downloading games and such since there are no hidden fees involved. 
Don't forget to pack the right chargers and accessories to make it easy to view or play without disrupting others.
We love traveling.  In fact, I can't imagine our life without routine trips.  From our visits to Tulsa to the annual trek to our parents in Southern California, I love packing up for an adventure.  To travel with kids, you must be prepared, and our tips definitely make that easier to manage.
More Travel Tips: