As long as I can remember, my family had a backyard garden.  I grew up in rural Arkansas where everyone had a few vegetables growing somewhere in their yard in the summer months.  If my parents didn't have a small garden plot, my grandparents always did.  In fact, I recall my grandpa planting large gardens full of corn, peas, green beans, okra, and potatoes every summer.  Sadly, as an adult, I haven't carried this out in my own yard.  As I get older, I realize how much a backyard garden is an ideal way for me to improve my health!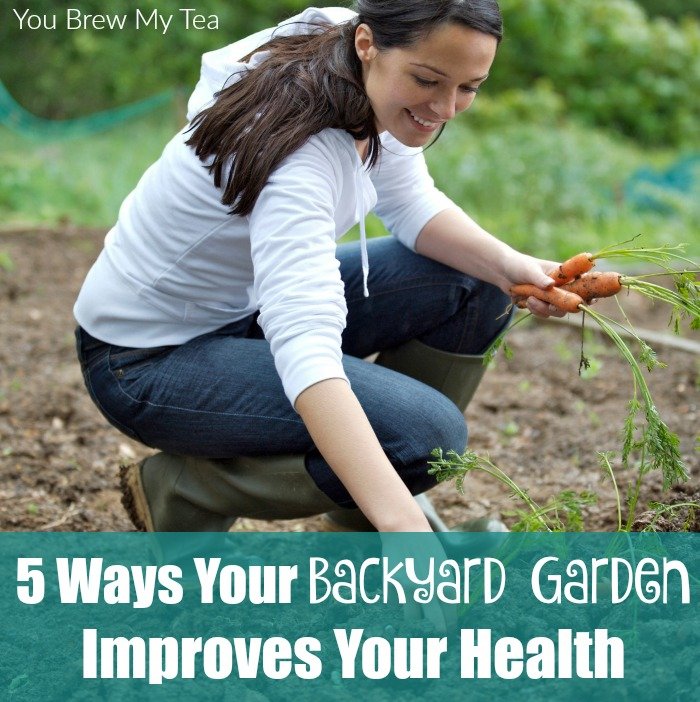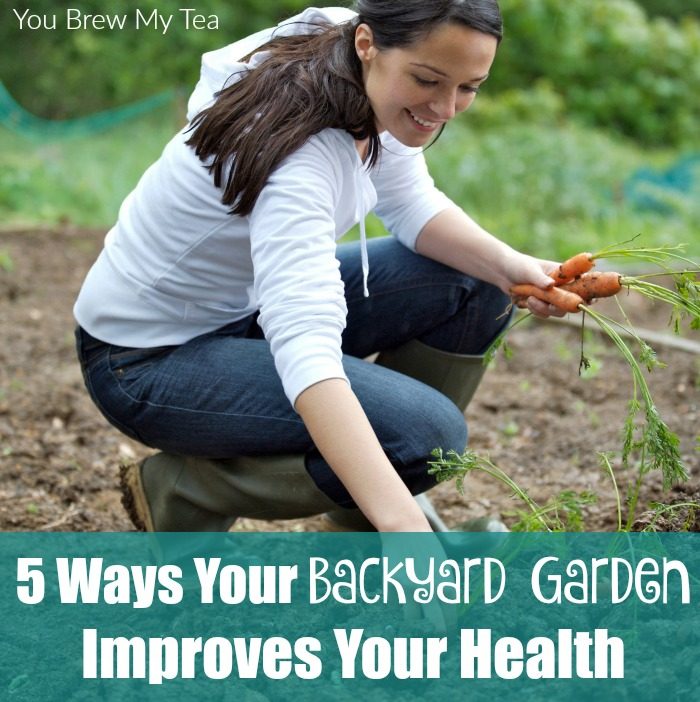 5 Ways Your Backyard Garden Improves Your Health
This post contains affiliate links.
Adds extra exercise into your routine. A backyard garden definitely requires a bit of work, but it's nothing too difficult to manage.  The hardest part is setting things up initially. Once you get your garden set up and plants in the ground, you'll find some regular work needed that can become a routine for exercise.  Removing weeds, hoeing around the plants, watering, and picking your produce once it is ready to harvest are all great forms of exercise.
Working in your garden can be a great low-impact form of exercise.  Take your time until you build up endurance, then you'll find it is easier and easier to complete basic tasks.  With the bending and lifting you do while harvesting plants and weeding your garden, you'll find you are building muscle strength and easily burning calories at the same time.  That's a great combination that easily fits into your routine without requiring gym equipment.  If you have a bad back or knees, you might want to invest in a garden scooter that allows you to use just your legs to scoot around in the garden easily while being near the ground for harvesting food or pulling weeds.
Promotes better eating habits for your family.  Obviously, if you have great produce growing in your backyard garden, you are more likely to eat fresh vegetables on a regular basis.  Having fresh veggies right there to enjoy all the time will encourage you to eat them more regularly.
One thing I love about having fresh vegetables is that since they ripen on the vine in your garden, the flavors are so much brighter and better.  Tomatoes fresh from the vine in your backyard garden are the only ones I really enjoy eating.  Tomatoes I buy in the grocery store so often have no flavor, and I would just as soon not waste money on them.  The same goes for things like green beans, peas, broccoli, and even cabbage that you have grown in your own garden.  The flavors and convenience mean you will be eating healthier on a regular basis.
Reduces the risk of contamination from foods.  This isn't a big concern for many, but as someone that has unfortunately experienced food poisoning even after cleaning fresh produce from the grocery store before, I do prefer to know exactly what my food is exposed to.  Organic gardening uses more natural compost and fertilizers which can be a great option to keep chemicals out of your food, but no matter what kind of food you are eating, you need to utilize proper safety methods in washing and preparing so nothing is contaminated.
I often use a special fruit and vegetable wash, but you can also use a sink of hot water with a cup of vinegar to do the same thing.
Improves emotional health by boosting your mood.  There is something meditative and soothing about gardening.  Watching plants grow from a tiny seed into a flourishing plant is mesmerizing.  Being outside is also great for your health. Fresh air and sunshine are great for your emotional health.  For those who struggle with anxiety and depression, a backyard garden is often an excellent choice for helping to boost mood and lower stress levels.
It helps provide lower cost food for your family.  For many families,the cost of fresh produce is the main reason their eating habits aren't as good as they should be.  A backyard garden will give you and your family lower cost produce.  This means you are eating healthier foods that aren't processed or unhealthy.  A backyard garden makes eating healthy affordable for anyone.
If you are considering a backyard garden this year, then consider how healthy it is for your family.  It can and will improve your health to grow your own vegetables at home.  You'll find yourself creating more delicious healthy recipes featuring fresh produce while you are getting more exercise from tending your garden.  That sounds like a great combination to help you experience better health in my book.
Other great health and gardening tips: