The holiday season is upon us, which means lots of family and friends over for holiday meals. Every little detail has to be managed, and our friend Katie from The Homespun Hydrangea has some great Creative Napkin Ring Ideas that you are going to love!  You might think it takes a lot of time and cash to create a gorgeous holiday tablescape, but the truth is you can do this on a dime. If you want to fancy up your holiday table and make your guests feel special, take a look these ideas!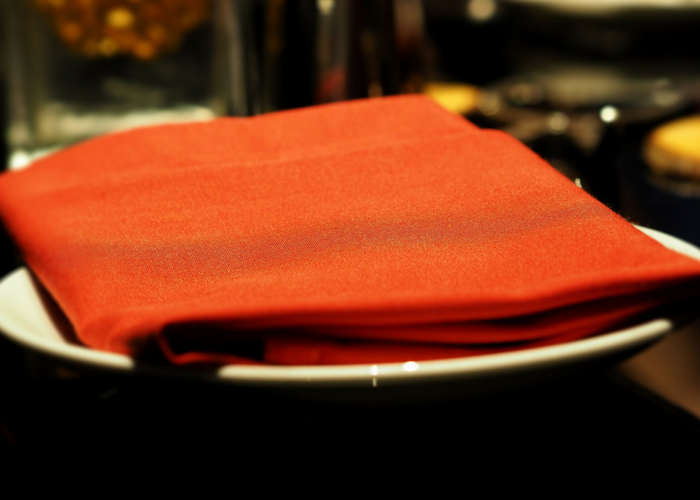 7 Creative Napkin Ring Ideas for Fall
This post contains affiliate links for Amazon. I may earn a small commission from purchases made via these links.
1. Twine.
There is something quite warm and cozy about twine. Add it to your fall table by wrapping it around napkins and tying it into a bow. You can use basic brown twine found at the dollar store, or use colored twine like orange or dark green.  I love this colored twine set that offers up tons of variety. It's perfect for this, but also for keeping in your craft room for future projects.
2. Silk leaves.
Grab a bag of silk leaves from the dollar store. Wrap a leaf around your rolled napkin and secure it with ribbon. This is a fun way to color, plus the leaves can be scattered on the table when the napkins are opened. This is a great way to add additional décor to the table.  This multi-pack of fall leaves on Amazon is a great deal for tons of leaves.
3. Colorful cardboard rolls.
Take your cardboard rolls from toilet paper or paper towels and cover them with fall-themed craft paper. Cut the rolls into one-inch segments and slide the napkins right through. There is no limit to the patterns of paper you can use! Start saving those cardboard rolls so you have them on hand when you are ready to craft.  You can also check out our own Upcycled Fall Flannel Napkin Ring idea using this method and fabric scraps!
4. Pipe cleaners.
Pipe cleaners are so inexpensive! Braid colorful pipe cleaners and wrap them around your napkins. You can use fall colors like orange, red, and yellow. This is a napkin ring idea that even kids can do, and you can use any colors to match your tablescape.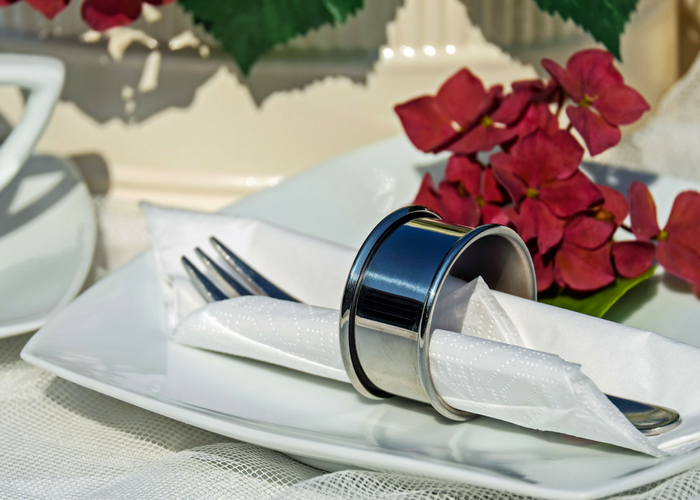 5. Ribbon.
Use any fall colored ribbon you have on hand and wrap it around your napkins. Tie it into a fancy bow and you can even glue a small leaf to it if you wish. Dollar stores have all sorts of fall leaves as well as fall ribbon, so this is a craft you can do for just a few bucks.  This is, by far, one of the easiest fall napkin ring ideas ever!
6. Try ornaments.
Head to the dollar store for gold finish ornaments. These are typically plastic with ribbon or string and can slide right on your napkins. An additional bonus is the ornament can be taken home by each guest so it also makes for a small gift.
7. Fabric strips.
Do you have tons of scrap fabric on hand? Cut or tear the fabric into inch wide strips and use it to wrap around the napkins. You can simply wrap and tie in a bow, or you can use the fabric around a cardboard tube as mentioned above. This is a great way to use leftover fabric strips while adding color to your holiday table.  Use craft scissors to cut fabric with unique edging without having to sew!
Fun, festive, and fast! Give these creative fall napkin ring ideas a try and see how simple it can be to add some fall fun to your holiday table.  Make sure to head over to Katie's blog and check out our other top great ideas like this Upcycled Wood Pallet Pumpkin Craft!
More DY Craft Ideas: