We have all been there.  That place where you want to move, or maybe just want to upgrade your home, but you can't afford a complete remodel.  There are several ways you can make this happen on a budget, and we have decided to share these 7 Easy Bathroom Upgrades with you.  These will help to push you toward creating a fun new environment in your home, without the huge expenses a total remodel bring about.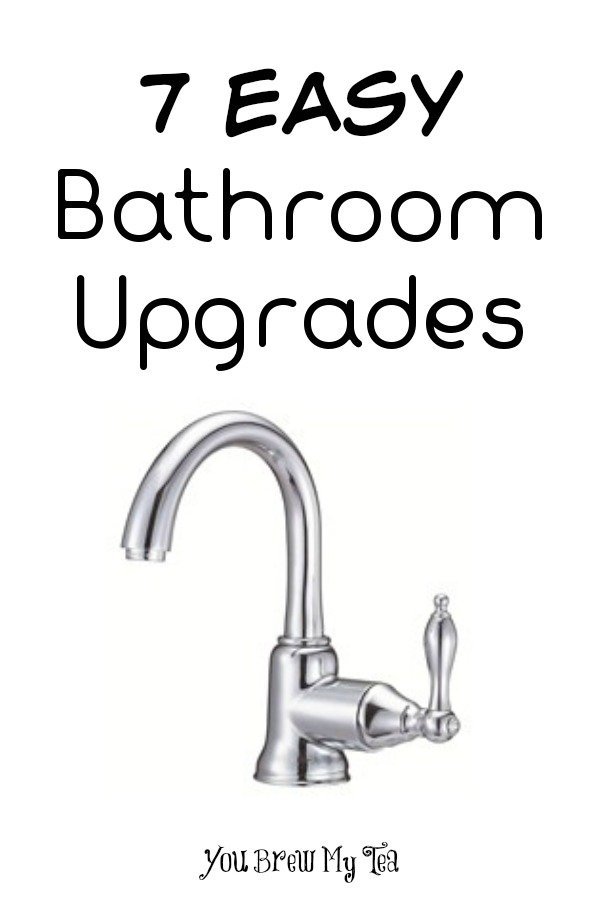 Replace Faucets: A nice new upgraded bathroom faucet will make a huge difference in the appearance of your bathroom.  Changing out this most used item can clean up the sink, and give an updated look to an older bathroom.  Look for bathroom faucets in chrome, polished chrome, black, gold, brown and other fun colors and styles to offer a unique look that can be matched throughout the bathroom on things like outlets, towel racks and other small accents.
Upgrade Toilets: A new toilet can totally change the look of a bathroom.  A different color, style or size can make your bathroom upgrade really look sharp and clean.
Buy New Shelving Or Storage: Towel storage, under sink storage or shelving for knick knacks can really make a room pop.  It can also hide clutter that may have previously made your bathroom look untidy.
Add A Bright Statement Color Wall: A coat of fun red, blue, green or yellow paint on one wall can really make the room open up and feel alive.  Pick a great complementary color and paint your bathroom to make it look fresh and new.
Hang New Mirrors: Get rid of the classic medicine cabinet look and hang a fresh and bright new mirror.  Match the molding to your new bathroom faucets, paint or other accents.  New shelving and storage get rid of the need for a medicine cabinet.
Upgrade Fixtures: Bathroom lighting is so important, and a fun upgraded fixture is an easy way to make the room look completely different in minutes.
Upgrade Switches & Outlets: Light switch, power outlets and all of your towel racks can all be upgraded to match your new shelving, paint color or faucets.  Inexpensive, easy to replace and having thousands of choices out there - this is one of the best options you will find for an easy bathroom upgrade.
Little things can quickly and easily change the entire look of your bathroom.  Focus on quality upgrades that fit within your budget, and do a few at a time.  Over the course of a year or two, you may find that you've given your home that full remodel you were looking for with just a few things here and there. These easy bathroom upgrades are just the beginning!
Don't forget to go over and vote for Ferguson Lakewood in association with Danze!
This post was sponsored by Danze Faucet.  Despite compensation, the thoughts within are 100% our own.