This list of fun and frugal Valentine's Day activities for kids are so fun to share!  My friend Katie from The Homespun Hydrangea brought us some more fun ideas to make your Valentine's Day frugal and easy.  I love her great ideas and how she always seems to find something fun to share with us that is frugal and kid friendly!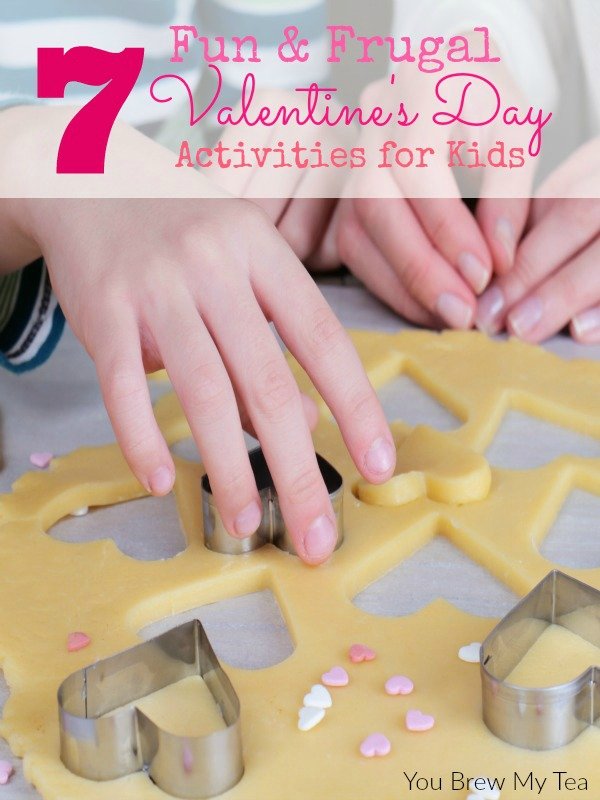 7 Fun And Frugal Valentine's Day Activities For Kids
This post may contain affiliate links. 
Valentine's Day is an excellent time to get active with children and get their brains and bodies moving! But where do you start? Take a look below at 7 fun and frugal Valentine's Day activities for kids that you can enjoy either as a family or a classroom. Each of these is an excellent way to celebrate the season without spending a great deal of cash. Here is how you can get started!
1. Make a Valentine's Day countdown banner.
Grab some clothesline, clothespins, and paper hearts from your local dollar store. Write the numbers 1-14 on each heart. Then, clip the hearts in numerical order to the clothesline. Let children remove one heart each day to count down the days until Valentine's Day.
2. Make Conversation Heart crafts.
You can use Conversation hearts for all sorts of crafting ideas. Glue them to picture frames, small boxes, headbands, and other items to add a little Valentine's Day flare. A little glue and a bag of hearts is all you need to get crafting. So easy!
3. Guess the candies estimation station.
Take various jars and containers and fill them with Conversation Hearts. Be sure to have one person count them as you fill the containers. Then, let children take turns guessing how many hearts are in each container. The closest one wins, of course!
4. Make Valentine's for a local hospital or nursing home.
Give your children a variety of crafting supplies and let them make their own valentines. Then, take them to deliver the valentines to a local hospital or nursing home. They are sure to love getting creative, and are sure to love making others smile.
5. Make paper flower bouquets.
Give children tissue paper for crafting paper flowers and green pipe cleaners for stems. Let them create their own bouquets and arrange them in a dollar store vase. They can use the bouquets to decorate their own rooms or to give as gifts to teachers or friends.
6. Decorate your own mailboxes.
Take an empty cereal box and craft it into a mailbox for all of your valentines. Simply cover it with craft paper, add stickers or stamps, and create a slit to slide the valentines into. Kids will love designing their own box, and they will come in handy once those cards start coming in.
7. Make heart critters.
Take paper hearts and see how many critters you can turn them into. Add googly eyes, pipe cleaner arms, and other embellishments to make people, animals, and other critters. They are only limited by their imagination!
As you can see, Valentine's Day can be a fun and frugal time of year. Give these Valentine's Day activities for kids a try and see how much they enjoy them!
Check out our other great Valentine's Day posts for fun and frugal inspiration! 
7 Non-Candy Valentine's Day Gift Ideas
Free Valentine's Day Color Pages
Simple Frugal Valentine's Date Night Ideas
Printable Coupon Book For Valentine's Day