We are always looking for ways to sneak in nutritious food in our sons diet, and we have found these 7 Sneaky Ways To Feed Your Kids Spinach that work wonders in our home. While the Wee Child eats fairly healthy, we are always looking for ways that we can get more nutrient dense food into his diet without fuss. Texture issues are a big problem for him (and me), so I work to find ways that he can eat things without the texture overwhelming him. Spinach is one thing he has balked at before, but will gladly eat when mixed in with other things.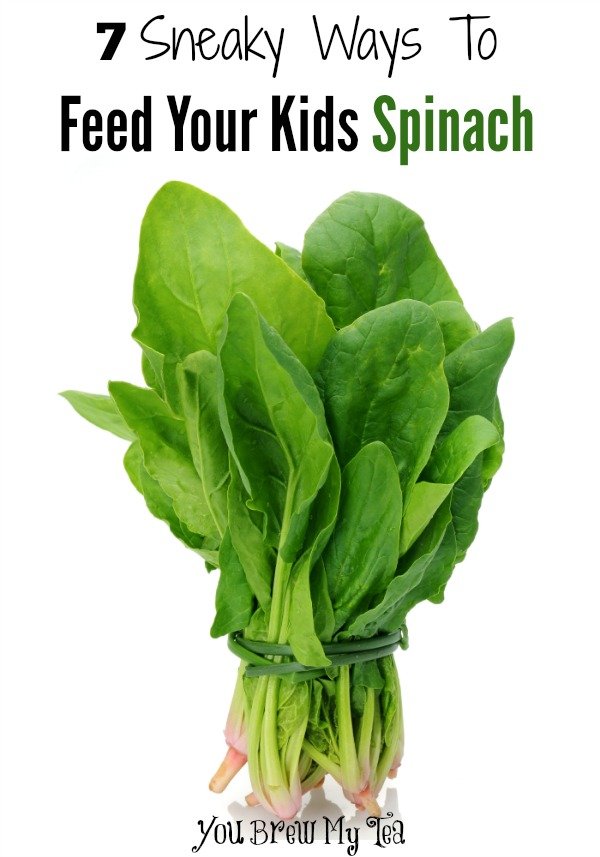 7 Sneaky Ways To Feed Your Kids Spinach
Smoothies: This is of course the most widely popular way to include spinach in your kids diet. A bit of frozen fruit, juice, a handful of spinach and even a tad of yogurt are great ways to make smoothies. We have a Tropical Fruit Smoothie and Peanut Butter Banana Smoothie blend that we love, and have found blend wonderfully with a cup of spinach in them.
Fajitas: Spinach wilts beautifully in with the other vegetables and meats you add to fajitas. This is a great way to boost up not only flavor, but color and nutrition in this family favorite meal.
Tacos: Chopped spinach mixed in with lean ground meat and/or refried beans creates an excellent hearty and nutritious taco filling. Kids won't even notice it's there. The Wee Child knows we add spinach to these items, and he doesn't mind at all because it tastes just as good as "regular" tacos!
Spaghetti: Another great well seasoned meal that works wonderfully with a bit of spinach thrown into the mix. Grab the veggie pasta varieties for an extra serving, or simply wilt your spinach in as you add the sauce over noodles or meat. We add chopped spinach to nearly every batch of spaghetti we make and it adds a nice rich flavor that everyone loves.
Lasagna: I have layered spinach into my lasagna on top of the meat sauce and cheese, but you can also blend in with ricotta to create a separate mix layer that everyone will enjoy. Since lasagna is all mixed together anyway, kids usually don't notice that extra green leaf on their fork.
Salads: If you are lucky, your kids will enjoy eating salads. The Wee Child loves salads, but it's mostly the dressing he enjoys. To get around the high fat and sugar content of salad dressings, we use spinach with fresh strawberries, chopped nuts and avocado. A light drizzle of oil and vinegar and toss it together. The strawberries add a natural sweetness to the salad. The avocado is a healthy fat that adds the creaminess he expects, and the nuts are crunchy like croutons would be. The oil and vinegar help bring everything together, and it is a salad the Wee Child asks to eat.
Baked Goods: Everyone enjoys zucchini bread, despite it's base of vegetables. For every cake, brownie or muffin you make, chop and add in spinach to the mix. It won't make them taste any different, and will provide you with a bit of nutrition that will make up for some of the bad parts of those baked items. If you are cooking from scratch, you can play with various sweetening methods like applesauce, bananas or even pumpkin in place of the more traditional sugars and oils to make it even healthier.
We have really begun focusing on how to introduce nutritious yet delicious food to the Wee Child over the last few years. While he has always been exposed to healthy choices, we want to make sure he is really understanding that healthy doesn't mean it tastes bad. Yes, we hide some vegetables to mask their flavor a bit, but we are also teaching him that just because you don't like the first taste of an item, doesn't mean it will always be unsavory.
Check out our other posts about eating healthy!
Are You Feeding Your Kids Enough Or Too Much?