As a larger woman, I am always on the lookout for affordable plus size clothing.  As summer is officially here, it's even more important to me to find stuff that I can wear, feel good about wearing, and afford.  Since I had my hysterectomy this year, I have really been working on my health.  My weight has fluctuated, and while I am on the way down, I need to feel better about my appearance.  So, I went on the search for a few wardrobe pieces that would accent my existing summer wardrobe, make me feel good about myself, and stay cool this year.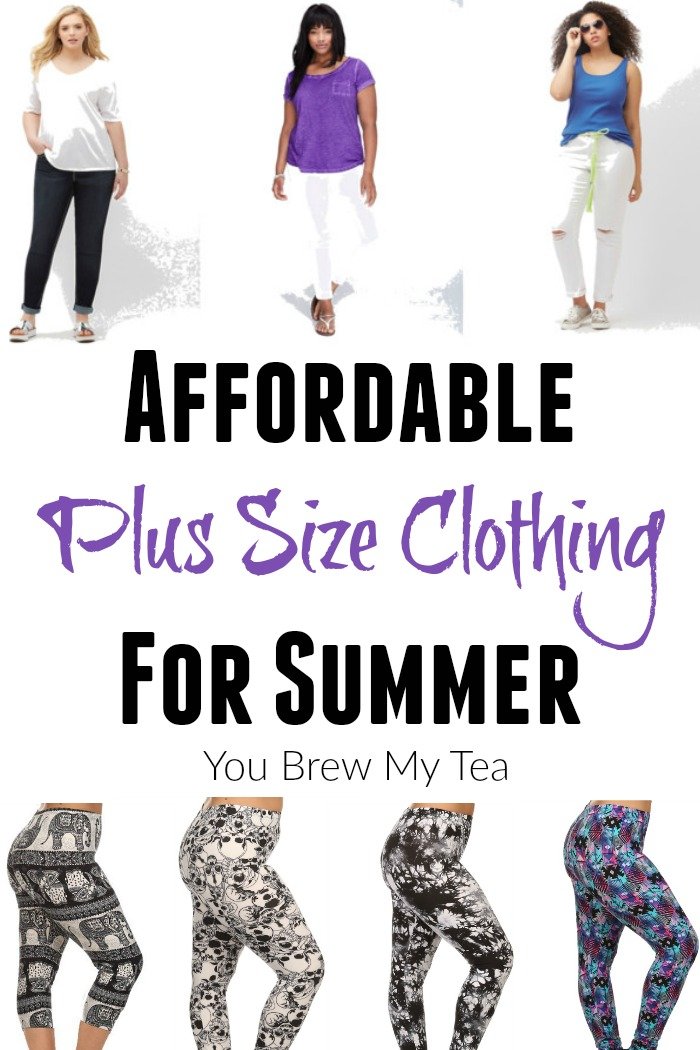 Affordable Plus Size Clothing For Summer
This post contains affiliate links.
Let me start by saying that I am probably not the best person out there for practicing what I preach.  I tend to live my life in t-shirts and frumpy lounge pants as I work from home.  Mostly due to my social anxiety issues from past abuse, but now that I am getting past that more every day, I find I am trying to dress nicer for our weekly outings.
I am also purging more of my older clothing that just shouldn't see the light of day.  Let's face it, we all have a t-shirt or leggings that should be thrown away due to stains, tears, or holes.  I've been on a mission to find affordable plus size clothing to replace what I need to throw away that is both comfortable for daily wear working from home and functional for wearing outside the house.  So, I am sharing a few of my favorites with you.
Legging Army Leggings:  I have been a fan of leggings for a few years now, and while they aren't a traditional pant, they are ideal for my work at home wardrobe.  Additionally, when worn with the right shirts, they really are great for wearing everywhere.  As I whittle away at my weight and continue losing weight, leggings are a great investment that will adapt to my smaller size easily.  I found this brand through a friend, and I fell in love because they are just as soft as other popular brands, at a much lower cost.  They also offer a plus size that is still super affordable.  There are tons of colors and styles.  They offer kids sizes, regular sizes, plus sizes, and even joggers with the ankle band and drawstring waist.  I signed up as an affiliate to save on my purchases, and yes, if you input my name (Katie Hale) when you purchase I earn a commission.
Prices: Kids are $14 each, One-Size that fits up to size 12/14 – $16 for most leggings and $20 for joggers.  Plus-Size fits 14-20 (and some larger sizes – it all depends on proportions) – $18.  Shipping is free on all domestic orders and varies on international orders.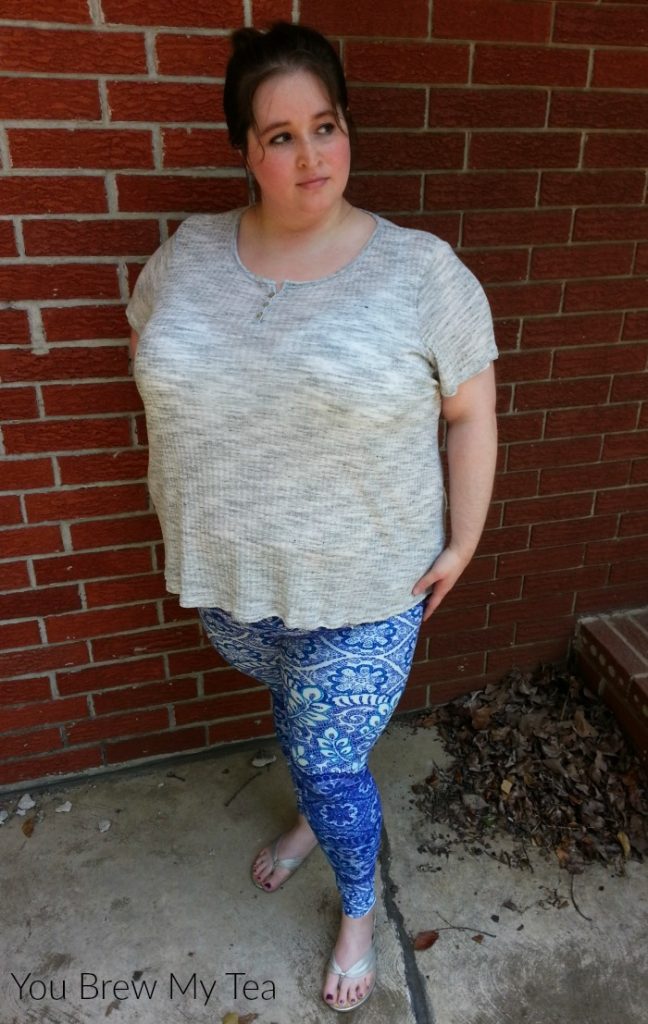 My favorites:
Shown with my favorite black tunic shirt is the Laced In Pink Legging. They are black and white with a faint pink accent.  Super easy to style with nearly any shirt color, and super comfy.  Shown with the gray shirt are the True Blue Leggings.  These are super bright and fun, but I love them!  They are definitely easy to wear, and match with gray, white, black, or that specific blue if you can locate a shirt you love that matches.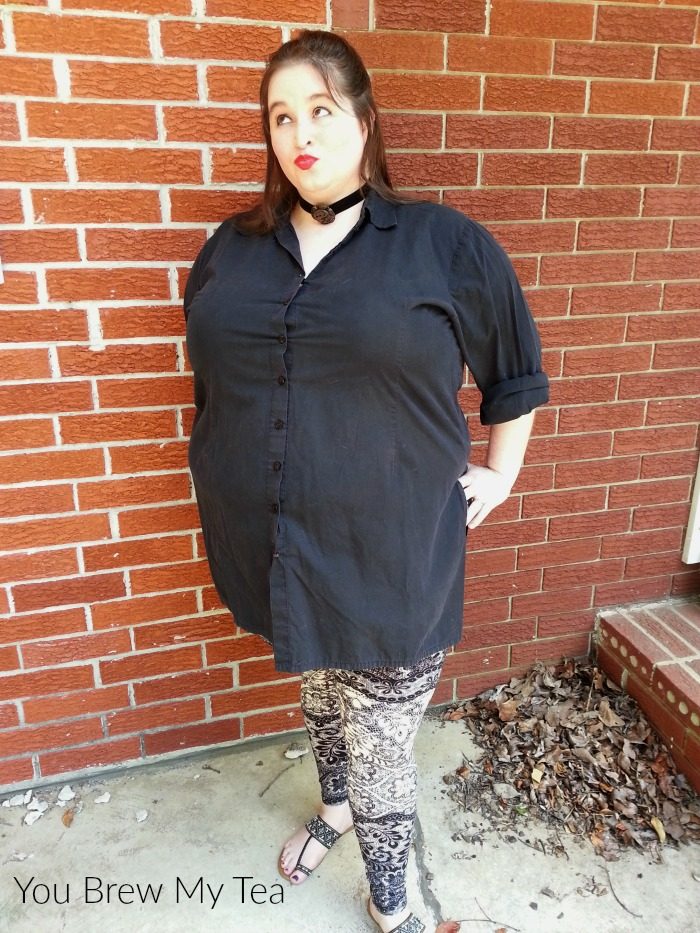 Other favorites I own:  Smoke & Mirrors, Black, White Allusion, Boho Gypsy, Vintage, and Static Waves.  I like more traditional or not as vibrant colors, but have some of the Candy Skulls leggings on order.
These leggings are nice quality, and the material is not only that super soft but thick enough that they aren't see-through.  The lighter shades may be prone to showing through easier, but typically I haven't had any problems with them being too thin or see-through.  I wear them with t-shirts for everyday wear, under tunics, and dresses, and even to workout.  They are super breathable, so they work well year round.  For the colors that aren't available in Capri, you can easily roll or fold them and create your own Capri style.
Savings Tip:  To get 2 pairs of leggings for $29.99 shipped, sign up for an affiliate account using my name (Katie Hale) as your referral.  That's a few dollars savings, and gives you the chance to have a totally free affiliate account you can earn from. Note:  Affiliates have no quota or required orders.  So, you can use this deal once and that be it, or you can continue buying and use your affiliate discount in the future.  You could also set up your website and create some income from this.
Lane Bryant:  I love Lane Bryant, but they can be a bit higher in price than some places I shop.  That said, as I go through what is in my closet now, I am finding a theme.  The t-shirts and blouses that I purchased from Lane Bryant 3 and 4 years ago are still in great condition.  The ones I grabbed at discount retailers have more holes and fraying.  So, you do get what you pay for, and in this case, paying more for a t-shirt that holds shape, is flattering, and will last a few years of regular use is definitely still in my affordable plus size clothing list.  They also regularly run sales on their t-shirts for 25%-50% off, so if they aren't a price point you like right now, keep checking.
My favorites: 
While I love many of the dresses, pants, and shorts that Lane Bryant offers, they usually aren't in my price range for being affordable plus size clothing unless on sale.  I encourage you to check out their sales when shopping at Lane Bryant for those hidden steals!
Savings Tip:  Choose site to store shipping and save $7-$15 on shipping costs.  They have an easy to use store locator on site to help you find the nearest location to your city.  Also, once you make your first purchase, you'll start receiving tons of emails and mailed cards with discounts on future purchases at the store you have your purchase shipped to, as well as for future online purchases.  I love getting their $25 off $75 purchase coupons!
Target:  I've been a fan of the various Target clothing brands for years, but rarely shopped for them as I didn't have one close by to try things on.  While I love the styles, and they tend to be in my affordable price range, I use to find the sizing to be a bit small on my body.  Now that they have launched a larger plus size selection, they finally seem to have the sizing right.  Everything I have grabbed in the last two years has been spot on.
My Favorites: 
Savings Tip:  Download the Target Cartwheel App and look for clothing discounts and coupons toward clothing purchases each week.  I've found many instances of 25%-50% off specific brands, items, or styles that helped when I shopped in the store.  Also, don't forget to check the clearance section online.  I find a ton of great deals there that aren't available in my local store any longer.  Especially extended sizes!
If you are looking for truly affordable plus size clothing for this summer, I hope this list of my personal favorites helps you.  While I tend to stick with pretty classic looks and styles, there are tons of great options full of color, style, and excitement in plus size fashion.  I love knowing that so many retailers are really stepping outside the box and giving us a chance to flaunt our looks with pride instead of hiding behind ugly or ill-fitting clothing.
More Affordable Plus Size Clothing Tips: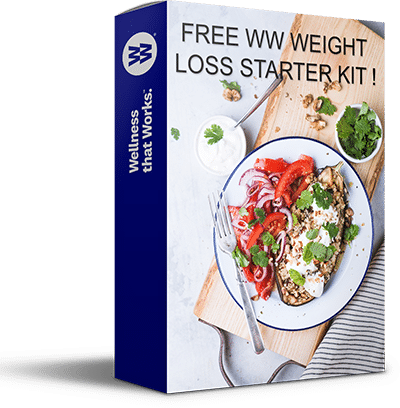 FREE WW WEIGHT LOSS STARTER KIT
+ exclusive tips, recipes & more to lose weight, increase confidence, and live a healthier and happier life !