We are always fans of finding affordable travel locations.  Being in the Midwest means that there aren't as many of those big name attractions, but there are still amazing family vacation destinations, and we found one just a few short hour away in Tulsa, Oklahoma. Since my sister lives in Tulsa, it was perfect for us to use a few days recently to get away and do fun things together as a family.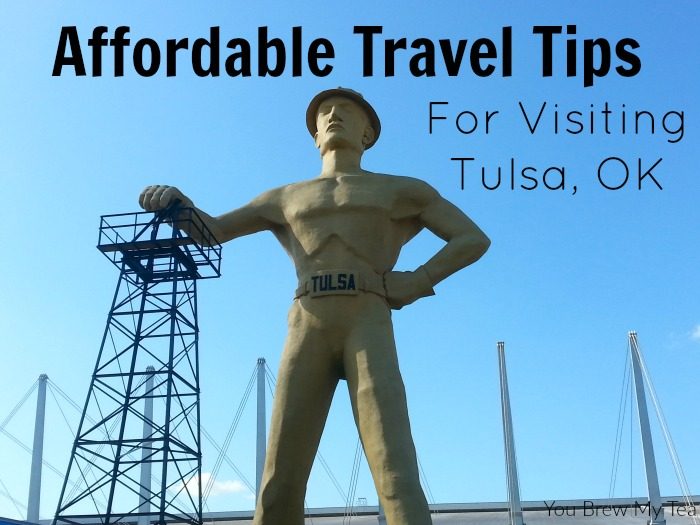 Affordable Travel Tips For Tulsa Oklahoma Vacations
This post contains affiliate links.
Spending time with my Sister is our favorite part of traveling to Tulsa, Oklahoma.  That said, this little city in the Midwest packs a lot of punch that fits easily into any budget.  Whether you want a fun place to go with kids or a unique foodie experience, you'll love Tulsa, Oklahoma as a travel destination.  We've taken a few tips from our most recent trip to share with you here.
Take alternate routes to avoid tolls.  Traveling in and around the city of Tulsa means you will encounter toll roads.  It is a given that you will be spending a few dollars coming into or going out of the city.  You don't however, have to spend much outside that initial expense if you utilize the map to avoid tolls.  Traveling within the city and staying off the freeway that helps get from one destination to another faster can save money.  The mileage is almost always nominally different, but taking in city roads instead of the freeway will take a bit more time due to stops and slower speed limits.  Take the time map your travel to the city and within the city for alternate routes without tolls.  If you do have to take a toll road, make sure you have plenty of loose change on hand in your car.  Many toll locations only take change and don't accept credit cards.
Choose a hotel with breakfast and extra space.  We personally love the Embassy Suites location anytime we travel, and the location in Tulsa is definitely amazing.  While it is more expensive than many lower-end hotels out there, it actually ends up being more cost-effective for us every time.  This location is located in a convenient location that is within minutes of everything you want to see, but quiet enough that you don't feel like you are too crowded by activity. Our two favorite parts of the Embassy Suites are the added "living room" in each suite and the made to order breakfasts.
We like the privacy that is given with a door to the bedroom.  That means we can have a little alone couple time after the Wee Child is asleep on the pull out sofa.  For a larger family, their options that include king suites, queen suites, or even double bed suites, you can easily sleep 6 people in one room with no cots or kids on the floor.  This is perfect for cutting costs for a large family that might otherwise have to book multiple rooms.
The made to order breakfast, and the evening reception with drinks and snacks, are both great ways to cut back on food costs when traveling.  A glass of wine or a soft drink with some chips and salsa may not seem like much, but if you have been busy all day out and about, they are a great choice to tide you over until you order dinner.  For a family of 4, buying a drink and snack for everyone would cost $10-$15  night.  The made to order breakfast isn't just donuts and coffee.  They serve up omelettes, biscuits, gravy, sausage, bacon, fruit – just about anything you could ask for in a breakfast.  A restaurant style breakfast of that nature would cost $30-$40 a day.  Even a fast food breakfast would easily cost $15-$20 a day. That adds up to an easy savings of up to $65 a day in food.  It makes the hotel nightly rate even less expensive than a competitor would be on your budget.  Plus they have an amazing indoor pool, hot tub, fitness room, and a kids arcade area.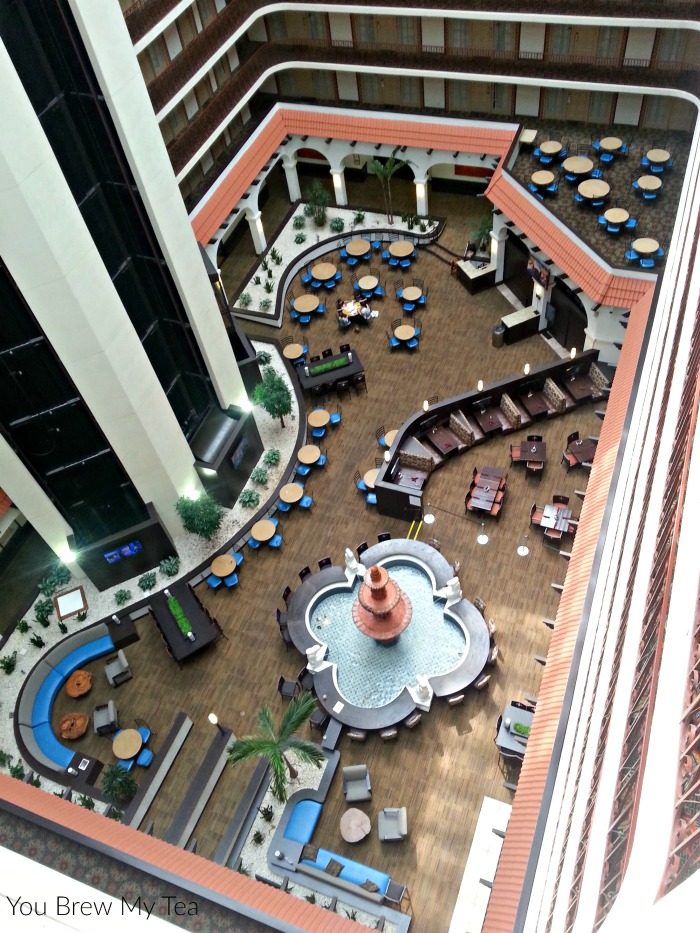 Pack your own snacks and meal options.  This is one of my top road trip tips, no matter where you travel.  If you choose a hotel like Embassy Suites, you'll have an in-room microwave and mini refrigerator.  That means having a fast lunch or dinner from things you bring with you is totally doable.  They even have a decent sized table that you can sit around for a family meal.
Shop deal sites for local activities.  One of the best things I found preparing for our trip to Tulsa, Oklahoma was that Groupon had some great deals on area attractions and restaurants.  We saved around 50% off regular costs on the things we paid out of pocket for just by grabbing deals on Groupon.  Things like half priced movies, local miniature golf locations, and even some of the big attractions and museums offer discounts through Groupon.
Contact the Tulsa Chamber Of Commerce:  One of, if not the best affordable travel tip I have for any location is to check with their Chamber of Commerce for discounts, coupons, and local guides.  You will often find discounts for the hotels in the area, but also tons of buy one get one free coupons or vouchers for things like local museums, the zoo, or even the local water park.  The Tulsa Chamber Of Commerce is a great group that will give you plenty of information on what to check out in the area, and how to save money in the process.
These affordable travel tips are what made our recent weekend getaway to Tulsa, Oklahoma a much more affordable time for our family.  We loved venturing out into the community to test out great local restaurants, have fun as a family, and to enjoy local hospitality.  If you are in the Midwest, definitely keep Tulsa on your potential travel destination list.
More Travel Tips: