With warmer temperature comes the need for Allergy Season Relief for kids and yourself.  With so many things on our schedule, I don't want to stop work or play because the Wee Child isn't feeling great.  Having something on hand to help him feel better is a must.   So, finding allergy season relief is a must.  So, when Pfizer asked me to check out some of their top products, I knew that it was a great time to share our tips and tricks for allergy season and how I manage despite being a busy working mom.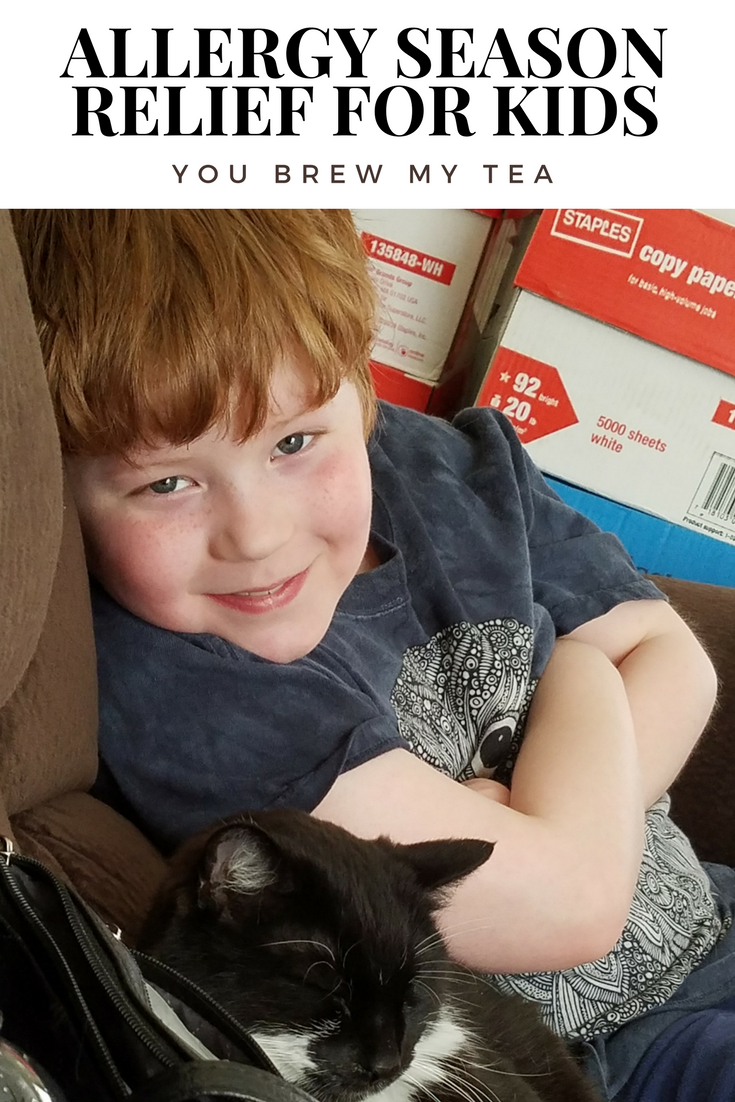 Allergy Season Relief for Kids
First off, I have to disclose that I received a package that included the following products for use with our son:  Children's Dimetapp® Multi-Symptom Cold Relief Dye-Free, Children's Robitussin® Extended-Release 12 Hour Cough Relief, and Children's Advil®.  Along with these products, I was compensated for sharing with you, but since they are products we normally keep on hand in our home, I knew it was a fit for our blog.  Sharing about the Pfizer Pediatric Products and the Sick just got real.™ campaign fit into our own life easily.
Moving on to the reason behind this post.  Allergy season relief for kids.  The thing is, my son just has mild allergy issues.  Only occasionally will he be affected.  However, the common suggestions for those symptoms often leave him well, angry.  Yes, my son is one of those that doesn't calm down and sleep, instead, he gets super cranky and just horrible to be around.  So, instead of using traditional allergy medications, I try instead to treat only the worst symptoms with things he does well taking.
Treat symptoms with quality products.  Most of the time, allergies aren't worth a trip to the doctor.  In fact, for us, it usually just means annoying symptoms and a mild fever.  As busy as our schedule is these days with my work, homeschool groups, and exploring our new state, it's a must to have something on hand that I trust to help.
When the Wee Child has a mild fever, some discomfort from his allergies, or just isn't feeling great, I love having something on hand to help.  A bit of Children's Advil® is ideal for a headache and swelling that comes with allergies for my son.  It is safe, tastes good, and easy to manage.  Just remember to check dosing amounts for the age and weight of your child, and keep locked up and away from kids.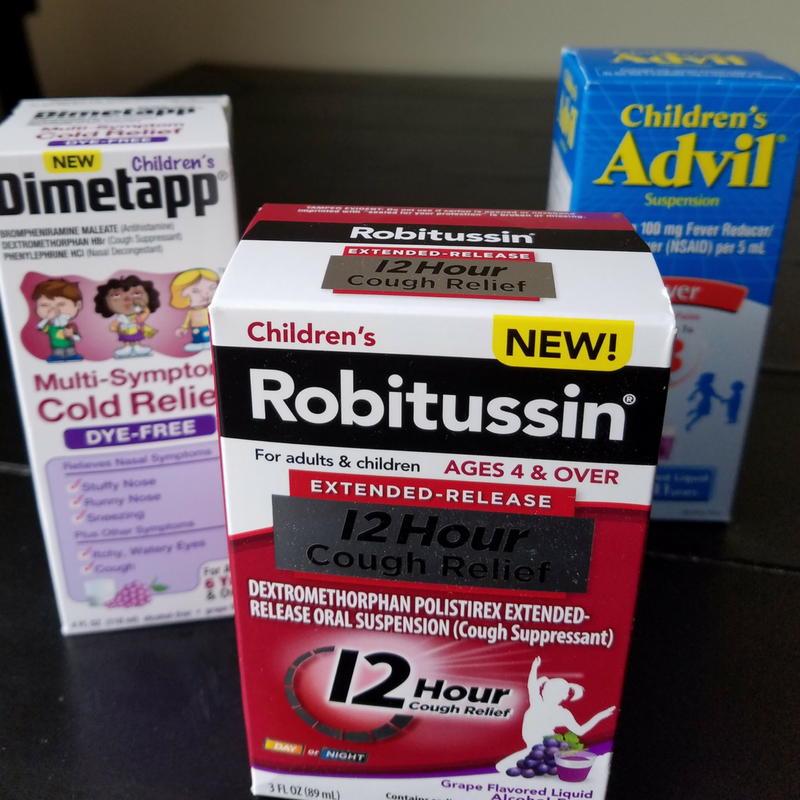 Stick with your routine.  For moms, it's hard to manage everything.  If your kids are not feeling well, you may want to just throw caution to the wind and forget everything else.  The thing is, with things like minor illness or allergies, you can usually stick with your routine.  Don't start stressing about work or plans being canceled.  Make sure they are drinking plenty of fluids, eating some healthy nutrient dense foods, and of course, relieve symptoms as you can.  If they have a fever, you will want to stay at home, but you can still have fun!  Just treat their fever with some Children's Advil®, and pull out the games instead!
Treat general illness properly.  One of the great things about having the Children's Dimetapp® Multi-Symptom Cold Relief Dye-Free, Children's Robitussin® Extended-Release 12 Hour Cough Relief, as well as the Children's Advil® on hand, is that they are ideal for treating common cold symptoms.  If your child has a simple cold, these have your back.
Kids can continue to do every day things like play outside, watch TV, play video games, and interact with their family without frustration.  Especially when they don't feel bad, but have annoying symptoms like a cough or a runny nose.  We especially love the dye-free aspect of the Children's Dimetapp® Multi-Symptom Cold Relief Dye-Free.   We have found that sometimes the dyes included in symptom relief products can make our son a bit hyper.  This makes it easy to treat any minor cold without frustrations.  He can relax and rest to allow his body to heal.
Seek medical treatment if worsens.  I am a huge fan of managing minor symptoms and issues at home.  Things like a headache, cough from post nasal drip, and itchy eyes can all be managed easily without a visit to the doctor.  However, when a fever develops or symptoms worsen or don't go away within a few days, I don't hesitate to remind you to head to the doctor.  My tips are not to be a replacement for proper medical care.  The most important thing is making sure your child is feeling better.
Don't forget to check out the great tips from Pfizer Pediatric Products on how to manage when Sick Gets Real.  Whether you are struggling with a child who has aches and pains, or you are looking for that cough relief we are always looking for, they have great tips!
If you are looking for real allergy season relief, these tips are a must for your kids and for you to manage in your busy schedule.  Don't forget to grab our favorite Pfizer Pediatric products to help keep annoying symptoms from colds, coughs, or fever under control.