Robots are a hit for many boys. Sometimes though, finding the right robot themed item can be difficult. The options can seem pretty overwhelming no matter what age you are shopping for. It can be so hard to narrow down the best options.   That's why we have gathered the Best Gifts for Boys Who Love Robots.  This list includes fun items for all ages, that encourage learning and fun while sticking to the robot theme!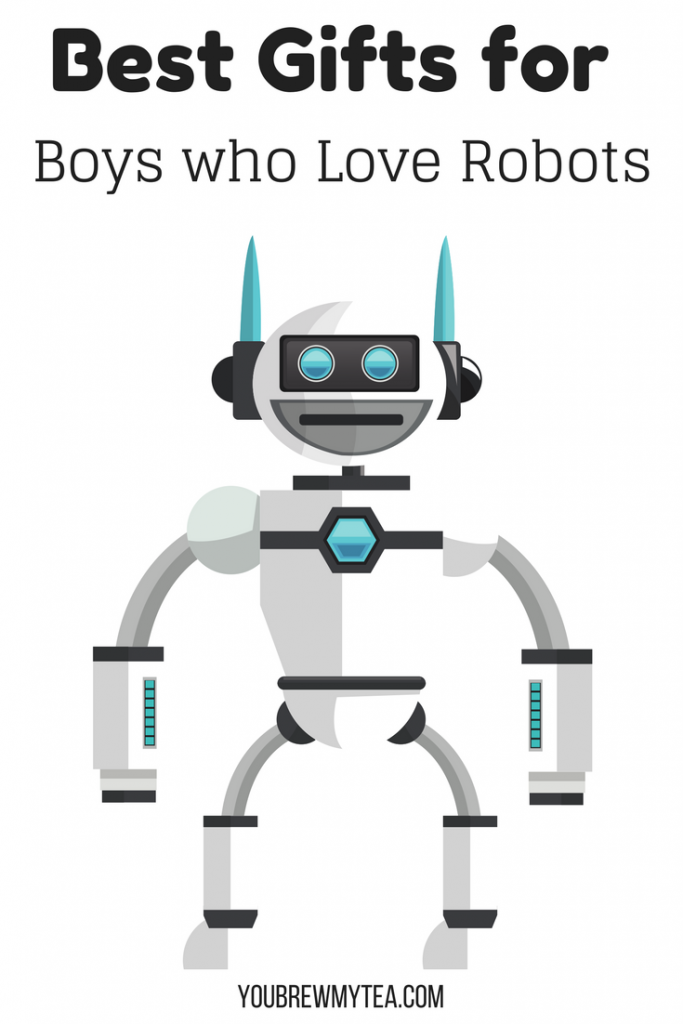 Best Gifts for Boys Who Love Robots
This post contains affiliate links.  I earn a small commission on purchases made via these links. 
Our son loves robots.  Whether it is watching a TV show that features a robot, picking out toys that are robots, or pretending he has created his own robot, he loves them.  This list of gifts for boys centers around a robot theme.  Whether you are shopping for a birthday, holiday gift, or one of those special "just because" gifts, this list is a great place to begin.
Infants/Toddlers
When your boys are infants and toddlers, you will likely not see a decided interest in robots. That said, these are great gifts that any child would love, boy or girl!  They do include some great things that focus on robots, and are perfect for introducing your kids to them!
Robots, Robots Everywhere! Book
Preschoolers
Once your kids start growing up in the preschool years, you'll notice personality and preferences.  Preschoolers can definitely love these gifts for boys that are all robot themed.  Again, don't focus on just the boys – girls will love these ideas too as fun gifts! At this point, the gifts can easily become tools to teach!
Robots, Robots Everywhere! Book
Kids
Kids get so excited about new toys, and this list of great robot themed gifts for boys is perfect for education and playtime.  These are ideal for getting kids excited about learning through playtime!
Building Remote Control Robots
Tweens
I love this age for boys who are interested in robots!  They are able to create and build on their own, and learn using robotic symptoms!  These are ideal gifts for boys who are transitioning into the teen spectrum of playtime and learning! These kits and options below are ideal since they encourage tweens learning how to build their own robot from the ground up!
Wireless Wifi Robot Car (with Camera)
We love sharing great ideas for kids to learn from, and this list of gifts for boys that feature robots and robotics kits is a great place to begin shopping.  We know how amazing it is to find a gift that your child will love and use over and over again.  This list has something for all ages, and so many of them are ideal for continued use for months and even years!
More Gift Ideas for Kids: