This Candy Corn Chocolate Caramel Apple was created for us by our friend D. from A Worthey Read.  He is so creative and has such amazing recipes to share!  I told him how much I loved the idea of chocolate and caramel covered apples, and he said he would make something special for me.  He certainly didn't disappoint!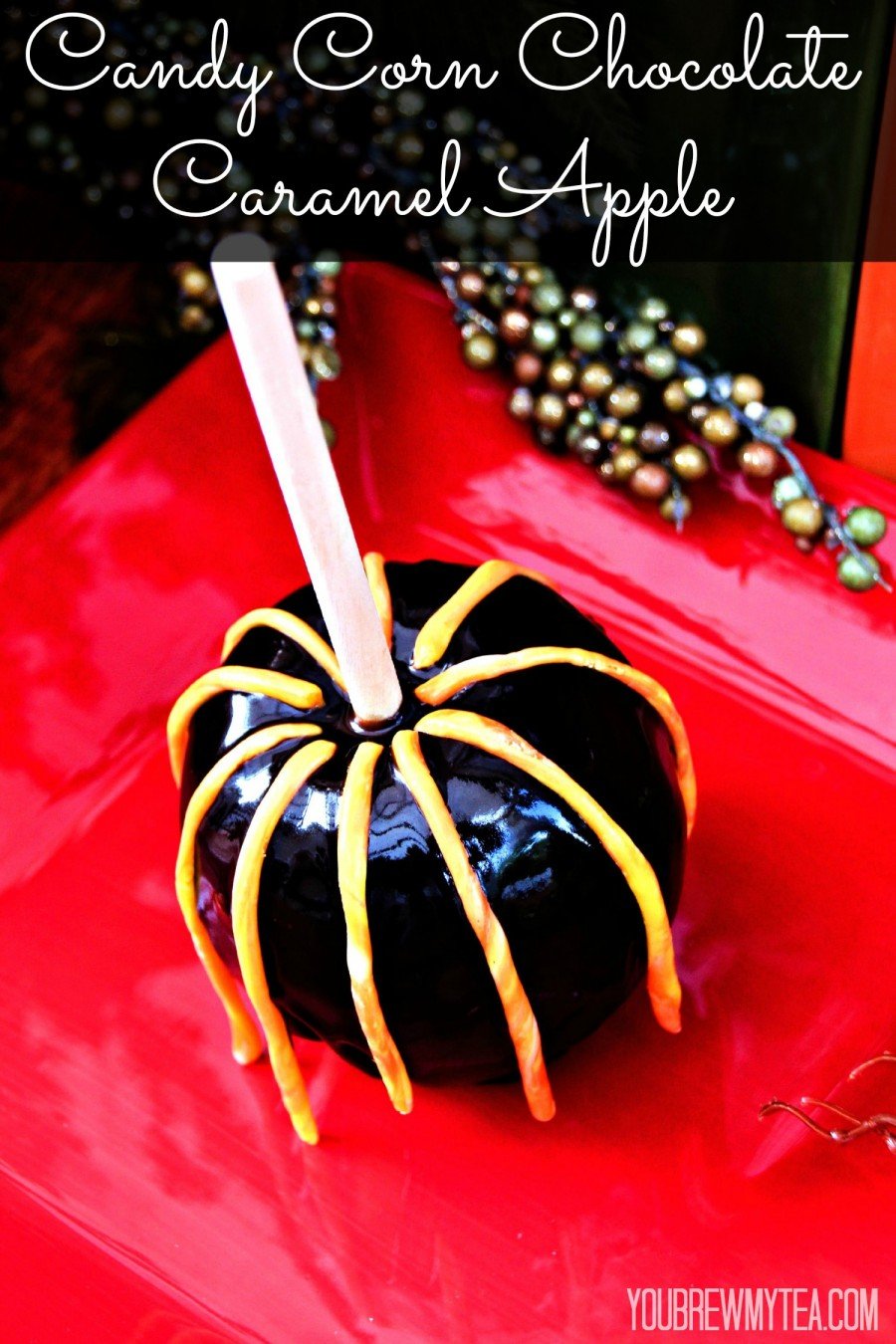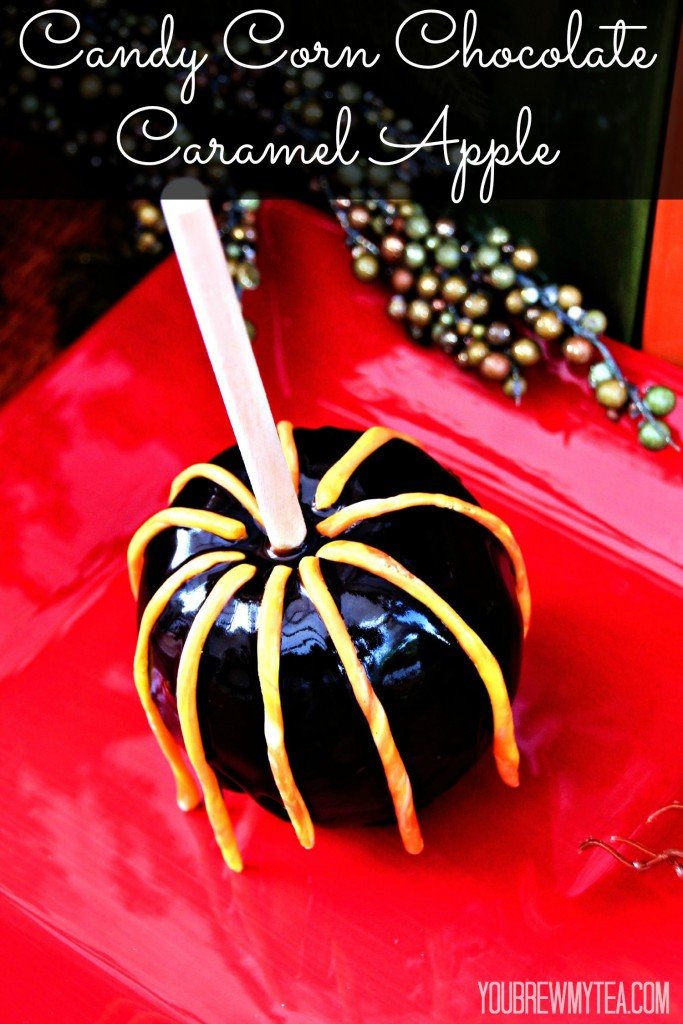 Candy Corn Chocolate Caramel Apple
He combination of chocolate and caramel is one I have always loved.  In fact, caramel is almost always my favorite when being offered candy of any kind.  This candy corn chocolate caramel apple is a great choice because it has all of my favorites in one delicious treat!
You start with your choice of apples.  Traditionally, a caramel or candy apple would be a granny smith apple with the tartness in contrast with the sweet coating.  We prefer to use Fuji or Gala because we like our apples a lot sweeter.
Wash off your apples and remove the stems, then insert your Popsicle/Craft sticks into the top.  You'll want to have a sheet of wax paper handy to put them on once dipped, so go ahead and put that out in a convenient location.
Melt your chocolate chips and caramels on the stove.  This is my favorite part.  I just love watching the caramels melt!  Next you'll dip the apples into the caramel and chocolate mixture and coat well.  You can use a spoon to cover any spots that don't get coated easily.
The addition of melted candy corn pieces is so cute!  It almost makes the caramel apples look like they are a backwards spider with orange legs! The contrasting colors and delicious flavor combination make this a favorite treat for Halloween!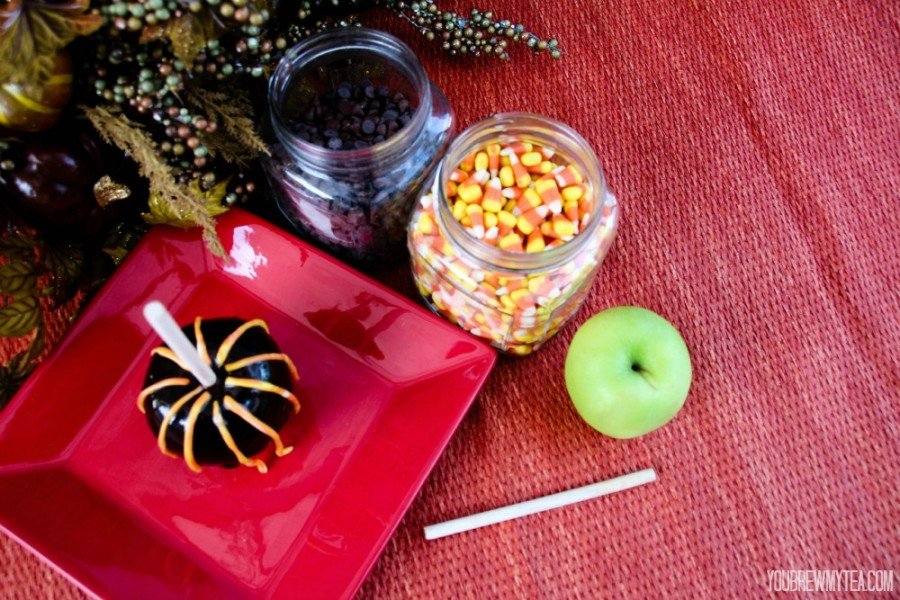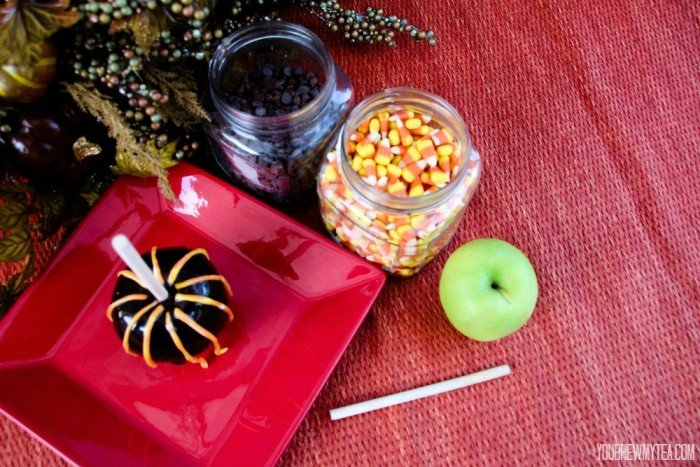 Candy Corn Chocolate Covered Apple
Ingredients
2 Cups of Chocolate Chips
10 Caramel Squares
2 Apples (whatever kind you prefer)
15 - 20 Candy Corns
½ Cup Milk
1-2 Tablespoons of Unsalted Butter
½ Tablespoon of coconut oil
2 Popsicle Sticks
Wax Paper
Instructions
Rinse and dry apples, remove stems and insert Popsicle sticks.
Place enough wax paper to accommodate two apples on a cookie sheet or counter in convenient location.
In a medium saucepan, melt milk chocolate chips over medium heat. Stir milk in gradually, only add enough milk to encourage melting (do so in tablespoon increments). Add caramel squares, this helps make the chocolate stickier and it adheres to the apple better
When chocolate/caramel mixture is melted hold onto the Popsicle stick and dip apples into chocolate. You may use a spoon to help coat all areas of the apple. Then place dipped apples on wax paper
In a small skillet melt 2 tablespoons of butter and gradually add candy corns, move them around as they soften . When candy corn is soft, remove from skillet and place on a cool plate with a little coconut oil brushed onto the surface. Slowly work softened candy corns into long sticks with the palms of your hands. Carefully drape candy corn sticks over chocolate covered apples
Place apples into refrigerator to allow chocolate to set for about 10 - 15 minutes
Serve
This candy corn chocolate caramel apple is sure to be a favorite around Halloween.  Not only is it dark and spooky, but it tastes amazing!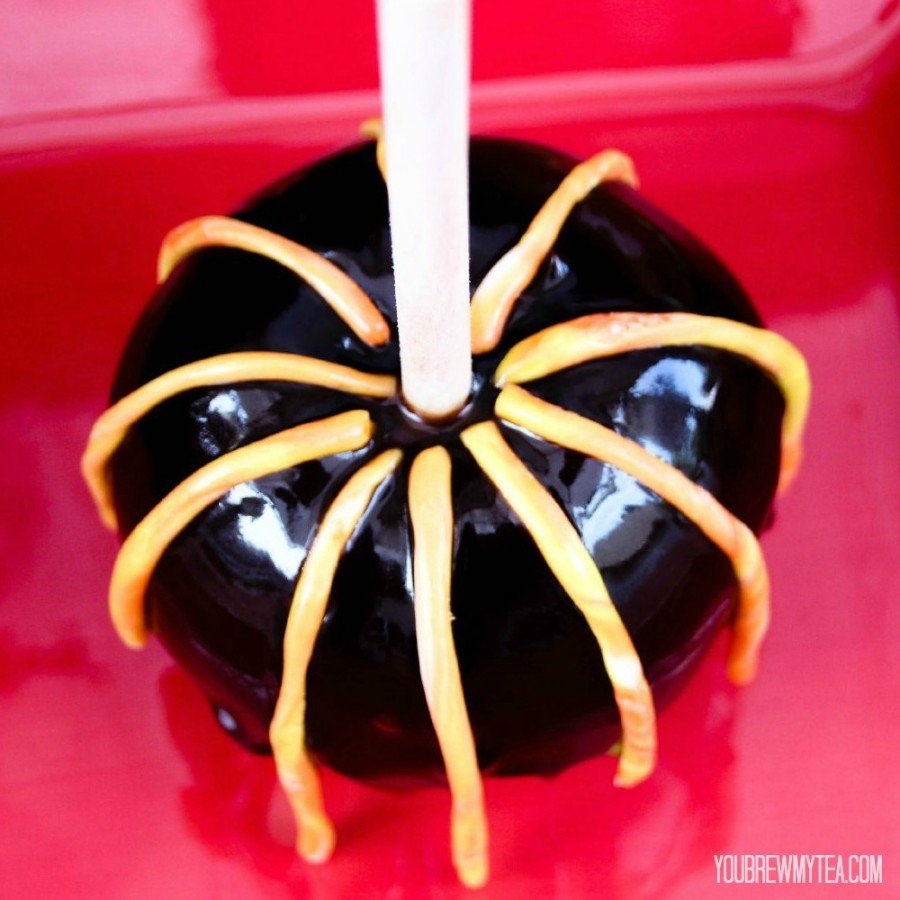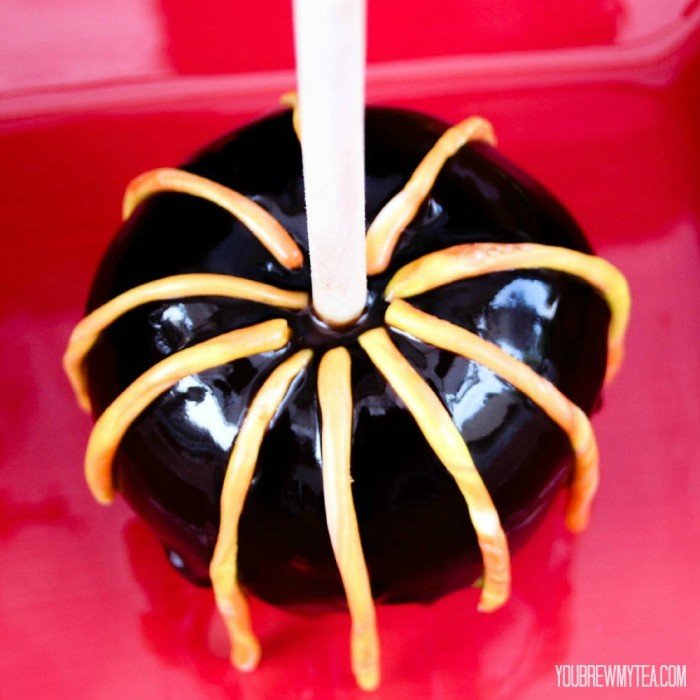 Check out our other fun Halloween treats and ideas!
Great Kids Games For Halloween
Free Halloween Bookmark Printable
Halloween Fill In The Blank Vowel Review Printable
21 Simply Spooktacular Halloween Treats