As we await our home renovations being completed, I have set up a temporary office in our rental.  Finding Cute Office Decor when Renting a Home isn't as easy as you would think.  Why?  Because so many rentals don't want you to hang things on walls, paint your walls, or really personalizing much.  If you want to keep your office up beat and happy, but you don't want to lose your safety deposit, check out our tips!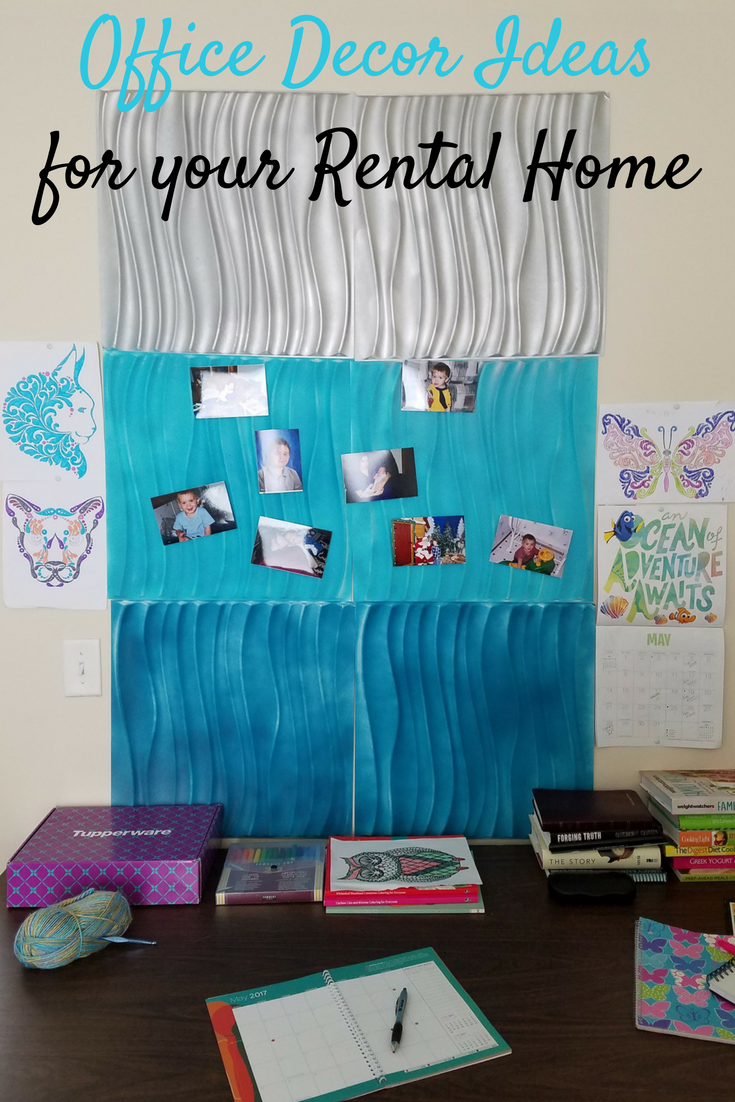 Cute Office Decor for a Rental Home
This post was sponsored by our friends at CSI Wall Panels.  They sent us a package of wall panels to check out, and it just so happened we were moving into our rental right about the same time.  It was a perfect collaboration for me to work with them and share some of my tips for making this rental feel like home for our time here.
Use removable wall decor and updates. 
One thing that most rentals prevent, is you being able to paint your walls the color you want.  In fact, our rental specified that we could only paint neutral colors like white, cream, or light gray.  I wanted a pop of color in my office.  Why? Because color helps me feel motivated and brightens the mood.  So, when my CSI Wall Panels arrived, I was totally pumped about them because one of the things they mentioned was how easy they are to paint.
I used 3 colors to update my panels, and as you can see, I have them behind my desk.  I loved the ombre effect, and so chose to focus colors that I loved on my panels.  Due to the space limitations, I didn't do the entire wall, but you can check out some of their other options online and see how many have used them for complete wall renovations.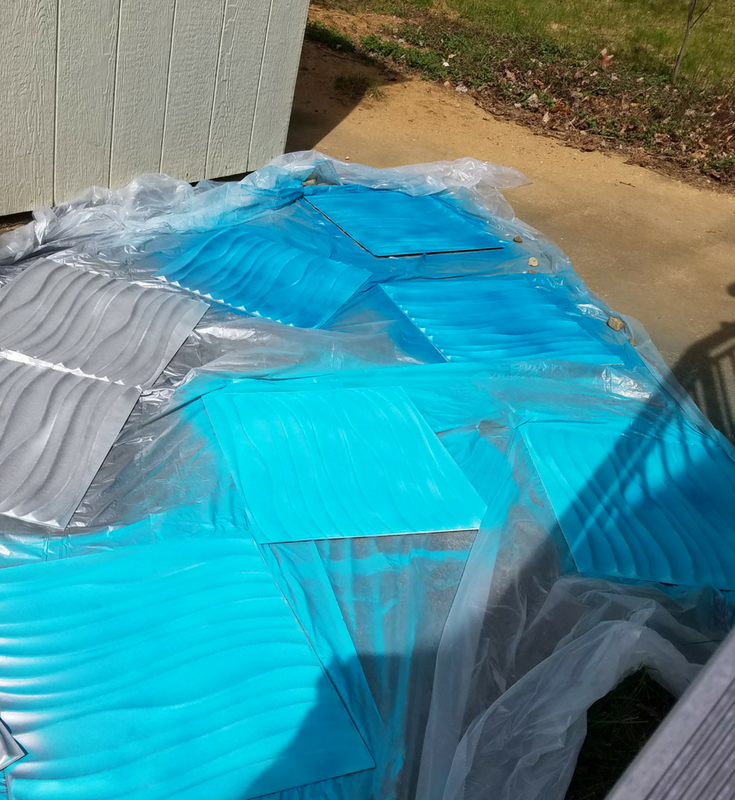 We used simple spray paint in 3 of our favorite colors to do this!  While the instructions show to attach to a wall using caulking, we found that we could use a similar method of removable hooks to prevent issues on our rental wall.
Bring your own personality to the surface. 
Not only can you use these to display your favorite colors, you can easily use them like I did, as a vision board option.  Since they are made of recycled paper and are more of a cardboard surface like structure, you can easily tack or tape items to them.  I love the idea of office decor really reflecting your personality.   As you can see, I added images of my kids to the middle area of my wall panels and then included my favorite color schemes around my desk.  Purple, blue, pink, and silver are reflected not only on the wall but on my desk.
Consider adding items like these to your office decor: 
Family pictures
Kids drawings, painting, or art pieces
Seashells, driftwood, or other unique finds from your travel adventures
Vision boards, collages, or powerful quotes
Favorite colors, textures, and designs
Art work or motto's that empower you and your work
Certificates, awards, or diplomas from your achievements
Invest in the right storage for your needs
Office decor is not just about pretty pictures on the walls, but about having your needs met functionally.  For me, that means my desk has to be this particular design.  It is an old school desk you would imagine a teacher using in their classroom, but it is perfect for me and my personality.  I have plenty of space inside the drawers for storage, including a hanging folder system in the largest drawer.  This keeps my bills, paperwork, and office supplies at the touch of a finger.  Just like I need.  Many like using various storage items on their desk, but I prefer to have my desk covered in my current projects, calendars, and books and put the storage away from sight inside the desk.
Invest in what you will use, and your office decor will come together in no time at all.  Using a few simple things like wall panels that can easily be installed and removed, or wall decals can totally change the look of an otherwise bland room.
For more information about CSI Wall Panels, check out their social media pages on Facebook, Twitter, Pinterest, Google, and YouTube.  You'll find tons of great decor ideas and learn more about the unique process they use to create and place these wall decals.