I love cooking.  So does my family and my assistant.  That means when we occasionally have a sponsored program come along like this fun event Red Gold is hosting currently, we jump in to participate.  This summer, Red Gold is presenting an amazing Red Gold Summer Grillin' Party Sweepstakes!  We were invited to share with our readers about this event and given some awesome Red Gold products to help us introduce our friends and family to the sweepstakes and product line this summer.  As a result, these Cilantro Lime Chicken Tacos were served this week!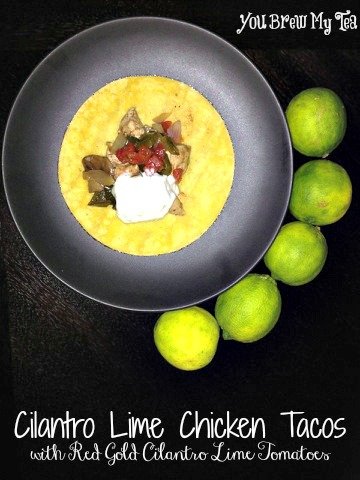 Our lovely assistant Beth created one of their favorite quick and easy dishes featuring the Red Gold Cilanto Lime tomatoes.  Not only are these great for a quick weeknight meal – they are perfect for a fun weekend BBQ dinner party.  Everyone loves the classic burgers off the grill, but why not go a bit healthier and more festive with this great recipe!
CILANTRO LIME CHICKEN TACOS WITH RED GOLD TOMATOES
Cilantro Lime Chicken Tacos With Red Gold
Ingredients
1 Pound Boneless Skinless Free Range Antibiotic Free Chicken Breasts
2 Teaspoons Cumin
1 Teaspoon Salt
1 Teaspoon Pepper
1 Cup Sliced Mushrooms
1 Poblano Pepper
1 Medium Red Onion
1 Can Red Gold Cilantro Lime Tomatoes
1 Bunch Fresh Cilantro
2-3 Limes Sliced
2 Cup Fresh Baby Spinach
Greek Yogurt
Corn Tortillas
Instructions
Slice chicken breasts into 1-2" pieces.
Lightly coat with cumin, salt and pepper.
Slice Red Onion into ¼" pieces
Grill chicken & onion for 3-4 minutes on each side or until chicken has reached temperature and onion is tender.
While onion and chicken are cooking, add poblano to lower heat area of grill and roast slightly.
Remove all from grill and return to kitchen.
In medium sauce pan, add can of cilantro lime tomatoes, fresh baby spinach and roasted poblano that has been sliced, seeded an diced. Heat for 3-5 minutes or until hot and heated through.
Mix with chicken and onion.
Assemble as tacos using cilantro as garnish and Greek yogurt in place of cheese.
Serve on corn tortillas wtih a slice of lime on the side.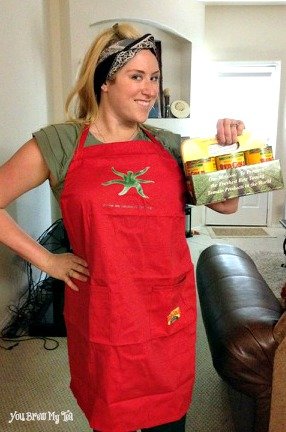 This summer, Red Gold Tomatoes has created an amazing Grillin Party just for their Facebook Fans!  This fun summer sweepstakes begins on July 24th and end on August 30th.  Every week during this summer sweepstakes, Red Gold Summer Grillin Part will be giving away 1000 aprons plus a grand prize Big Green Egg Grill!
For full sweepstakes details, make sure to check out their press release.  Head over to follow Red Gold on Facebook to be a part of this sweepstakes, but don't stop there!  Make sure to check out their Twitter, Pinterest and You Tube accounts for more fun, recipes and of course future promotions like this great sweepstakes!
We loved working with Red Gold on this fun sponsored post including some of their perfect for grilling tomato blends!  We were compensated in exchange for this post, but regardless we only promote an support business we enjoy and believe in.  Special thanks to our assistant here,Beth for all of her hard work in creating this yummy recipe to share.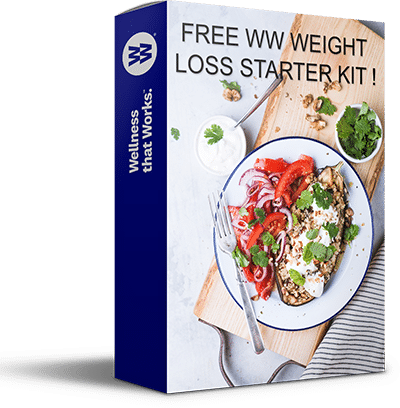 FREE WW WEIGHT LOSS STARTER KIT
+ exclusive tips, recipes & more to lose weight, increase confidence, and live a healthier and happier life !