In our new home adventure, figuring out how to avoid home repair services is a big deal.  We may have found a real bargain in our home, but we still need to save as much as possible everywhere we look.  Why?  Because money is always tight, and we want to save on home repair services to afford things like a new couch or TV.  This post is all about clogs and how you can avoid home repair services.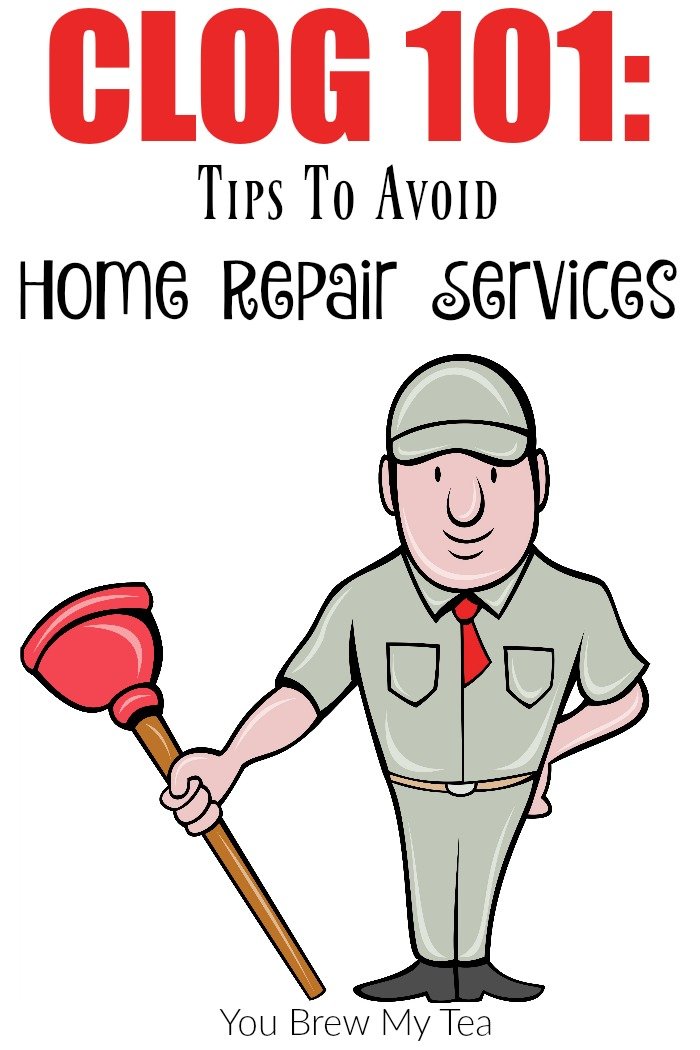 CLOG 101: How To Avoid Home Repair Services
This post contains affiliate links.  Purchases made through these links may earn me a commission. 
This post is sponsored by Roto-Rooter and is our chance to help you overcome that habit of calling the home repair guy every time a little issue comes up around the house.  Since we are fairly handy and prefer DIY projects, a little clog doesn't seem like a big deal.  However, it can be a huge undertaking, and we have some tips for the best at Roto-Rooter to help make it easier to manage.
Stop flushing tampons down the toilet.  This one is one I remember learning several years ago from a coworker that had a horrible clog in her bathroom.   After calling out the plumber on that job, I remember her talking about what had caused the problem.  At the end of the day, tampons are not made to be flushed.  They can easily clog a toilet drain and create big issues.  This is a common mistake that people make that can be a huge issue.  Especially since these types of clogs are pretty hard for the average person to repair or fix.  Avoid home repair services simply by wrapping that up and throwing it into the trash can.  Or, as some of my friends do – use homemade cloth sanitary napkins.
Regularly service your septic tank.  If you live in a home that isn't connected to a city sewer system, then you know that regularly servicing your septic tank is a must.  That doesn't mean you have to have it pumped every year, but it does mean you want a routine check done.  You may also find that using Roto-Rooter products to help with septic tank health can be important.  They offer a full line of products that can really help the breakdown of sewage safely.
Invest in a garbage disposal.  One mistake people make is trying to shove food down a regular drain.  This often creates temporary clogs that then become big issues.  For a moderate amount of money, you can invest and install a garbage disposal in your kitchen sink.  This can, in fact, be a huge help in keeping your sink drains clear and water flowing easily.
Regularly clean hair from drains.  All of my life, I have heard complaints about the hair clogging the shower drain.  With long hair, it is much more common, and it is a weekly cleaning process to remove hair from the shower drain.  It isn't a fun job, but it is a necessary job.  One of the most common reasons for home repair services in plumbing is to remove a clog in a drain caused by hair and soap buildup.  Between the shampoo, soap, body wash, and hair it can easily create a yucky mess that sits in a drain and keeps water from flowing.  Take the time to clean out the shower and remove hair when you notice so it doesn't contribute to the clog issues.
These tips for avoiding home repair services in regards to clogs and common plumbing issues are a great way to stay ahead of the game.  They keep you and you budget intact, without frustrating last minute phone calls to have an emergency plumber come out for a pesky clog in your drain.
More Tips From Roto-Rooter:
How Products From Roto-Rooter Benefit Your Budget