This is a sponsored conversation written by me on behalf of Depend. The opinions and text are all mine.
#AD This is sponsored content written by me in partnership with Depend® brand. All thoughts and opinions are my own.
It has been a long time coming, but I am finally ready to share some tips for Coping with Long Term Hysterectomy Side Effects. It's been almost three years since I underwent a total laparoscopic hysterectomy with bilateral salpingo-oophorectomy. Those fancy words just say they took my ovaries, uterus, and cervix using a minimally invasive procedure. Over these three years, I have definitely learned a lot about my body, and being an advocate. When Depend® came to me to do a sponsored post, I knew that once again it was time to bare my soul and share my experiences after hysterectomy with you.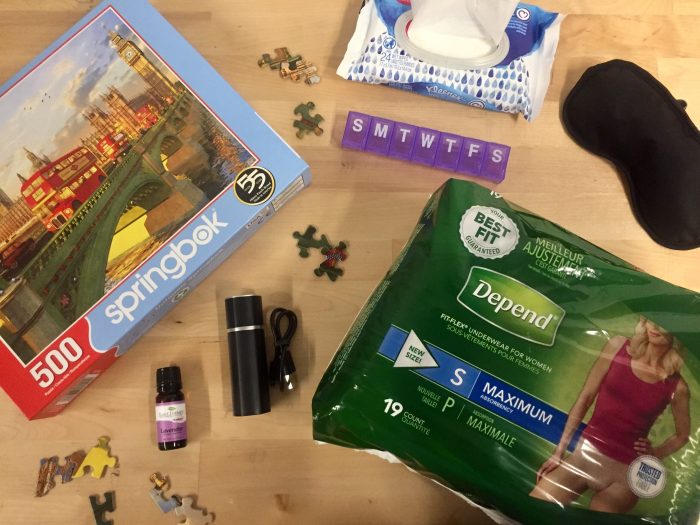 Coping with Long Term Hysterectomy Side Effects
As I mentioned, this is a sponsored post on behalf of Depend and their FIT-FLEX® line of products. While I am writing to share some information from them, this post is really about my own experiences.
There are tons of things that people ask me every day in regards to how my body changed after having a hysterectomy. Sharing these experiences is one of the things I love most about being a blogger. Daily I receive comments on prior blog posts or emails asking about how I cope with different things in regards to hysterectomy side effects. It's time I dive into this full force to help those of my sisters out there also going through this process.
Types of Hysterectomy you may have had
Partial hysterectomy: removal of the uterus but leaves the cervix intact. Typically done with an open abdominal incision and more invasive.
Standard hysterectomy: removal of both the uterus and cervix
Total hysterectomy: removal of the uterus, cervix, and one or both ovaries and fallopian tubes
Accept that no two people have the same experience
Some things that I am asked on a regular basis, are things I have yet to experience. Other things, I am the queen of understanding because I too have gone through them. When it comes to a hysterectomy – no two people have identical experiences. I can give you advice about what I experienced, but that doesn't mean that you too will go through those struggles.
My long term hysterectomy side effects:
Fast extreme weight gain within the first 6 months. I gained over 50 pounds in a short time immediately after hysterectomy.
Inability to tolerate hormone replacement therapy.
Hot flashes and overall "temperature" struggles
Faster body hair growth due to more testosterone
Other common hysterectomy side effects I did NOT experience:
Insomnia or sleep struggles
Physical intimacy difficulties or discomfort due to dryness
Skin changes – more oily or drier than before
Thinning hair or Greying hair
Mood swings or emotional struggles
Feeling like less of a woman without those body parts
Additionally, for me, there were struggles that happened after my hysterectomy that contributed to two of my struggles. Both my weight gain and the temperature struggles I had also had something to do with me having a thyroid disorder and diabetes that was not diagnosed until over a year post-hysterectomy.
Prepare yourself for minor inconveniences
I shared a few years ago about post hysterectomy struggles, but long term there are more things you may have to consider. Coping with these is a case by case situation. They are not something that everyone struggles with after a hysterectomy, and many are short-term.
Physical discomfort post surgery due to incisions, anesthesia, surgical procedures, and a hospital stay
Urinary incontinence due to having a catheter placed during surgery, as well as physical difficulty getting up and down fast enough for the bathroom. Some also have incontinence post surgery due to the shifting of their bladder after uterus removal. Pelvic floor weakness is a common struggle for those who have had a hysterectomy or other pelvic region surgery.
Hemorrhoids and difficulty with bowel movements due to anesthesia immediately after surgery, and/or use of pain medications. This can also continue as your body adjusts to different hormone levels.
Bloating and "swelly belly" post surgery as your body adjusts and goes back to normal. This is a traumatic surgery to undergo, and it takes considerable time for your body to fully heal.
Dehydration is a common struggle as you adjust to your body changes. It may feel like the more you drink the more you have to go to the bathroom, but it is because your body is learning to process fluids the right way. Don't get dehydrated. Ever. It's just not worth the frustration.
Don't let anyone tell you to "just deal with it"
One of the best things I did before I had my hysterectomy was to prepare for some of these inconveniences. I remember my husband laughing at the time when I purchased Depend products, but after the surgery, they saved me from some embarrassing situations on a number of occasions. During the healing process, as well as now when I exercise, my pelvic floor just isn't as strong as it used to be. That results in leakage sometimes that I really don't want to have turned into a full-blown accident. Depend FIT-FLEX Underwear has the fastest absorbing material inside that kept me dry and comfortable regardless of the situation or location. This was a must with the underwear like slip-on option for bladder leakage with my busy lifestyle.
Others told me this was normal and to expect it. The thing is, incontinence is not a normal part of life for a 34-36-year-old woman. No matter what surgery I may have had. I needed to be heard and to figure out what the reason behind this ongoing issue was, so it could be fixed. While thankful for the Depend FIT-FLEX products that allowed me to feel clean and safe anywhere, I knew it wasn't a normal thing I should be experiencing. That leads me to my next point.
Become an advocate for your health
Only you can truly know how your body feels. There are so many things out there that you can feel or struggle with that are overlooked because your doctor or nurse doesn't know what it feels like to be inside your body. Learn to become your greatest advocate. In my case, I had a wonderful doctor who I loved, but I just felt that he was overlooking the unreasonable weight gain. "Once you lose weight this will get better" was not the answer I needed.
I sought out other physicians, and after trial and error a few times, I found a doctor who is amazing and truly listens. She looked at me as an individual with physical struggles, not as an obese woman with side effects. After some appropriate lab work was completed, we found out I had further thyroid struggles than initially diagnosed, and also that I was diabetic. Her listening ear and my decision to advocate until I was heard meant I could get on track. The right medications meant my thyroid started working, and my blood sugar was in control. As a result, the weight started coming off slowly, and many side effects disappeared completely.
If you are a caregiver, become an advocate for your patient
Whether you are a caregiver of someone who is bedridden, or just the one helping out after a friend or spouse has a hysterectomy, you too must be an advocate for your patient. That sometimes looks like making phone calls until a doctor gets back to you with test results. Other times it is making your patient more comfortable going through daily life as they heal.
That's why I love the Depend brand, and especially the FIT-FLEX product line. Knowing that I personally can fit into their undergarments without struggles helped me make it to the gym to workout without fear of having an accident. If your patient is ill but still wants an active lifestyle as much as possible, then FIT-FLEX gives them the comfort option of an underwear-like product that protects from unitary incontinence embarrassment. Their line of products has a much larger variety of sizes to fit the needs of your unique patients! To receive a free Depend Caregiver Toolkit, please visit -. For more information, follow Depend on Depend.com and Facebook.