With Fall officially here and temperatures cooling off already, many gardeners are finding it is time to start cleaning out the summer flowers and planting hearty fall and winter plants instead.  When you begin the process of cleaning up your garden, you may still have some great flowers, plants and leaves in bloom.  Instead of tossing those on the compost heap this year, check out our great tips on Using End Of Season Flowers For Dried Flower Arrangements.  Not only can you repurpose some of the things in your garden now or in the next few months, but you can create beautiful centerpieces, gift items or potpouri for your home.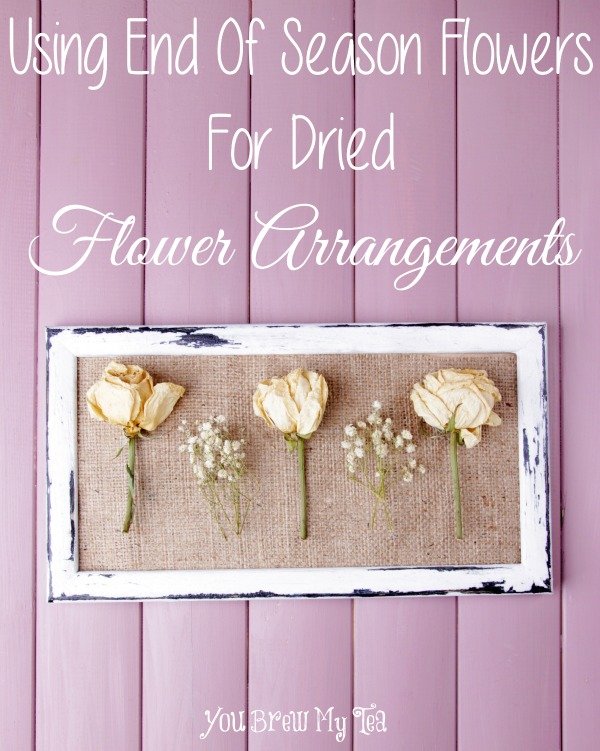 USING END OF SEASON FLOWERS FOR DRIED FLOWER ARRANGEMENTS
Creating dried floral arrangements from the garden is a great way to bring natural beauty indoors while using what you have already put a lot of trouble into growing. A lot of gardeners like to bring natural elements into the home, but overlook the beauty found in dried out flowers, grasses and branches. Nature leaves us interesting plants to look at year round, and a lot of these plants are beautiful in the garden even after they have finished blooming. Many make great options for cutting and arranging into beautiful dried floral arrangements.  We have some great tips for you on what flowers, plants and stems from your gardens will be great in dried flower arrangements and crafts.
Best Types of Flowers for Dried Arrangements
Coneflowers, sunflowers and any flower with a large center flower head makes a great dried floral choice. These types of flowers tend to retain their dried petals, and their cones become hard and stiff. This is the type of dried flower you want to handle because they will hold their form for the longest period of time.
Other Types of Plants for Dried Arrangements
Ornamental grasses and flowers with tall stalks make great additions to dried floral arrangements because of their height and distinct appearance. Many grasses and cattails hold their form for the entire length of winter, and as time passes their colors can go from a dull brown to bright golds.  Additionally corn stalks that have been allowed to dry out completely are often found in arrangements for Halloween and Thanksgiving.  These are excellent to harvest at the end of the gardening season and allow to dry and turn into a beautiful light yellow or tan color for ornamental displays.
Branches and Stems
Branches and stems make the best base for your dried floral arrangements because they are larger and you can usually find more of them. Look at the trees and bushes near your home that have an interesting shape, color or texture. When paired with beautiful flowers, these make beautiful arrangements.  Branches fallen from trees, stems of hearty plants that flowers have fallen or been cut from, and during winter months branches from cedar trees or holly bushes are excellent for arrangements.
Gathering Your Floral Arrangements
Dried flowers always require gentle gathering and handling, because they might break or fall apart easier. In the garden, use sharp pruners to cut flowers, grasses and other plants as close to their base as possible. Place flowers, head first into the longest wine bottle paper pages you can find. This will help protect and keep your flowers organized until you use them.  While this can be a fun project for a family to do together, you may want to take the time to teach your children how to properly and carefully handle the flowers before transferring indoors.
What Can I Create With End Of Season Flowers?
Finally you want to create beautiful things with all of the flowers, branches and plants you have gathered.  There are of course traditional arrangements to be used as a centerpiece for your table, but there are tons of other great and fun ways to use end of season flowers in your home.
Floral Centerpieces;  Arrange nicely in a vase, mason jar, old milk jug or other unique planter.  When placing against a wall or flat against a book case, etc. you want to have your talletst stems in the back with smaller around the front.  If using as a centerpiece you want to arrange the tallest items in the center with shorter layers around the outside.  Stems and Branches are great in the center as a foundation, but shorter and thinner versions can be added around the outside edge as well.  Remember to mix up colors or similar shades to create unique flower arrangements.
Buds Used For Potpouri:  One of our favorite things to make in the fall is fresh potpouri.  While the buds and flowers or leaves may not be terribly fragrant, you can add a few drops of your favorite essential oils to a bowl of them for a pretty and great smelling potpouri.  I love finding unique bowls and saucers at our local thrift shops to use for this.
Shadow Boxes:  Everyone loves a shadow box for their favorite art work.  Why not use some glue and attach bundles of dried flowers to a mat and put inside a shadow box.  This is a great idea that can be customized with a monogram or quote in stencil letters or appliqués to be given as a gift for the holiday season.
There are tons of ways to use your end of season flowers for dried glower arrangements this year.  Don't watch all of your hard work end up the compost heap or garbage bin.  This year take the time to clip and preserve them for beautiful decorations for your home or to be given as gifts to friends and family.