Legos are America's (and probably the world's) favorite building brick.  Chances are good that if your children love Legos, they will someday request a Lego themed birthday party.  If the thought of coming up with creative Lego party games seems daunting, you'll want to keep reading!  Party planner and writer, Jennifer Carver, of Spaceships and Laser Beams, is here sharing great ideas you can build on for keeping the kids entertained at your next Lego party!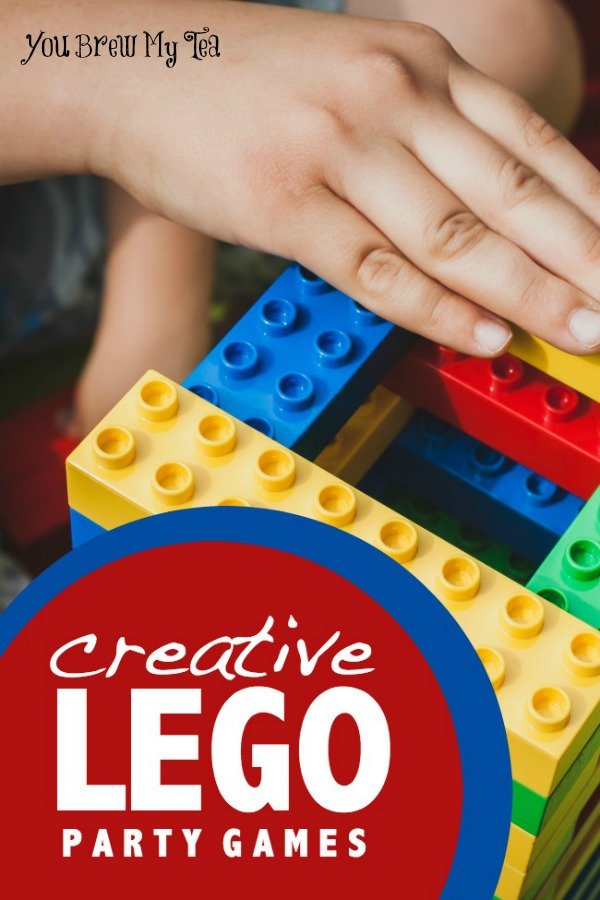 Spark some competition by giving each guest a bowl full of Legos.  Make sure there is an equal amount in each bowl to be fair.  Provide each contestant with a pair of chopsticks.  The object of the game is to race to empty your bowl of Legos, using only the chopsticks.  For a variation, require guests to also return all the Legos to the bowl.  The first person to complete the task is the winner!
Continuing with some friendly competition, arrange for a Lego toss.  Cover a rectangular box with wrapping paper (Capri Sun boxes work great), and cut out a circle in the center.  Give each guest 5 Legos for tossing.  Mark off a line using tape that guests must stand behind for throwing.  Whichever guest successfully tosses the most Legos into the box wins!  This game can be repeated as many times as guests are entertained.
If you really want to excite your guests, this next idea is a fun one!  Gather guests into a circle.  Give each guest a small pile of Legos.  Put one Lego on the floor as a tower base.  Challenge the kids to see how tall of a tower they can create before it topples.  Go around the circle, allowing each child to add a brick to the tower.  Continue until the tower finally topples.  Repeat this game a few times to see if they can top their previous efforts.
Another fun game to play with any size group is a matching game.  Print off 10 (or the number of your choice) matching sets of Lego brick and character images from your computer and attach them to 3x5 cards.  Mix up the cards and number the cards 1-20.  Arrange the cards in a grid on a tabletop, poster board or the floor.  Let each guest try to find a match.  If they make a match, they get another turn to guess.  If they don't find a match, play passes to the next player.
Because Lego lovers love to build, why not include a Lego design challenge?  Set a timer and give every participant a large bag of Legos to create their own masterpiece.  Let each guest share what they have created.
Now that you can see how easy and fun it is to keep kids entertained at a Lego party, it's your turn to construct plans for creative Lego party games.  If you build it, they will come!