Burlap  is a very hot fabric for home decor right now. It is so versatile and easy to work with, it can be dressed up with lace or made even more country by adding some plaid accents (like I did here on this pillow). I love fall but I shy away from bats, witches and all things scary, so I am always looking for ways to add touches to my home and porch beyond pumpkins.  I think this DIY Fall Burlap Pillow adds a cute and rustic touch of fall  to the front porch. I used an old throw pillow from the couch that had seen better days, a piece of burlap that cost less than $4, a paint pen, and scraps of an old flannel shirt- a very frugal craft indeed! Indoors or outdoors it makes a simple statement and helps set the mood for fall, make a few different that coordinate and dress up your whole porch for less than $10!  Perfect for making for the holidays and giving as gifts too!
DIY FALL BURLAP PILLOW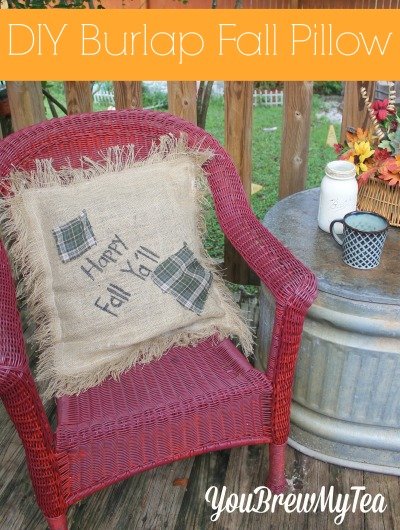 SUPPLIES NEEDED:

Old throw pillow or pillow form/stuffing
Burlap fabric by yard
Black Paint Pen
Scrap flannel
Sewing machine
DIRECTIONS:
Measure your pillow or pillow form.
Cut burlap 10″ larger each direction.
Use paint pen to write something or you can free hand leaves, a pumpkin, whatever you desire with the paint pen. You can also use a stencil to write-I preferred the whimsical and casual look of handwriting.
Allow paint to dry at least 3-4 hours before continuing on with your project.
If desired add some additional color and texture to your pillow by sewing on randomly sized and space flannel squares.
Place your two pieces of burlap together- the sides you want facing outward should be facing together.
Sew around 3 sides leaving a 3″ seam.
Turn pillow inside right.
Begin pulling strings out of burlap until you reach the hem to create your fringe.
Slip pillow into burlap case.
This part is a bit tricky  but using a full pillow form its the only way to sew it into case.
Smash pillow as far as you can over to the sewn side, and hem the remaining side- leaving a 3″ hem.
Spread pillow out inside case.
Pull threads out of final side to fray.
Pillow should be kept out of elements, at least under a covered porch, or brought in when not in use.
This pillow also looks terrific inside, on a couch or rocking chair.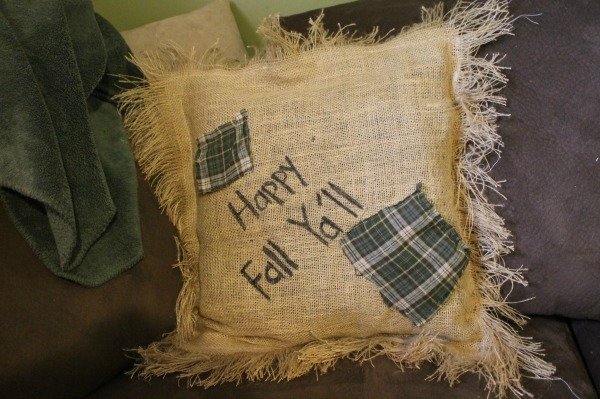 This great fun fall craft is perfect for decorating to suit your needs, or making and giving as gifts to your friends and family.  Not only can you transform it into a fun holiday gift with the addition of various holiday colors, you can personalize it with a monogram or name too!  This DIY fall burlap pillow is a fun, quick and easy craft that will be frugal and perfect for your decorating needs!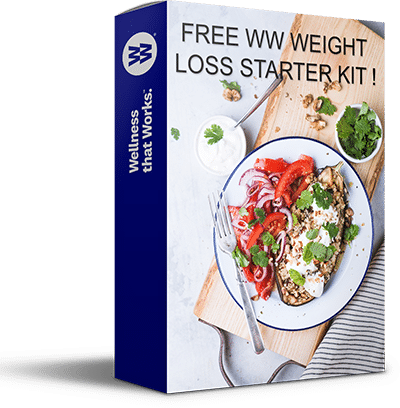 FREE WW WEIGHT LOSS STARTER KIT
+ exclusive tips, recipes & more to lose weight, increase confidence, and live a healthier and happier life !