I just adore easy and cheap dollar store crafts, and I am so lucky to have my friend Allison from Crafty Mother Of 2 to make stuff like this St. Patrick's Day Wreath and share with you here.  I am just a total klutz with a glue gun, so I prefer to leave the pros to these projects.  She does a great job, and all under $10. Often much less!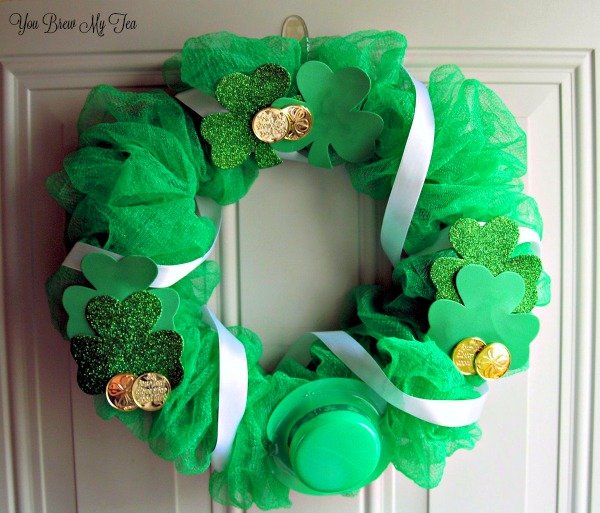 Dollar Store Crafts St. Patrick's Day Wreath
This post contains affiliate links. 
To get started, take a trip to your local Dollar Tree or another dollar shop.  Most of the supplies are going to be under $1 each, and some you may already have on hand like the glue gun, scissors, and floral wire.  Especially if you have already made our Snowman Wreath or Valentine's Day Wreath.
Supplies Needed:
2-3 Green bathroom puffs
1 package gold coins
1 package foam shamrocks
1 plastic St. Patrick's Day hat
1 toll white or St. Patrick's day themed ribbon (I used 7/8″ wide)
1 Embroidery Hoop (I used 12″)
Hot Glue Gun & Glue
Scissors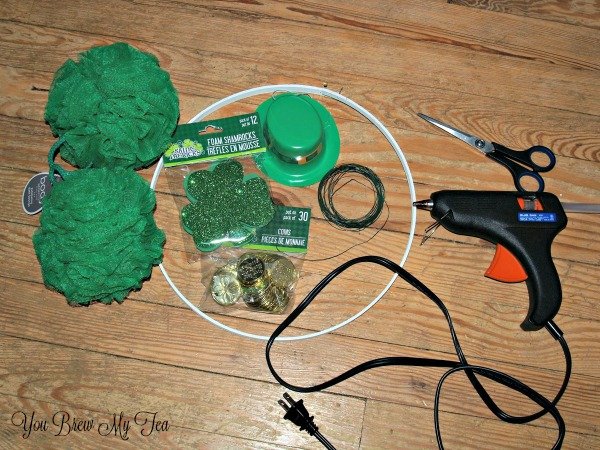 Since this is a fairly easy dollar store crafts idea, you could get your kids involved with making it with you!  I love being able to get the kids involved in fun holiday crafts, and this St Patrick's Day wreath seems like a great choice!
Step 1: Cut apart Bathroom Puffs at string holding them together.  Pull apart and slide over the embroidery hoop fluffing out as you go.  To save money I carefully took off the pink bathroom puffs I used for the Valentine's Day wreath and packed those away until Next year to reuse the embroidery hoop for this project.
Step 2: Spiral your white ribbon around the wreath. Before gluing down I used a safety pin to hold the one end. Once I had the look I liked I then glue down the ribbon.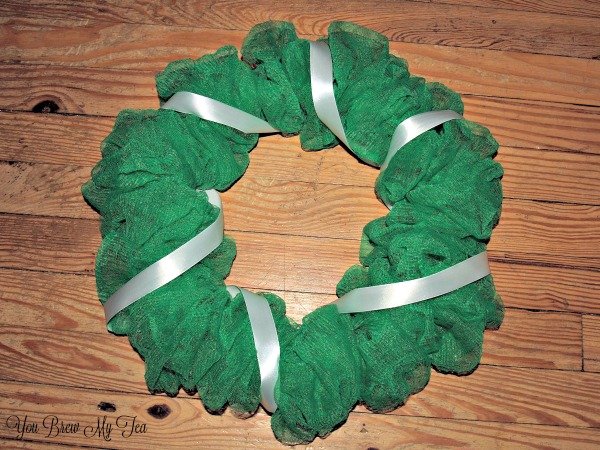 Step 3: Place your hat, shamrocks, and gold coins into your wreath. Once you are happy with the placement. Start gluing down. *Be careful with the plastic hat. I did my hat last and my glue gun was too hot and it started to curl up the edge of the hat.*
Step 4: If you reuse your embroidery hoop try to keep the wire hook on. If you have a new hoop then make a hook using craft or floral wire to hang your wreath with.  Simply wrap floral or craft wire around the hoop and twist to secure.  Measure a length of wire that gives you enough room to hang on your door or wall as desired.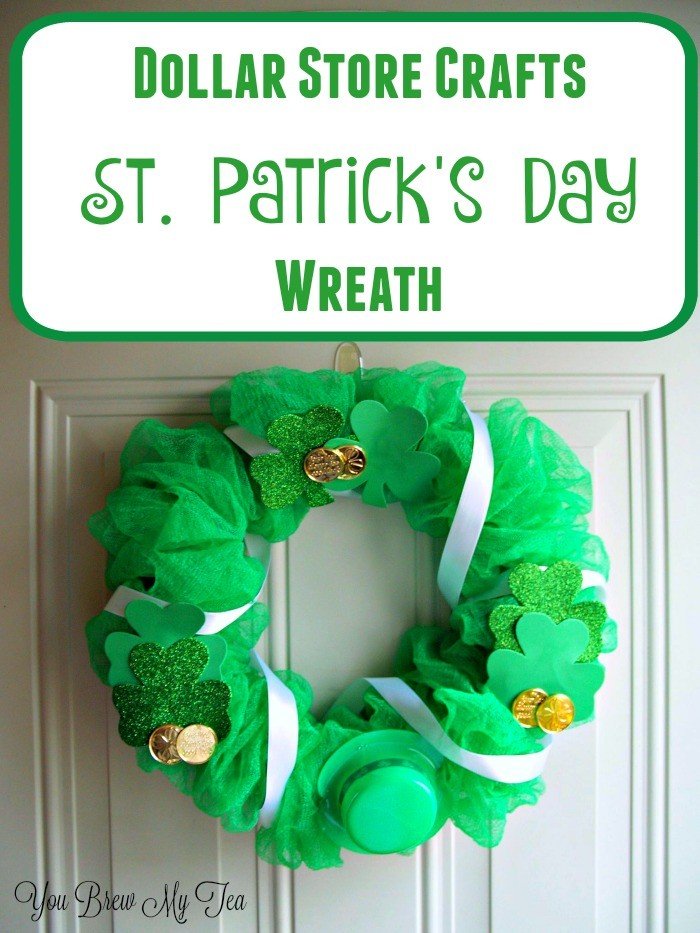 That's it!! You now have a festive dollar store crafts St. Patrick's Day Wreath!  The best part of using the bathroom puffs and embroidery hoop is that you can reuse the hoops for multiple holidays, and I've tried to put them back on and had no real trouble getting them back together.
I love this simple dollar store crafts idea!  It's so easy, fun and makes a perfect St. Patrick's Day Wreath!  Check out some of our other great St. Patrick's Day ideas below!
St. Patrick's Day Printables & Unit Study