Babies are fun to have around for the holidays, especially for an Easter celebration. However, it's important to make sure the celebration is safe for babies. Babies require an environment that is baby friendly and not chaotic. With as many babies as there are in this world, you'd think this was easy.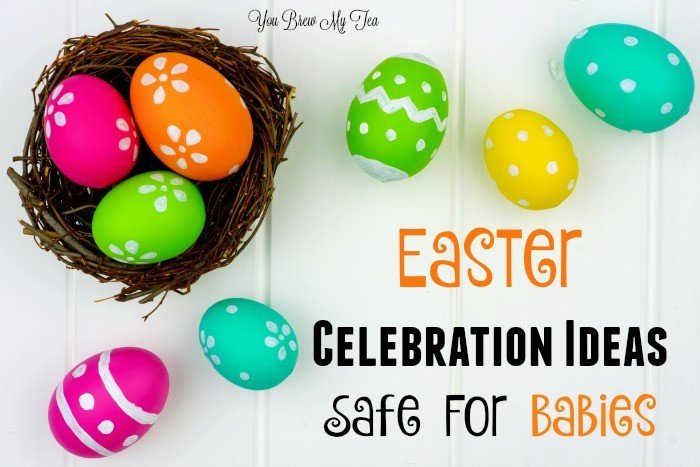 Easter Celebration Ideas Safe For Babies
This post contains affiliate links.
We so often get hung up on the egg hunt, parties and big events for kids that we forget that babies aren't really able to participate in these popular Easter celebrations easily.  Check out the great baby safe ideas below!
Go to Church: This is one of the most practical places to have an Easter celebration that is safe for babies. Churches don't require anything of you and it's an ideal place for babies. You can go to the worship service while your baby goes to the nursey. Otherwise, you can just keep your baby with you.
Have People Over to Your House: Oftentimes, I have just hosted Easter when I have little ones. While this sounds like it may be more stressful, it's actually easier because then I don't need to worry about what is at the other person's house. I just try to keep the lunch or dinner rather simple.  We still get our family Easter celebration, and I'm not stressed about carrying a playpen or tons of equipment to keep my baby happy while I visit.
Head to the Park: Sometimes Easter turns out to be a really nice day. If this is the case, you can easily head to the park for your Easter celebration. Choose a park that has a nice grassy area for your baby. I also like choosing the park because my other kids can run wild and free while I focus on the baby and other people.  Bring a blanket, stroller, and a few baby toys to keep them happy, and don't forget to pack the sunscreen.  Even though it may still be cool out, sun shine can easily cause sunburn, even on Easter day!
Easter egg hunt: If you really don't know what to do with your baby on Easter, bring them along with you to an Easter egg hunt. Only if it's warm out of course. You don't want your baby to get too cold or upset. Just like any other holiday, though, you hope it's incredibly warm, so the whole family can enjoy the day.  Sometimes it is tough to manage an older child and a baby at an egg hunt, so keeping them home may be better while they are still little.  You can probably find a family member or friend who will babysit while you take their big brother or sister out to hunt eggs, or you might have a spouse who is able to help out.
Celebrating Easter is meant to be fun and not crazy with a baby in tow. I'd love to hear of your ideas for Easter celebrations that are safe for baby.
Check out our other great ideas for Easter!