On our recent family road trip, we spent a few days in Nevada in what we feel is the best family friendly hotel in Las Vegas.  I was able to snag a great discount as a media representative, but we gladly would have paid full price to stay at the Embassy Suites in Las Vegas.  Why?  Because it was clean, comfortable, quiet and had tons of great perks that are perfect for a family on the road.  Here are some reasons we felt the Embassy Suites was truly the best family friendly hotel in Las Vegas.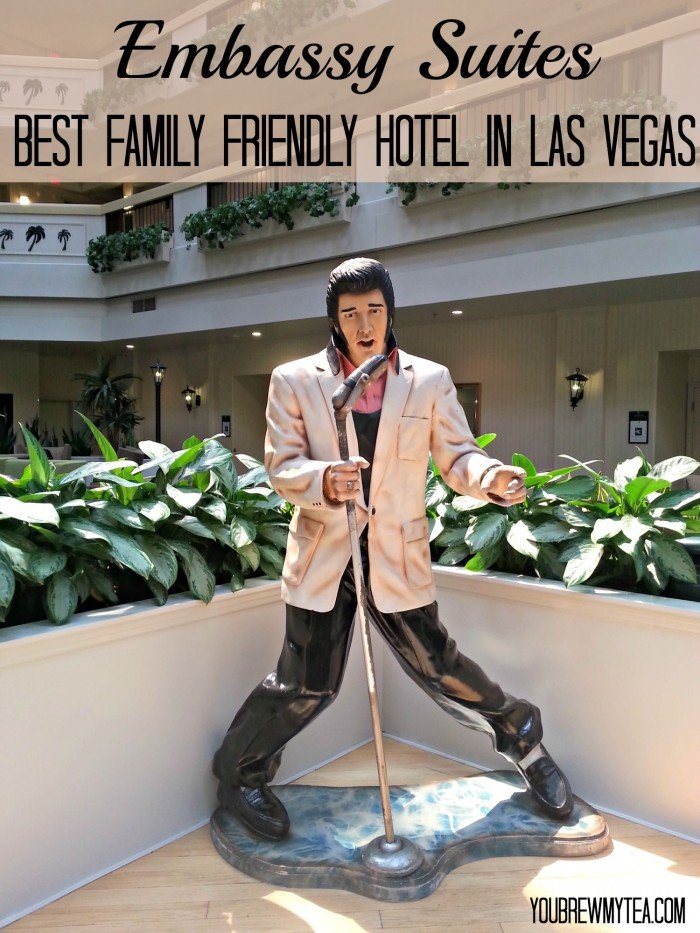 Embassy Suites Best Family Friendly Hotel In Las Vegas
Every room is a suite giving parents privacy.  We were on the road exactly 5 weeks.  During that time, the only place we stayed with a door for true privacy was at the Embassy Suites Las Vegas.  We looked back and wished we had planned better to find locations that had an Embassy Suites nearby to stay on our trip.  That door was a wonderful refreshing item that helped our vacation.  As parents, we sacrifice our privacy a lot, but being in a standard hotel room or guest room at a family members home often meant our son was always just a few feet away.  That doesn't allow for much romance, but also keeps us from being able to comfortably change clothes, get dressed or just have a moment or two of peace and quiet.  The Embassy Suites has a wonderful bedroom with a great living area that also includes a hideaway bed.  Our suite had 2 beds plus the couch and could easily have slept 6 people if needed.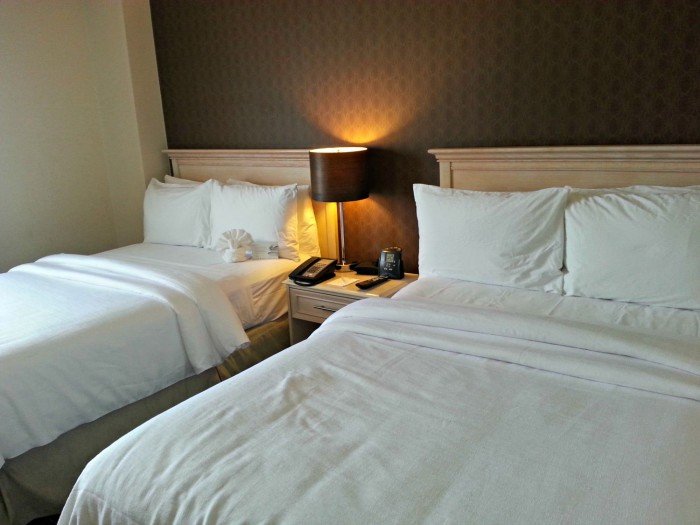 Amazing pool and hot tub that is perfect for families.  While we spent a lot of time out of the hotel exploring local attractions, there were some times when relaxing and recharging became necessary.  We loved the pool and hot tub! The pool was large enough that even though other families were there, we felt we had plenty of room to swim and play on our own.  A cool waterfall like feature was tons of fun for the Wee Child, and having towels handy at the pool instead of using the ones in our room made it so easy and simple to take a dip in the pool to cool off.  The pool was close enough to the bar and restaurant that we could also walk inside for a quick drink when we got thirsty.
Made to order breakfasts included in room rate.  I'll be totally honest – this is the best thing for our family.  We have eaten at our fair share of continental breakfasts this year and they always lack something.  Having an option of a hot and satisfying breakfast at the hotel at no extra cost was amazing.  We can easily spend $20-$25 on breakfast if not more.  This was a huge savings for a frugal family, and the food was phenomenal.  We tried omelettes made to order, hashbrowns, fresh fruit, waffles and French Toast during our stay.  There were multiple options available, and the chef at the counter making omelettes was superb.  He listened to our requests and made just what we wanted.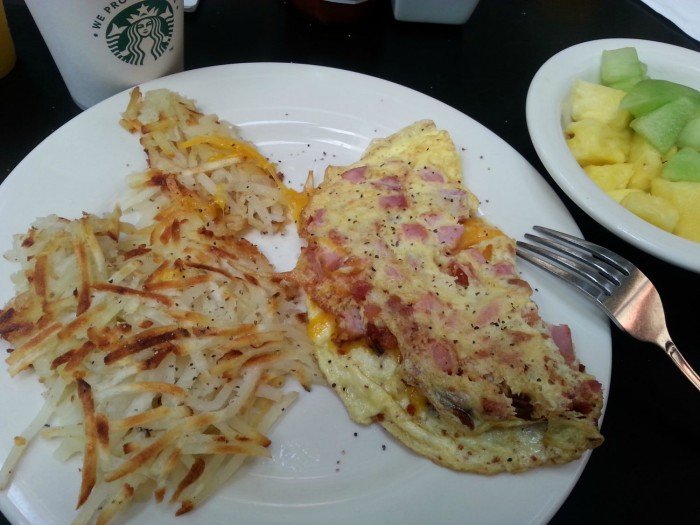 Excellent room service options.  The in house restaurant was superior to many places we stopped on the road. Not only could we go downstairs to eat, we could simply pick up the phone and order to have brought to our room.  They had everything from the basic kid friendly chicken tenders, fries and burgers to gourmet meals of pasta and freshly seared salmon.  The prices were lower than many of the places we ventured out to visit around the city, and could be eaten in the comfort of our room watching a movie or playing a game.  For exhausted parents and kids, this was a huge perk.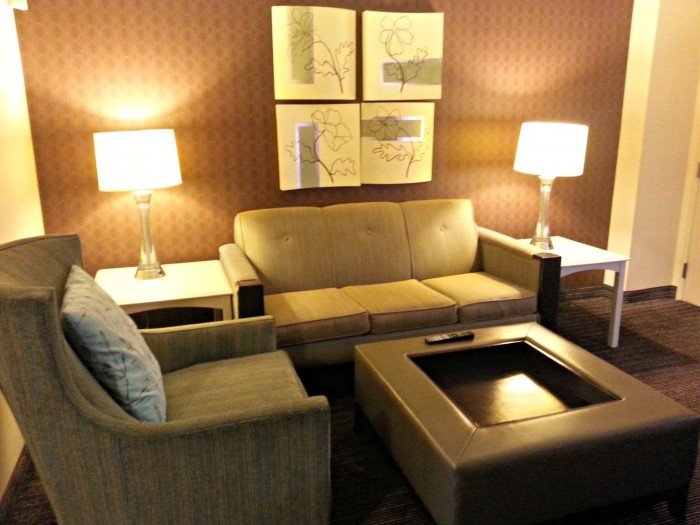 Large comfortable lobby with pond and swans.  The lobby and open area of the bottom floor was a great place for our little family.  Since I had to do some work while at the hotel, I knew the Wee Child would get bored.  I grabbed my laptop and headed downstairs with him.  I found a comfy spot at a table, and he got to wander around the pond and look at the Swans and fish.   He loved the chance to explore a bit, and I got a ton of work done. The swans are named Elvis and Priscilla.  Too cool!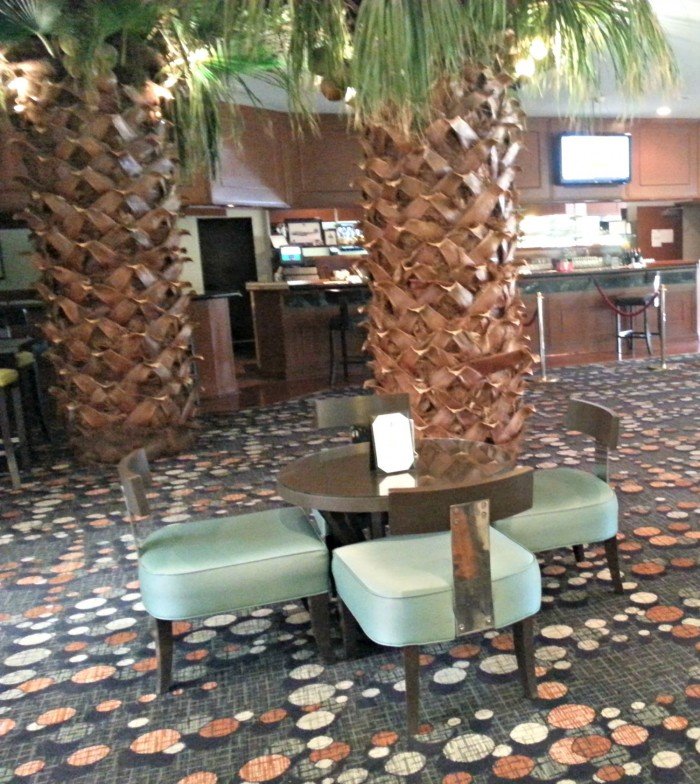 No gambling or smoking.  This is the number one reason we felt the Embassy Suites is the best family friendly hotel in Las Vegas.  While we might drop a dollar or two in a slot machine, it isn't something our son can go along to do with us.  It's also one of those things that can attract a varied crowd and might not always be the most savory environment for kids.  Staying in a hotel where there was no smoking (a personal pet peeve) and no gambling made our trip 100% better.  We could truly go back to our room and relax, and didn't worry about our allergies acting up from the smoke, or our son being asked to leave a part of the hotel because of his age.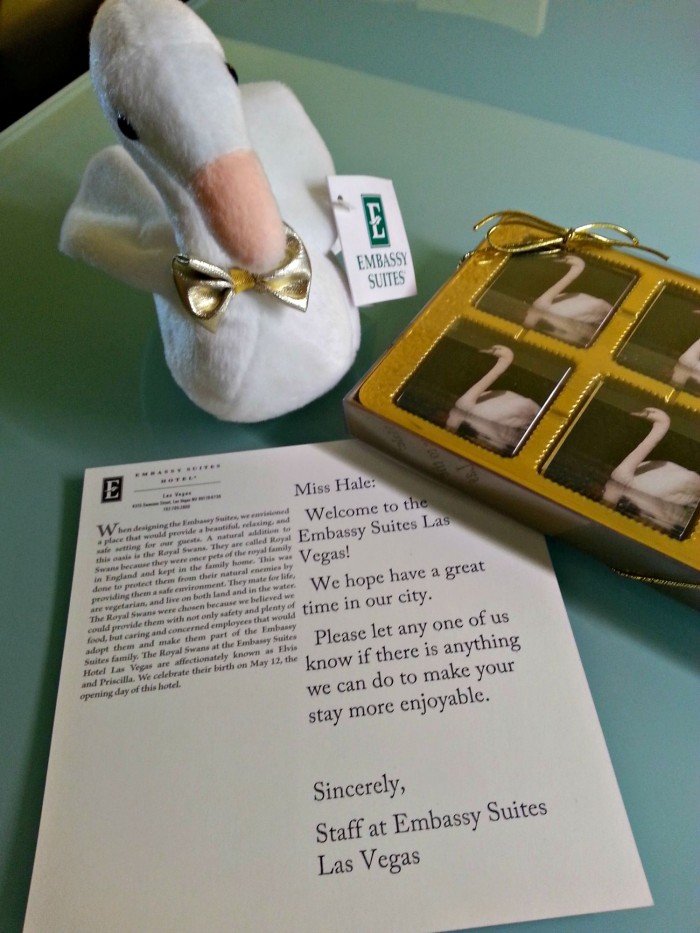 We thoroughly enjoyed our stay at the Embassy Suites in Las Vegas, and we are sure you will too. We'll be going back again soon to check out some things we missed the first time around.  The Neon Sign Boneyard is one of our must visits, and we hope to go back this fall.  If you are headed to Vegas with the family, check out the Embassy Suites as a great option that is family friendly, but also offers free shuttle rides to and from the airport and strip for your convenience.
Check out our other great travel tips! 
5 Items To Never Travel Without
How To Spot More Characters In Disneyland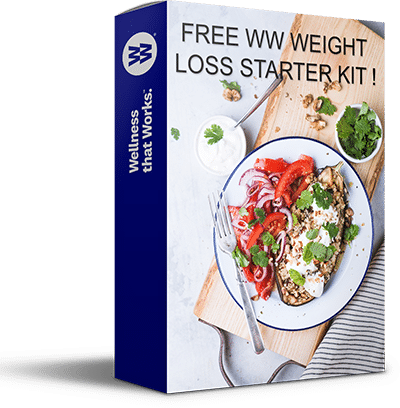 FREE WW WEIGHT LOSS STARTER KIT
+ exclusive tips, recipes & more to lose weight, increase confidence, and live a healthier and happier life !