These days it seems like everything costs an arm and a leg. It is hard to get the family out to do anything because of that. Budget-friendly options are running low. This list of Things to do in Madison, Wisconsin with Kids proves this city still has a lot of budget-friendly options for families.  It is still pretty easy to get out and about with the kids (even in the blustery winter months) when you check out this fun list!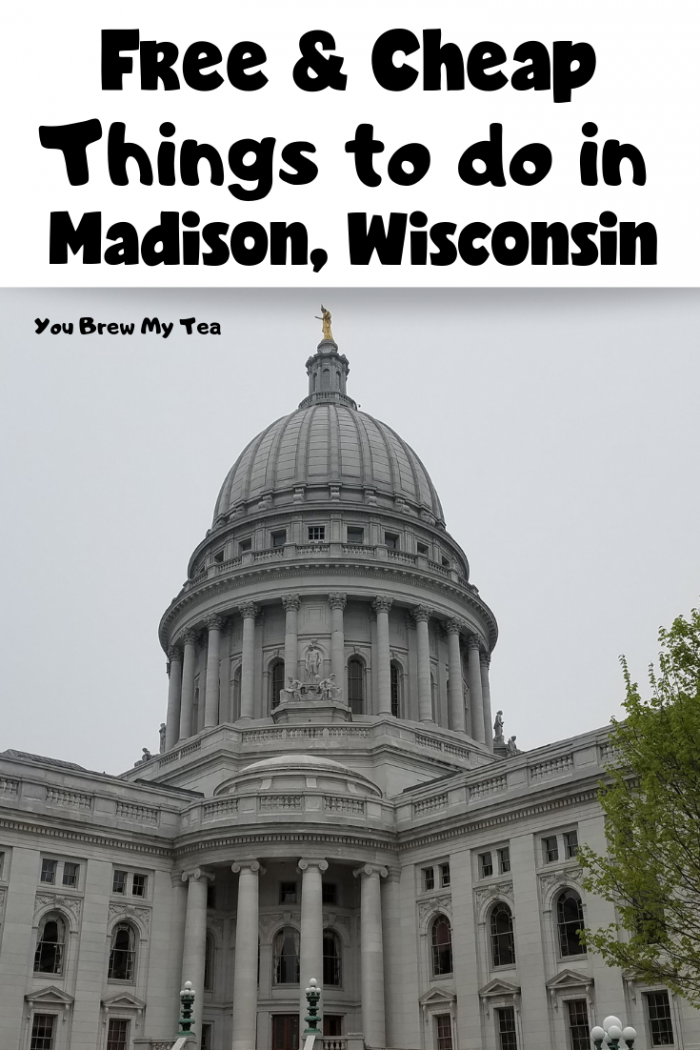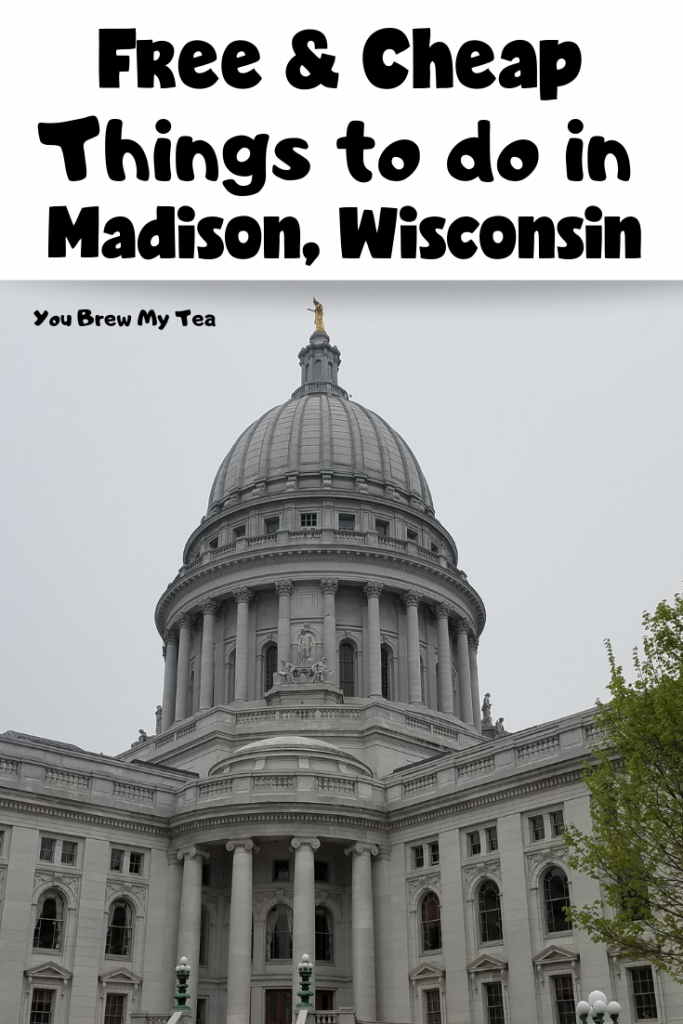 Free & Cheap Things to do in Madison, Wisconsin with Kids
This post contains affiliate links. You may earn a small commission on purchases made via these links. 
Madison is one of the few places that still has a free Zoo. Over the last couple of years, they have expanded many of their exhibits. You really wouldn't know that it was a free zoo just by looking at it.
I can't tell you about the Zoo and not mention the Carousel and Train Rides located inside of the Kiddie Zoo area. These do have a small fee (about $2 last time I checked) but, they are so much fun. Inside the kiddie area [and just outside of the carousel building] of the zoo, you will also find an awesome playground area.
Food at Henry Vilas Zoo
Henry Vilas Zoo allows you to bring your own picnic lunch in to eat if you prefer but, they also offer concession stands [during the summer]. They offer some great picnic areas near the concession stands for you to enjoy your food.  Glacier Grille is another place to grab delicious food and is open all year long. From inside the Glacier Grille, you can see the polar bear exhibit.
Olbrich Botanical Gardens is free and open all year long. My favorite time of year to visit is mid to late spring or during the summer. With a handful of themed gardens sprawled across 16 acres, it's a great way to spend the day.
You can also enjoy the indoor Bolz Conservatory for just $1 per person. Inside the conservatory, you will find lots of tropical flowers. Inside it will be quite humid as they are trying to recreate a tropical environment to help the flowers thrive.
Housed within the University of Wisconsin Weeks Hall, the Geology museum is home to mineral and geode samples along with fossils from all over Wisconsin. Within the museum, you will find the vertebrate room.  This is also one of my favorite things to do in Madison, Wisconsin for homeschool families.
In the Vertebrate room, you will find models of dinosaur, mastodon and mammoth skeletons. While these skeletal recreations are pretty awesome to see, the best one (if you ask me) is by far the Boaz Mastodon. This mastodon skeleton (technically about ½ of it) was found in the backyard of a local Wisconsin family in 1897.
Admission to the museum is free and you can download your own self-guided tour booklet. Tours are open to groups of 8 or more people but, there is a $2 fee per person. Check out the website to schedule a tour.
There are several parking options in the area. To find your best option click here and scroll down to the bottom.
Typically, the Children's Museum does have an admission fee but, they offer Access for Everyone. This program makes it possible for everyone to enjoy the Children's Museum. This gives discounted admission for those who qualify and some free days for the whole family.
Free Family Night happens the first open Wednesday of the month. Everyone is able to get in for free from 5pm-8pm. Check their Calendar for upcoming Free Family Nights.  If you are low in funds, planning for this can be a great way to get your kids out of the house and having fun one evening.
With paid admissions, the museum offers free classes or programs available. Check out the schedule before you go. When visiting during the day, you are welcome to bring your own snacks or picnic lunch but, on-site you will find the Sparkler Cafe. The prices are much more affordable than I was expecting so this is a great option as well.
There are a few different parking options close by.
Open all year long, Aldo Leopold Nature Center is a fun way to learn about nature for kids and adults alike. Their outdoor trails and indoor play areas are free. Could it get any better? Yes! They are open 7 days a week.
On the outdoor trails (open from dawn until dusk) you are welcome to take a self guided tour or, you can check out a Family Trailside Backpack. Each backpack contains an activity kit based on the current season. The backpacks can be picked up inside when the building is open. If you aren't a member, the backpack does have a small fee of $5 per family. There are a limited number of backpacks so if you plan to grab one you can call ahead to reserve one. You can find the phone number here.
Inside you will find the Nature Nooks. There are 4 different indoor nature nooks to enjoy. Each of them offer different environments to explore and learn.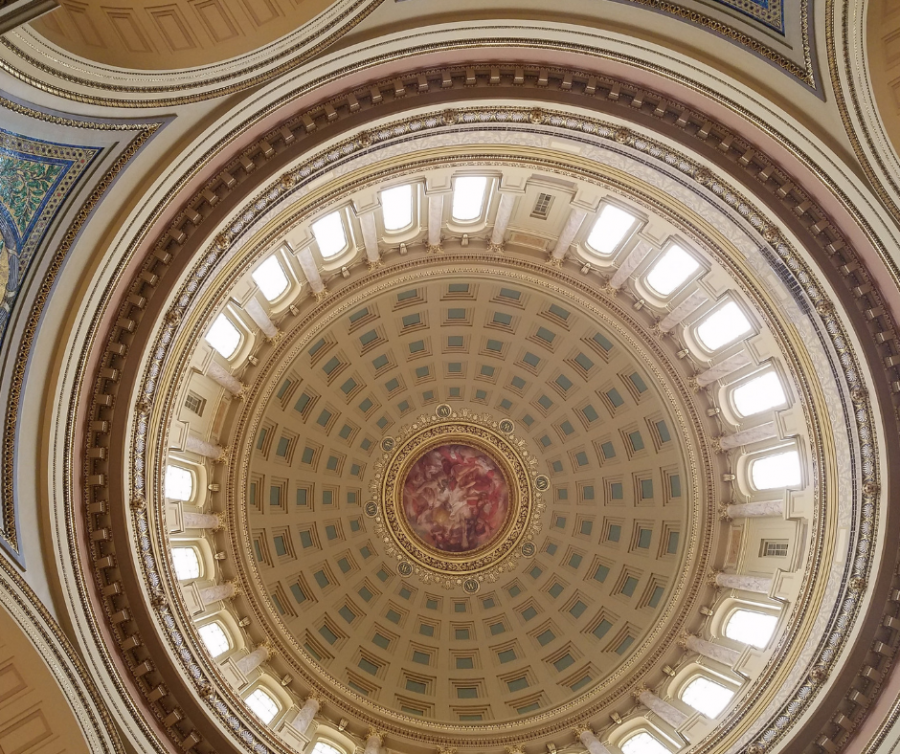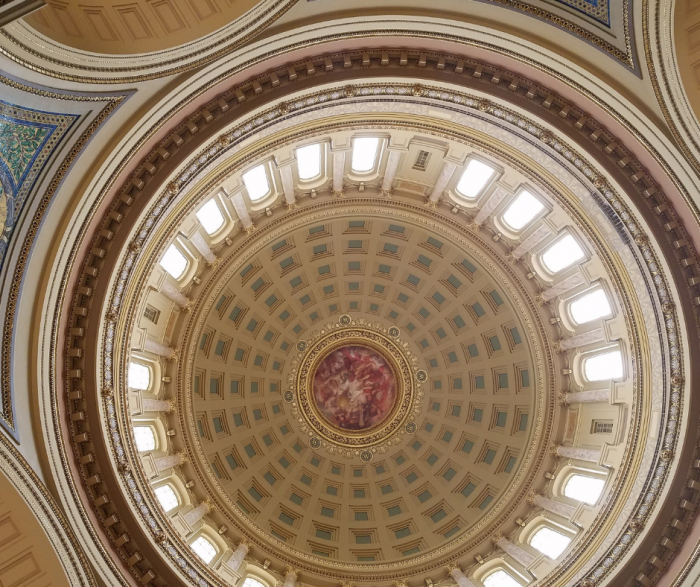 Self-guided tours are available daily for free. While you are inside the Capitol building be sure to lay down in the Rotunda and look up to the beautiful mural painted on the inner dome. There are a few places that aren't available for the self guided tours but there are still a lot of things to see. Not to mention all the stairs for the kids to burn off some energy.
If you can line your Capitol visit up with the Saturday Farmers Market during the spring, fall and summer you can easily make a day of it.
Kids in the Rotunda
Kids in the Rotunda take place at the Overture Center and is completely free.  It's a great way to get out of the house in the colder months as this only takes place from September through April. The seating is semi-limited in the Rotunda but, you can go upstairs and still hear what is going on since there is a cut out in the floor/ceiling. The cut out allows you to see into the Rotunda and gives you ample sound to enjoy the entertainment from upstairs. Each week the theme and entertainment provided is different. Entertainment can be anything from a choir, to a magician, to jugglers and so much more. The shows are typically at 9:30am and 1:00pm. There is ramp parking nearby with a small fee.
Memorial Union Terrace
The Memorial Union Terrace looks out onto Lake Mendota. Visiting the Terrace itself is free and you can enjoy live music during the summer months. Grab a bite to eat and relax. Don't forget to grab ice cream while you are there! Nothing beats the ice cream found here!
These are just a few of the free or cheap things to do in Madison, Wisconsin for families. Did we skip your favorite budget friendly place to visit in Madison? Share it below!
More Travel Tips: