Have you ever stayed in a boutique hotel? The Fulton Steamboat Inn, located in Lancaster, Pennsylvania, was our first experience with a boutique hotel style destination. Let me tell you, this hosted stay was one of the best experiences our family has had at a hotel!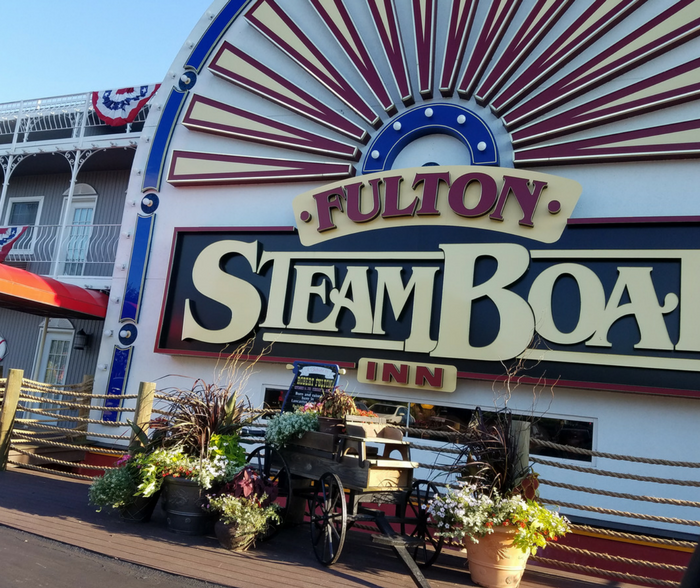 Fulton Steamboat Inn | Reasons to Stay in a Boutique Hotel
A destination instead of just a bed to sleep in at night. When I was looking for a place for our family to stay when we visited Lancaster, I wanted something other than the usual run of the mill hotel chain. We have done so much traveling the last few years, I had gotten tired of the typical experience.
My Beau absolutely loves both steamboats and the idea of a river cruise. When I saw this hotel that was built around both concepts, I fell in love and knew he would as well. It was a match made in Heaven. From the moment you walk through the door, you are in a different world. It isn't about walking in and checking into a hotel. You walk into a destination.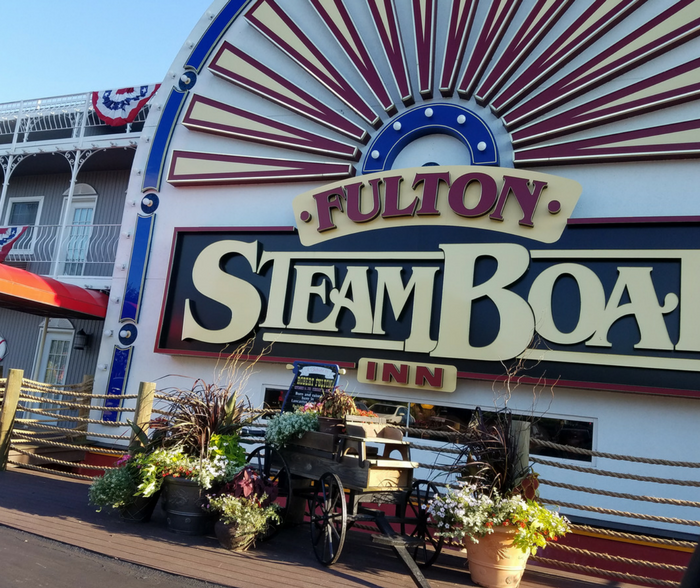 The Fulton Steamboat Inn not only looks like a traditional steamboat on the exterior, but the interior reflects the same design. From elegant and ornate décor to the way things are labeled for passengers instead of guests, you feel like you've stepped onto a cruise.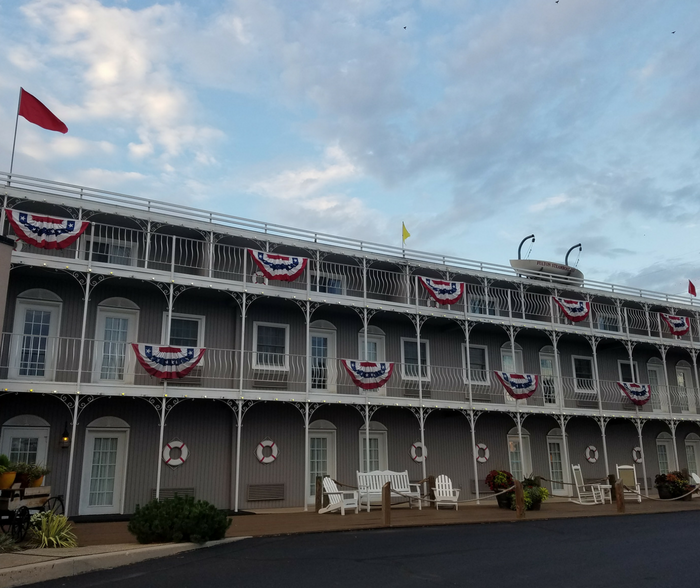 No cookie cutter rooms. A boutique hotel stay gives you something you won't find in a chain hotel experience. Your rooms are far from being cookie cutter. In a classic look like the Fulton Steamboat Inn, you have older antique pieces and vintage stylings that are mixed in with modern amenities like the gilded mirrors and chandeliers alongside large flat screen TV's and blu-ray players in rooms.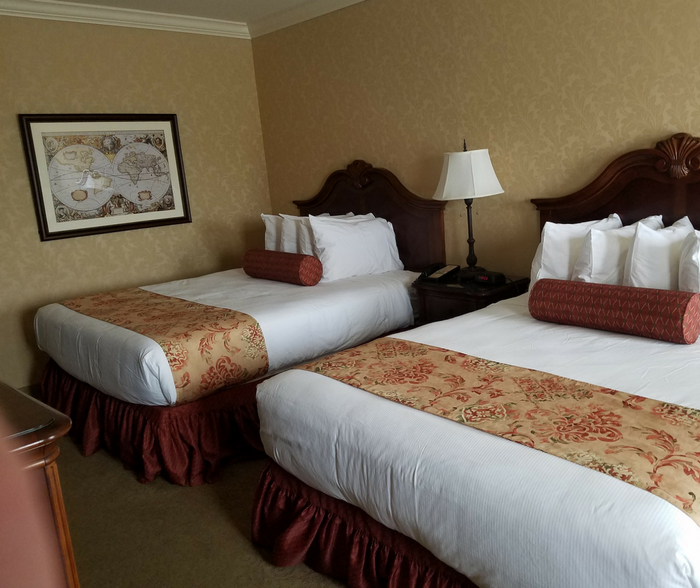 Your children want to go back to the room to relax. I don't know about you, but when we travel, our son usually has more energy than I do. At the end of the day, I am ready to go to the room to rest up for our next adventure, but he still wants to stay out and do more.
At the Fulton Steamboat Inn, he was excited to go back to our room each day. In fact, he was happy to just stay in and relax the one evening we had rain and changed plans. Why? Because not only did he love the comfort of the room and how large it was, but he knew we could go to the front desk and check out a movie to watch in our room! Plus, he wanted to stop by and grab a freshly made chocolate chip cookie in the lobby.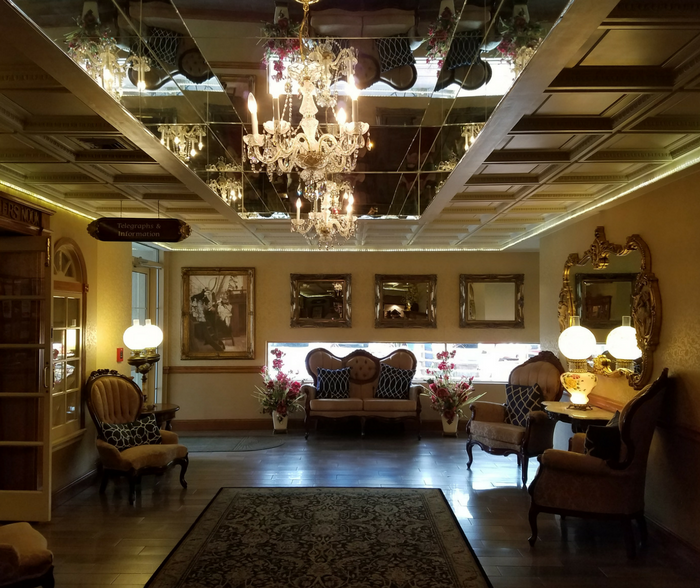 There are things to do outside not just inside. Many boutique hotels, like the Fulton Steamboat Inn, also include outdoor amenities for their guests. We were impressed by the many places to walk and lounge around this hotel.
Specifically, at this gorgeous hotel, we found multiple rocking chairs around the building and ponds to take in the beauty of the area. There was also a kid play area outside and a fire pit area for those who had more adventure in mind.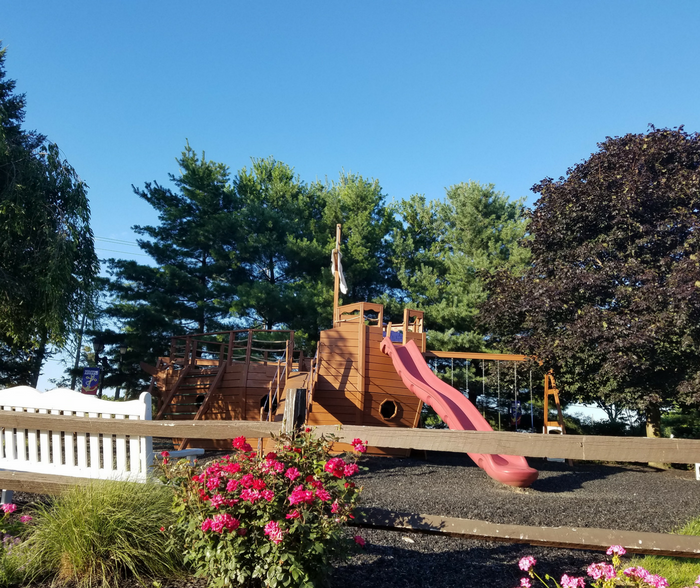 For those who wanted to stay indoors, there was a lovely pool with heated spa area, and they even provided special adult hours so you could have quieter swim time without being splashed by younger kids if you wished. The second floor even had a game room with classic arcade style games. You really had something for everyone in the family.
Upscale dining on location. When you travel, you plan a lot of activities to keep your family going throughout the day. Once you get back to your room at the end of the day, you may not feel like going back out somewhere for a meal. Fulton Steamboat Inn, like many boutique hotel options these days, includes a wonderful in-house restaurant. Theirs, specifically, has a split option with fine dining on one side, and a bar/lounge on the other side. While we didn't dine there during our stay, we did lounge and enjoy the live piano and music. Let me tell you, the food looked amazing, and the compliments we heard from other passengers made us wish we had more time to try it out!
If you are considering a boutique hotel stay for your next vacation, I can definitely recommend doing it with your family. Specifically, if you are headed to Lancaster, Pennsylvania, I promise that a stay at the Fulton Steamboat Inn will exceed your expectations. From the moment you check in as a passenger until you depart the steamboat, you will be in awe of the beauty and accommodations.