Confession time. I am a huge germaphobe. Seriously. I am one of those people who is always thinking about what disease, virus or cold is lurking around the corner. I wash hands, clean regularly and avoid public places in prime cold and flue season. I come by it naturally though. My Dad was one of those people who carried the can of Lysol disinfectant spray with him everywhere he went. We never entered a motel or hotel as a kid until he sprayed down every inch of the room. Yeah, seriously afraid of germs in this family. I don't go as far as some would, but I do take cleanliness very seriously. At the same time, I hate the smell and harshness of bleach so it can be tough to find a happy medium that leaves me feeling safe and clean.
Now that you have laughed at me a bit, let's talk about my obsession with this great cleanser called Hydrogen Peroxide. Yep, you read that correctly. Surely you've seen all the thousands of ways to use that classic medicine cabinet staple. I decided to share with you my favorite ways and help you see how dandy and frugal it can be. Without further ado – here are A Germapobes Favorite Uses For Hydrogen Peroxide! Go ahead, laugh all you want. I freely admitted my history of germ fear. Hopefully my list will help you learn a few new things to do with this handy product, and have a giggle or two to boot!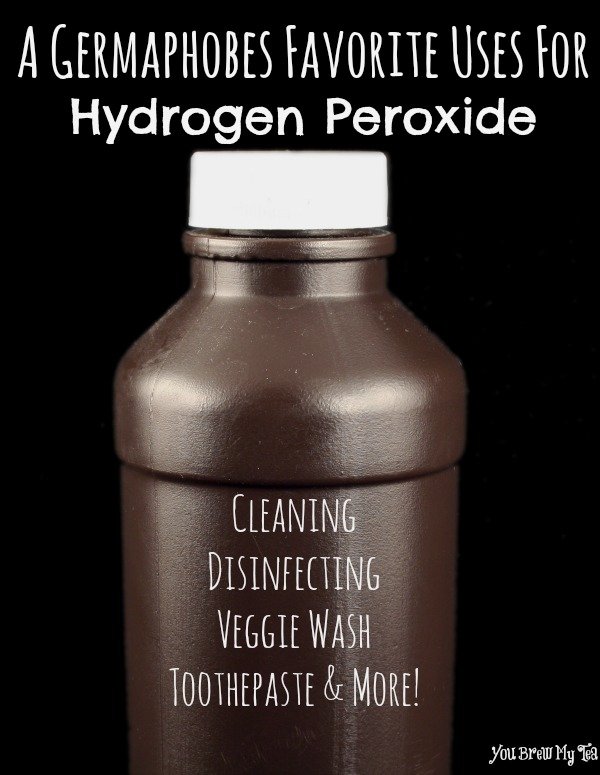 A GERMAPHOBES FAVORITE USES FOR HYDROGEN PEROXIDE
Homemade Disinfectant Surface Spray: Mix 3 Cups 3% or higher hydrogen peroxide with 6 cups distilled water and 15 drops of lemon essential oils for a great homemade disinfectant surface spray. Keep a bottle under bathroom counters and in kitchen for quick and easy counter cleanup. Use on toilets, showers, counters, bathtubs and spray a bit on a cloth to wipe down doornknobs and light switches too!
Toilet Cleaner: Pour one 1/2 Cup Hydrogen Peroxide into toilet and let sit for 20-30 minutes. You will need to swish and clean to remove any grime around top/edges but areas it sits will be sparkling. You can also spray straight solution onto lid, inside rim and back of toilet if desired for a thorough cleaning.
Laundry Stain Remover & Freshener: I love this because it gets stains out and kills germs, but it doesn't bleach or leave stains on your clothing. I put 1 cup of Hydrogen Peroxide in my whites at least once every 4-5 washes to brighten them.
Clean Kids Toys: This is one of the biggest germ spreading issues in homes, schools and daycares. Kids area always passing toys back and forth. Even though we teach them to wash hands and not put hand to mouth, they still do all too frequently. Using a hydrogen peroxide spray on their toys, or a soak in warm water with hydrogen peroxide and essential oils for fresh scent is safe for kids of all ages and a great way to kill germs.
Clean Fruits & Veggies: While we purchase organic fruits and veggies now almost exclusively, we still want to wash them well before eating. You just never know what might be lurking there. I prefer to fill my sink with hot water, hydrogen peroxide and allow to soak for a bit. Then I use a veggie scrubber (simple scrubbing sponge) and wipe off well before rinsing and drying (or using).
Teeth Whitening: I have tried every strip out there, but they all leave a really harsh chemical taste in my mouth for hours afterwards. That and the fact that I just hate putting anything in my body or on my body I can't pronounce have led me to using a hydrogen peroxide and baking soda paste instead. I swish with peroxide daily as well as 2-3 times a week I brush with a hydrogen peroxide and baking soda paste.
As I write this, we face the first weeks of back to school and that almost always means a ton of new illnesses floating around. Yes, I am thankful I homeschool, because those rarely hit our home but there is always room to be prepared. Stock up not only on the vitamins, fruits and vegetables but some frugal and useful hydrogen peroxide to clean your home this year without the harshness of your typical disinfecting chemical agent.