Are you tired of not being able to find time to work out?  One advantage of having kids is you can learn How To Get Fit Playing With Your Kids!   Playing with your kids is the perfect way to get fit, but the question is how? Check out these tips for getting fit, while playing and having fun with your kids.  These are some of the most natural ways you can get exercise in without taking time away from your loved ones!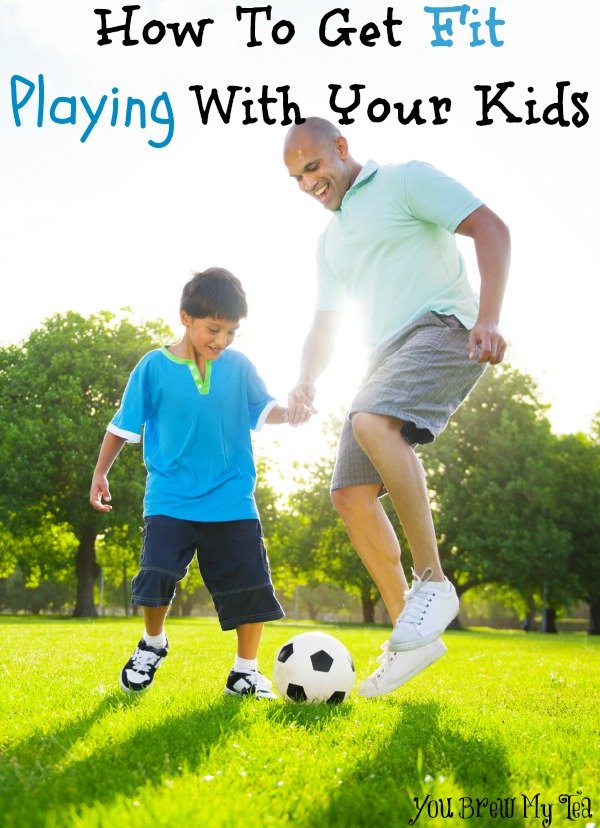 How To Get Fit Playing With Your Kids
Play Ball
Ball is the perfect way to get fit while playing with your kids, especially when you are playing ball games like basketball and baseball that have you running in all directions. If you are really up for the challenge, try playing soccer with your kids (the running back and forth across the field will have its way with your body).
Dance Party
Having a dance party with your kids is one way to get fit while playing. See who can come up with the best choreography moves. Dancing is a way to get the heart rate up and that body into shape. The best part about dancing, it there's no right or wrong when it comes to shaking your groove thing.
Playing Tag
Do you remember those long hours of playing tag when you were a kid? It's probably how you stayed so fit. Playing tag with your kids is a great way to play with them and get your "old" body back. Running and getting your heart beating can help ensure you're getting the exercise you need.
Go on a Scavenger Hunt
Sometimes playing outside can get a little boring when you're doing the same things over and over again. Consider taking your kids on a scavenger hunt. These little hunts are a fun way to get your kids moving and a way to get yourself fit in the process.
Relay Races
Remember that your kids are full of natural energy and you might really have to muster up some extra energy to make a relay race possible. Racing back and forth to see who's the fastest is one way to shed some pounds and get back into shape quickly.
Spending time hanging out with your kids is going to help them to feel loved, while helping you to get into better shape.  You can get fit playing with your kids when you set aside dedicated time to actually get out and do fun things with them.  Instead of all of your family time being around the dinner table or in front of the television, take time to really get into fun outdoor activities that include the whole family. If video games are part of your family time, make sure to choose ones that are interactive and get you on your feet and moving.
Check out these other tips for getting healthy and in shape this year!
How To Exercise When You Have Chronic Pain
Are You Feeding Your Kids Enough Or Too Much?
Being Fat Doesn't Mean I'm Not Trying To Be Healthy