I love when my blog gives me the opportunity to work with groups, brands and individuals who are passionate about the same things I am.  This Grilled Pork Loin with Savory Wild Blueberry Cream Sauce is a great example of one of these opportunities.  Moms Meet recently asked me to share a unique recipe that included Wild Blueberries, and we spent some time brainstorming how we could introduce our favorite fruit into a savory recipe.  We have tons of ideas for desserts, snacks and drinks - but a savory dish was tough. Then we started experimenting and well, the result was this seriously amazing sauce that was perfect over our grilled pork loin.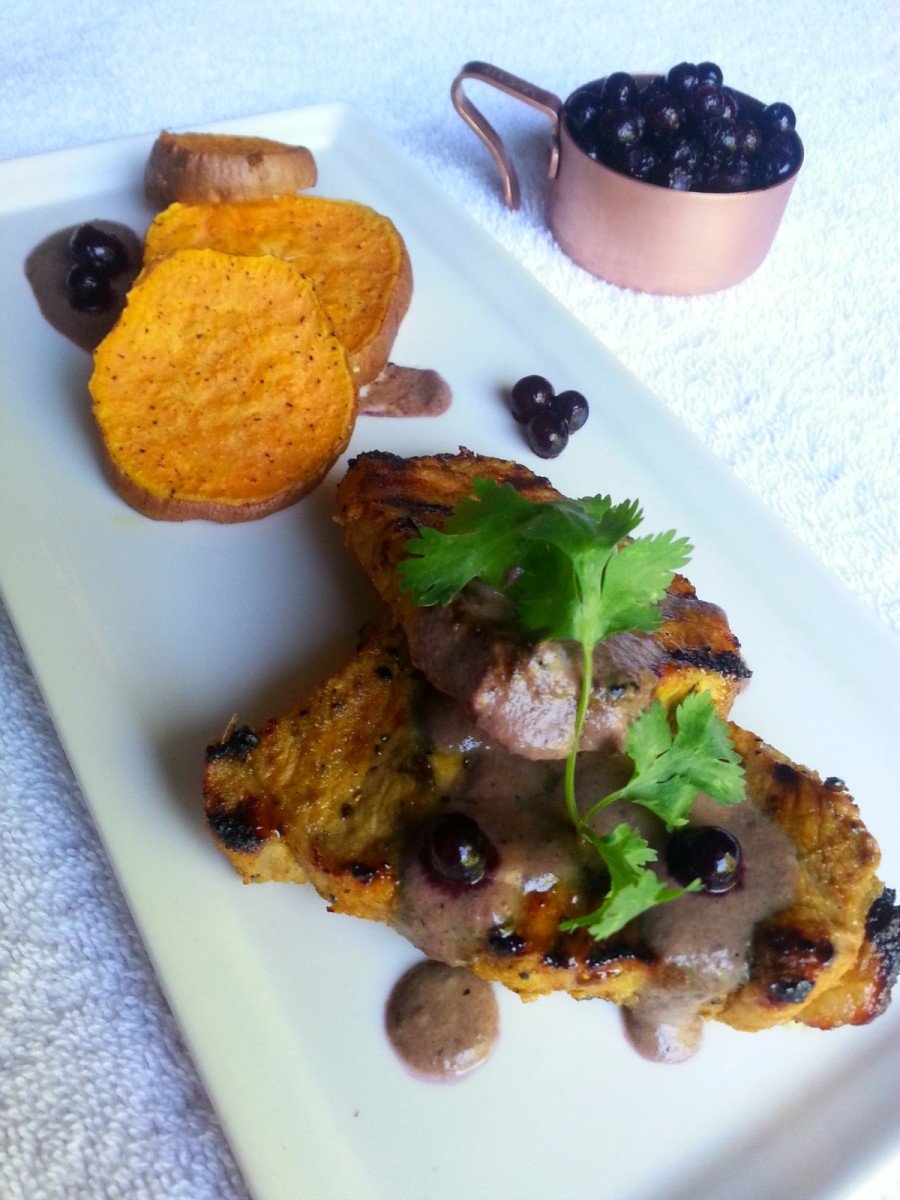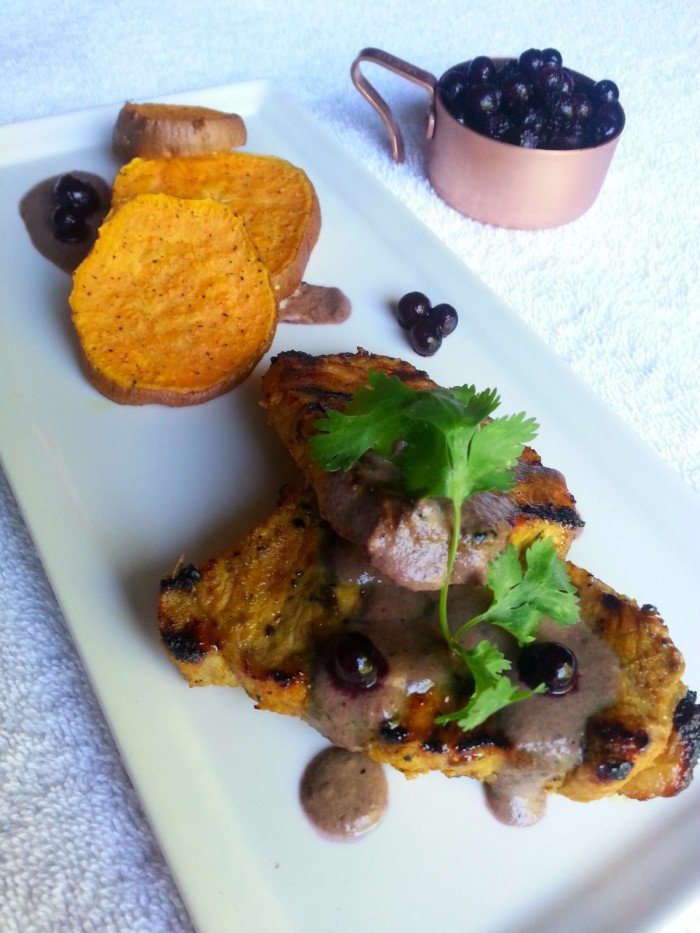 Grilled Pork Loin With Savory Wild Blueberry Cream Sauce
Why wild blueberries?  They are delicious for one, but also much tastier than other varieties.  The richer blueberry flavor makes them perfect for this sauce, and many other dishes.  Not only do Wild Blueberries taste superior to others, they offer all the benefits of any other super fruit.  High in antioxidants means they are great for fighting cancer, improved brain health and heart health.  Since my Beau and I have both had a genetic history that includes high cholesterol and diabetes, it is important for us to eat foods that help fight those problems.  A bonus is the fact that we love seeing our son grabbing them as snacks, and enjoying in smoothies, shakes and a sauce like this meal.
We started with a basic marinade for a pork tenderloin.  You could cook whole, but we prefer to slice into medallions so it cooks quickly on the grill. A bit of balsamic vinegar, orange juice, garlic, onion powder, salt and pepper make a quick and yummy marinade that gives just the pop we need on the pork.
Next I blended up my sauce.  You could cook and then blend, but since my blender isn't good for hot liquids, I wanted to have it pureed ahead of time.  Blueberries, orange juice, balsamic vinegar, whipping cream, rosemary, cilantro and salt went in the blender for a quick pulse until smooth.
Then I poured that into a heavy bottomed saucepan and cooked over medium heat for a few minutes.  By the time the sauce was ready, my Beau had pulled the pork off the grill.  A drizzle of this sauce over the grilled meat is seriously amazing.  Healthy, quick, easy and delicious. What more could we ask for?

Grilled Pork Loin With Savory Wild Blueberry Cream Sauce
Ingredients
1 Small Pork Tenderloin, sliced into medallions
½ Cup Orange Juice, divided
2 Tablespoon Balsamic Vinegar, divided
1 Crushed Garlic Clove
½ Teaspoon Onion Powder
1 Teaspoon Salt
1 Teaspoon Pepper
1 Cup Wild Blueberries
1 Cup Heavy Whipping Cream
1 Teaspoon Dried Rosemary
1 Bunch Cilantro
Instructions
In medium bowl, mix together half of orange juice, half of balsamic vinegar, garlic clove, salt, pepper and onion powder. Place sliced pork tenderloins in marinade and cover well. Put back into refrigerator for up to 1 hour.
In blender, mix together remaining orange juice, balsamic vinegar, blueberries, whipping cream, rosemary and cilantro until smooth.
Grill pork loin medallions.
While pork is cooking, pour sauce into heavy bottom saucepan and cook on medium heat for 5- 7 minutes until flavors are meshed and heated through.
Serve pork with a spoon of sauce over top.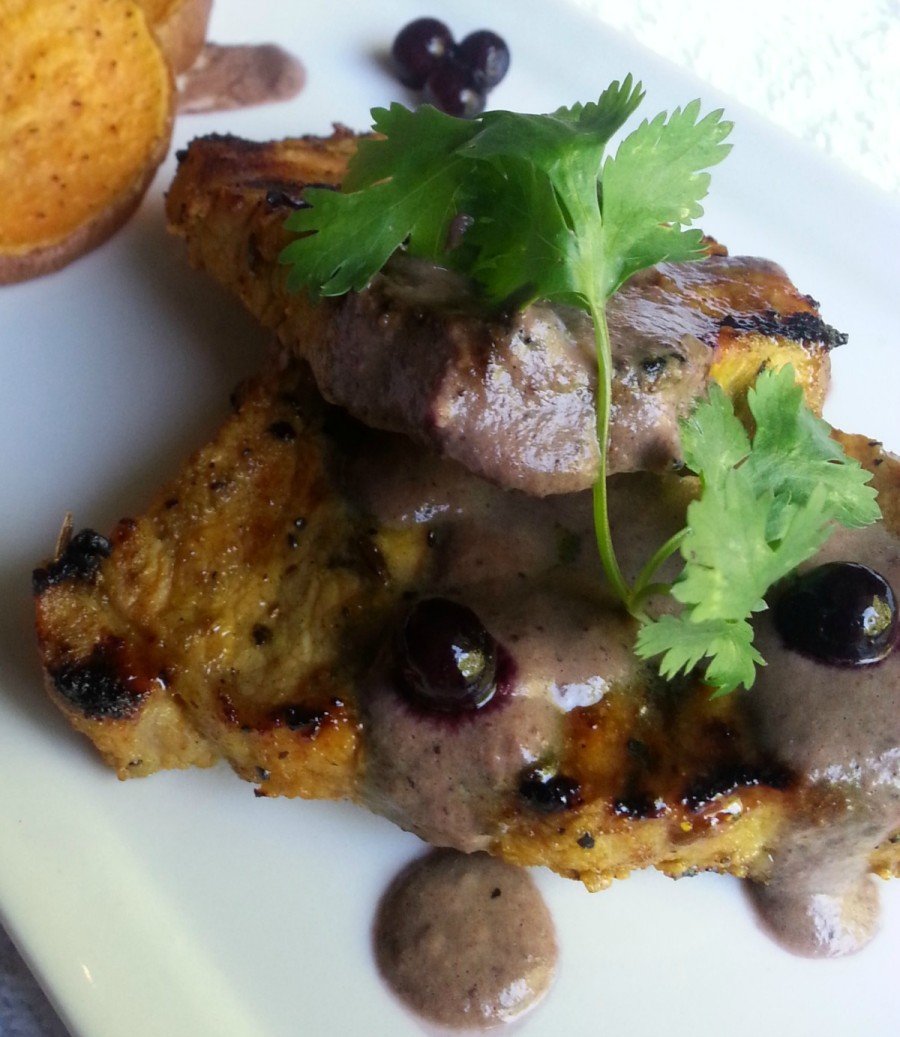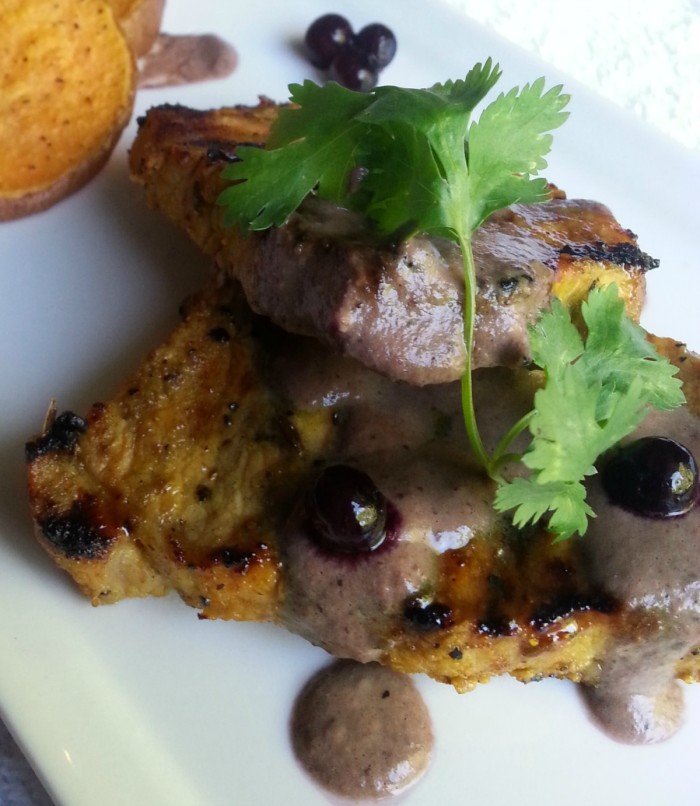 Wild blueberries don't have to be a dessert or breakfast only food.  They easily fit into a savory dish with just the right blend of ingredients.  Not only is this great on these grilled pork loins, it would be great over a steak with a crumble of blue cheese! This Grilled Pork Loin with Savory Blueberry Cream Sauce is going to be on rotation in our house from now on.  Not only is the sauce delicious, it's a great way to add extra healthy antioxidants into our diet.  That is a win-win in our book.
For more information about the health benefits of Wild Blueberries, check out their website and social media pages.  There is a ton of information on Facebook and Twitter about the benefits of eating Wild Blueberries.  Check out their Pinterest and Instagram feeds for even more awesome recipe ideas too!
I received this product or fee from the sponsor of the Moms Meet program, May Media Group LLC, who received it directly from the manufacturer.  As a Moms Meet blogger, I agree to use this product and post my opinion on my blog.  My opinions do not necessarily reflect the opinions of may Media Group LLC or the manufacturer of this product.  For more information about Moms Meet visit them at https://www.greenmomsmeet.com