There is little that trills me like a thrift store find, unless its repurposing said thrift store find.  This Grown Up Gnome Herb Garden was something I knew would come together as soon as I found this bright red tray. The kids love their gnome and fairy gardens and will spend hours rearranging and setting up theirs with craft store purchased and homemade adorable furniture and accessories- so maybe I got a little jealous of all the fun and thought that kids shouldn't have ALL the fun.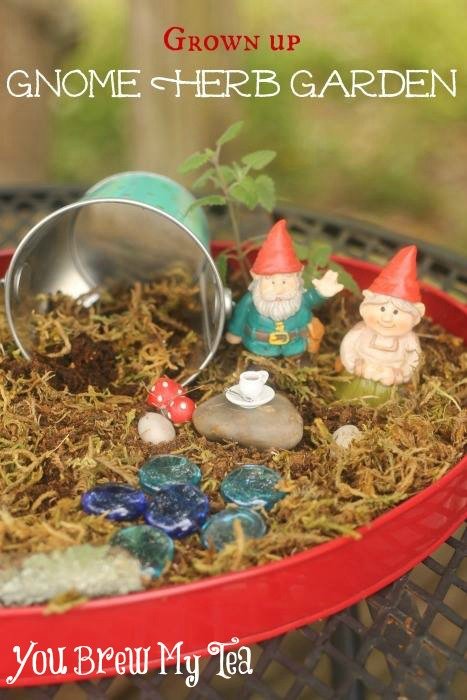 Grown Up Gnome Herb Garden
So my tray was destined to become a Gnome/Fairy garden, and I thought it was also a perfect spot to root herbs.  When my basil, chives, or other herbs start to get to bushy I like to pinch them back, dip them in root growth hormone, and stick them in some good soil. Once they get established I will then transfer the cuttings to the garden, a pot, or pass them on to friends and neighbors.
Supplies Needed:
Wide, shallow container
organic potting soil
moss
gnome, fairies, miniature decorations, natural items - rocks, twigs, pincones, etc.
Herb cuttings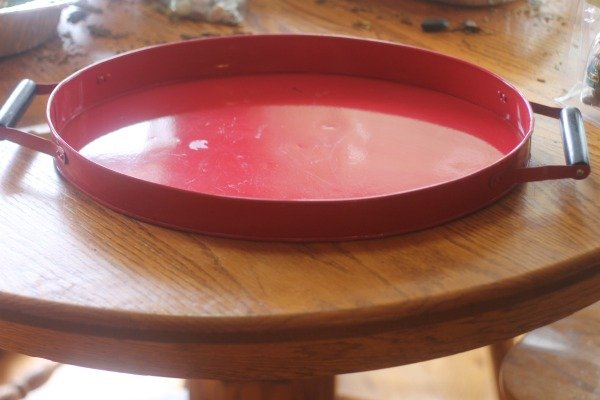 Directions:
Fill container with a good quality organic potting soil ½" from the top.
Place your plant cuttings or small starter plants wherever you would like them, do not overcrowd.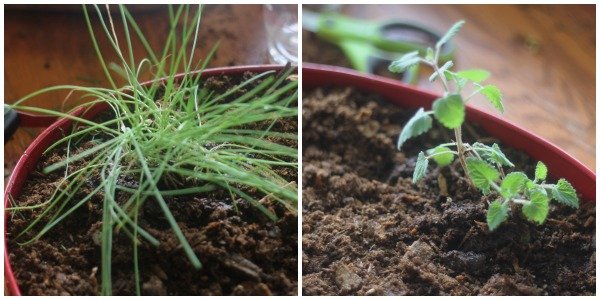 Add a light layer of moss over your soil, this will help keep moisture in.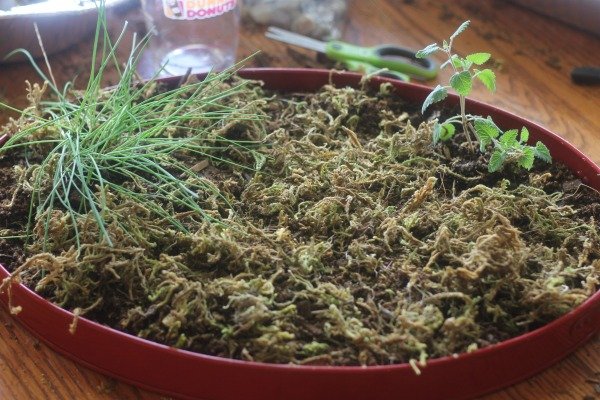 Next add in some natural elements like stones and twigs to make it feel like a real enchanted forest.
Finally add your mini fairies, gnomes, and accessories. I found this precious coffee cup and saucer in the dollhouse section at Hobby Lobby-coffee is anoter of my obsessions so I thought it fitting.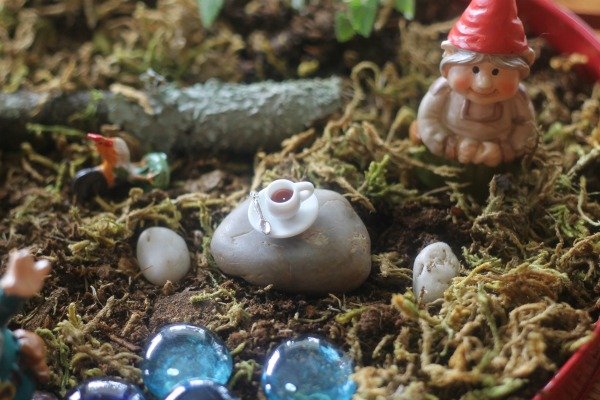 This sweet little gnome garden is great indoors or out,  near a sunny window if in or a covered porch/ filtered sunlight if outdoors.
To care for your plants add water so soil is just a little more than damp but not saturated, try to keep moist at all times for best results.  Once plants begin to develop good roots they are easy to remove from container and translplant, leaving it ready for new cuttings. This can be done wit succulants as well.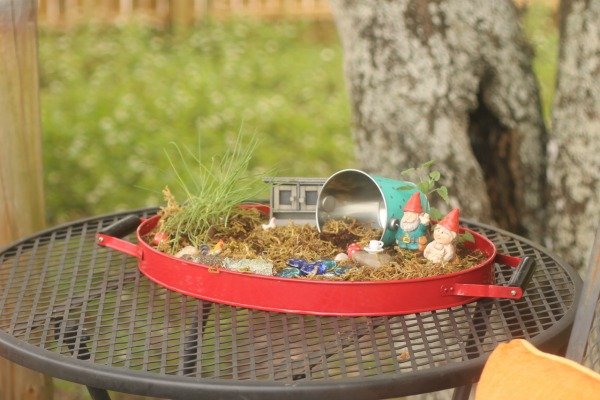 Looking for some gnomes and accessories for your garden? Here are some of my favorites!
Get to creating and make your own version of a childs gnome or fairy garden!
Since we love making fun upcycled items, Gnomes and Fairy Gardens have really become a love of ours.  Check out some of our other cute upcycle garden ideas! 
Upcycled Milk Carton Bird Feeder