My friend Katie from The Homespun Hydrangea made this super cute idea for Homemade Patriotic Crayons For 4th Of July the other day.  She was nice enough to share her tutorial and some great pictures with us to share here with you.  I love her fun crafts and ideas for kids, and of course these are perfect for kids of all ages to make.  This is a great idea for your preschool kids to help you make ahead of time,or even a fun craft idea for your 4th of July party!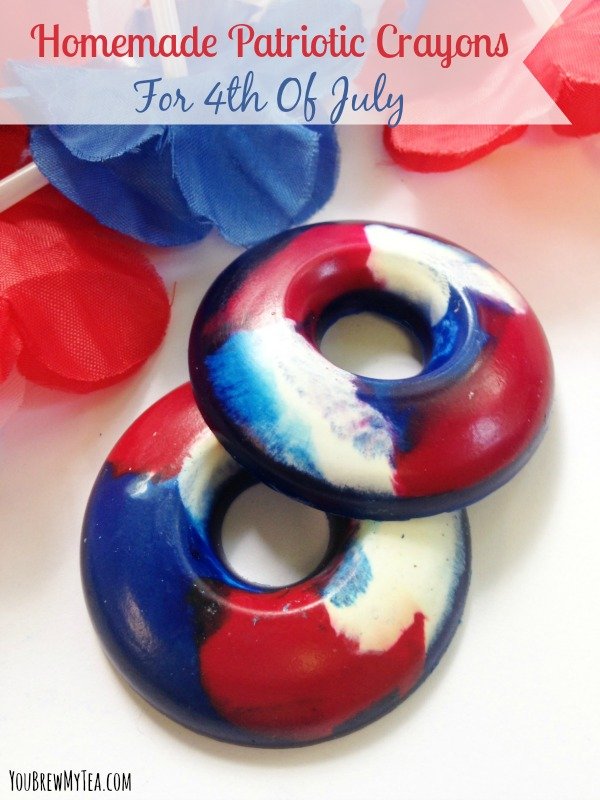 Homemade Patriotic Crayons For 4th Of July
This is something you can probably do already without having to buy any supplies, but even if you have to make a trip to the store, this is a really frugal project for your kids to make.  You can use a muffin tin or a donut tin, but we love grabbing the aluminium muffin tins at the dollar store for these.  Inexpensive and no worries about a mess to clean up.
Supplies Needed: 
Red, white and blue crayons
Muffin Tin or Donut Tin (metal)
Non stick cooking spray
Directions:
1. Begin by peeling away the wrappers on all of the crayons. Make sure all wrapping is removed thoroughly.
2. Break the crayons into smaller segments. You want them to be about ½ an inch in length or less.
3. Preheat the oven to 350 degrees. Spray the muffin or donut tin with non stick cooking spray.
4. Drop the crayon segments into the trays. You want to create one layer with the crayons.
5. Continue adding crayon segments until the tin is about ⅓ full. Place in the oven for 10-12 minutes or until melted into a liquid.
6. Remove the tray and allow to cool. Transfer the tray to the freezer where it will rest for 10 minutes.
7. Remove the tray from the freezer and turn over to remove the crayons from the mold.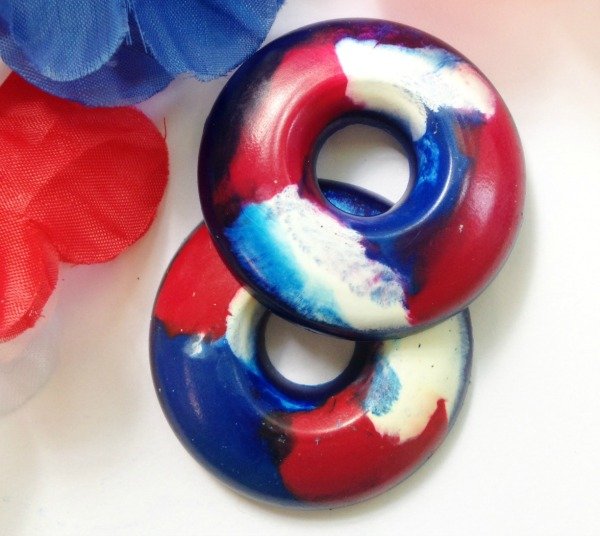 I love simple crafts like this one.  These homemade patriotic crayons are a great idea for the 4th of July.  Get your kids to help you make them, then line the tables at your party or barbecue with butcher paper.  Place these crayons on the tables and encourage people to draw pictures, color or leave notes behind.  It's a fun way to get everyone involved and the kids to feel like they are a part of the celebration.
Check out some of our other favorite easy crafts for kids to help with! 
Upcycled Milk Carton Bird Feeder
Upcycled T-Shirt Super Hero Cape