One of my biggest obstacles in life has always been exercise.  From childhood on I have always hated anything that made me feel dirty, sweaty or, of course, if it was painful.  That meant I didn't enjoy sports much, never really wanted to exercise, and often struggled with those last few pounds to reach a goal because I couldn't motivate myself to move.  Here is a simple list of tips on How To Exercise For Beginners that will hopefully help others who find themselves unable to do traditional exercise easily to see it can be done and without hurting yourself in the process.
Remember that overall good health does include movement and exercise on a regular basis.  Being overweight does truly prevent you from comfortably or safely doing some traditional exercise but it does not limit you from doing exercise at all.  Before beginning any exercise program, always consult with your physician to make sure you are working within safe limits for your body and health.  Stay well hydrated, start slowly and build up resistance until you are able to tackle more exercise without pain and without frustration.
HOW TO EXERCISE FOR BEGINNERS
START WITH BASIC STRETCHING: Before your body can safely exercise it is important to loosen up muscles by doing basic stretching.  Depending on what your current weight and physical condition is, you may be able to do all of the stretches listed or only a few.  Build your way up and make sure you are being safe.  My favorite list is this Basic Starter Stretches list here.  It includes the list, number of repetitions and great pictures and detailed instructions on how-to.
MOVE YOUR ARMS:  If your physical condition allows (no shoulder/arm injuries, etc.) simple arm movements while you sit at your desk or walk around your home are a great simple way to increase movement.  Yes, even small things like swinging your arms, raising them up and down repetitively, etc., are great ways to burn calories and start building endurance and strength in those muscles.
WALK AROUND YOUR HOUSE FOR 15 MINUTES PER DAY:  Put your shoes on and simple walk a circle around your home at a steady pace for 15 minutes each day.  If weather permits I recommend going outside and enjoying the sunshine on your skin.  Build up to 2x 15 minute sessions daily or break it down into 3x 10 minute segments.  The goal is to get moving.
GO SWIMMING:  If your local YMCA, Recreation Club, Community Pool or other inexpensive or free pool location is open, take advantage of this great low impact healthy way to get moving.  This is great for those who are much heavier and find the extra weight they carry burdensome to their joints.  It is also great for those who want a lot of benefits without a lot of physical strain.  The buoyancy of the water relieves a lot of stress to your body while providing a great and easy way for you to move.  Simply walking back and forth in the water, basic breast stroke or squats and lunges in the water can make a lot of difference in your physical strength.
USE YOUR OWN BODY WEIGHT FOR RESISTANCE:  No need to purchase expensive weights right away.  Simply use your own body weight for resistance and to increase strength.  Arm movements, simple squats and lunges as well as basic increase in daily movements like walking, lifting and cleaning are a great beginning.
SET TIMERS:  Set your phone alarm or household timer for every 2 hours during the day.  This will remind you to stop and do a few simple movements to increase your activity level.  Even if all you do is get up from your desk or couch and take a lap around your house it is an increase in movement that your body needs.
INCREASE EXERCISE WEEKLY:  If you start this week with only 1x 10 minute walking session per day, increase that to 2 sessions next week, 3 the next and so on.  Gradually increasing your movement is an easy way to acclimate your body to the new movements and build long term endurance.
ASK FOR ACCOUNTABILITY:  Whether it is a friend, family member or a stranger you met online through a site like Spark People or other weight loss support group, accountability is one of the best ways to maintain your goal of increasing movement in your life.  Reach out for help and you will find it.
No matter how you tackle the new challenge of exercising, these tips on how to exercise for beginners is a great place to start.  Follow your doctor's guidelines, be safe and have fun!  Do not use your limited abilities, illnesses, weight or lack of knowledge as an excuse to not make at least small changes in your health.  Even if it is a simple 5 minute stretching session you will experience benefits and find your body able to do more and more each day.
Be sure to check out some of our other great exercise posts!
How To Strength Train Without Gaining Bulk
Aerobic Exercise For Chronic Pain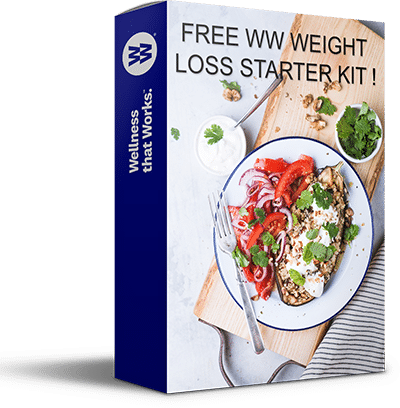 FREE WW WEIGHT LOSS STARTER KIT
+ exclusive tips, recipes & more to lose weight, increase confidence, and live a healthier and happier life !