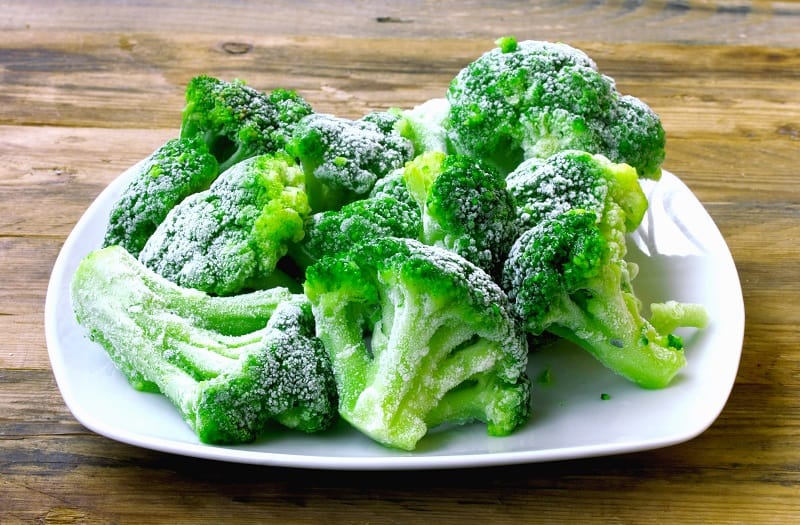 Do you find a great deal on fresh broccoli in season at the farmers market and you can't resist buying a whole lot? Or maybe you are a gardening enthusiast and broccoli is your current crop. 
In any case, if you find yourself with large quantities of fresh broccoli on hand and don't want it to go to waste, you can always freeze it. Broccoli is one of those durable vegetables that can last up to 2 weeks fresh in your refrigerator, or even longer if you freeze it. 
But it must be done right, in order to maintain its vibrant green color and wonderful nutritive properties. A cup of cooked broccoli has as much vitamin C as an orange, as well as being a source of beta carotene. 
It contains vitamins  B1, B2, B3, B6, iron, magnesium, potassium, and zinc, and fiber. It is both high in protein and low in calories. It is truly a wonder vegetable.
Freezing vegetables is a time honored tradition. Those who endeavor to eat locally raised produce will need to lean on frozen fresh produce for the lean winter months. And since broccoli does not can well (too mushy and pale), freezing is the healthiest option. 
It will give you the many benefits of fresh broccoli during the winter months when good nutrition is crucial for your health and well being.
First, broccoli must be blanched. Do not try to freeze it raw, or you will end up with a withered mess. To keep the bright green color and full flavor of broccoli, blanch it in boiling water for three minutes. 
Read Related Article: How to Shred Chicken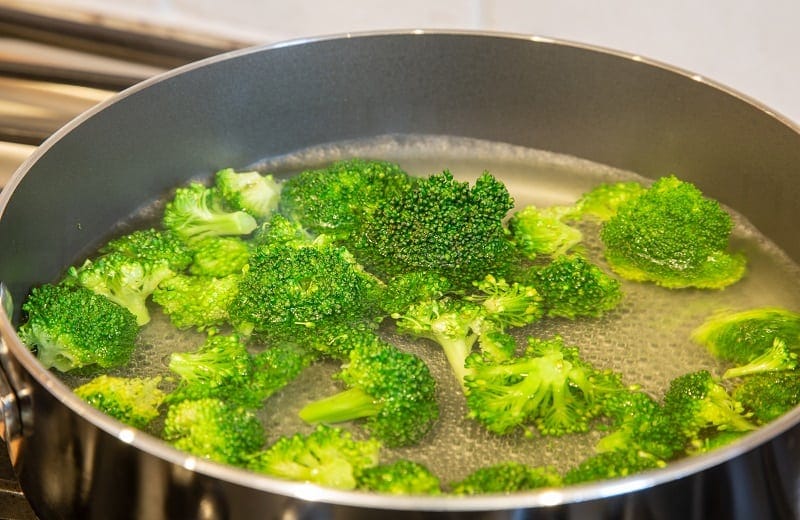 Blanching is easy. It basically means parboil, or "part" boiling. Immerse the broccoli in boiling water for just a few minutes. By blanching, you preserve the color and vitamins perfectly, while transforming the broccoli to a freezable state. 
Another option for freeze prep is steaming. You can steam broccoli for five minutes, drain the water, and it will freeze beautifully as well. 
Just follow these instructions, and you will have an easy, healthy component to a weekday meal waiting for you to harvest it; from the freezer. 
Blanching has several advantages. It is basically a quick cooking process that is stopped at just the moment when broccoli is at its peak vibrant color. Blanching brings out the green even brighter than when broccoli is raw. 
It will taste fresher, and look better when you are ready to use it, and the short blanching process preserves vitamins and minerals to a maximum extent. 
Prepare the broccoli by cutting off the tough stalks, with their hard outer layer. If you wish to save the stems, either peel this layer off, or cut it away with a paring knife. 
Make sure to cut away the bottoms as well. Broccoli should also be cleaned. Its intricate, tree-like structures are hiding places for bug infestation. Soak your broccoli in salt water which will draw the bugs out of their hiding places and cause them to float to the top of the water. 
Drain off the water before removing the broccoli, or you might be using the broccoli to inadvertently pick up the bugs that may be floating on the water's surface. It's worthwhile to peek in between the florets, as sometimes a fat green worm might be clinging within them. 
Rinse the soaked broccoli in cold water, and cut into even-sized pieces so they cook uniformly. If you can fill a large container with ice water, you can place the florets in the water after blanching to speed the cooling process. 
As we mentioned above, you can use one of two methods for flash cooking your broccoli: blanching or steaming.
Blanching
Bring a large pot of water to a rolling boil. Boiling the florets one pound at a time for 3 minutes. Time from the moment the water is boiling. 
The water may cool down for a moment when your first add the florets to the pot. So time your 3 minutes from when the water returns to a boil. 
Steaming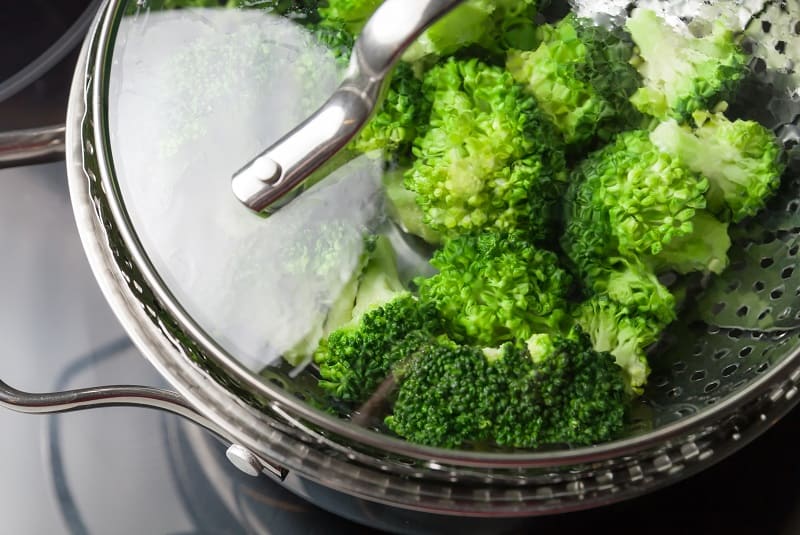 For steaming you will need both a pot, and a basket, as the broccoli florets (and stems) will cook by steam, yet not be actually immersed in water. 
Again, steam a pound at a time, adding your broccoli to a wire basket or steaming insert that fits your pan. Cover and steam for 5 minutes. 
Once you have either blanched or steamed the broccoli, immerse it in an ice bath to cool it down. Remove it and drain away all the water. 
Now you can pack and freeze the florets. You can either use plastic freezer safe boxes, leaving a little room at the top or just throw into zip lock bags. Tip: Don't overstuff, as the shape of the broccoli will suffer. 
The very best way to freeze broccoli is to spread it out on a single layer on a tray, freeze, and then transfer to another container. This keeps the florets separate, so that you can use just what you need for cooking each time, instead of being stuck with a gigantic ice block of broccoli. 
Cooking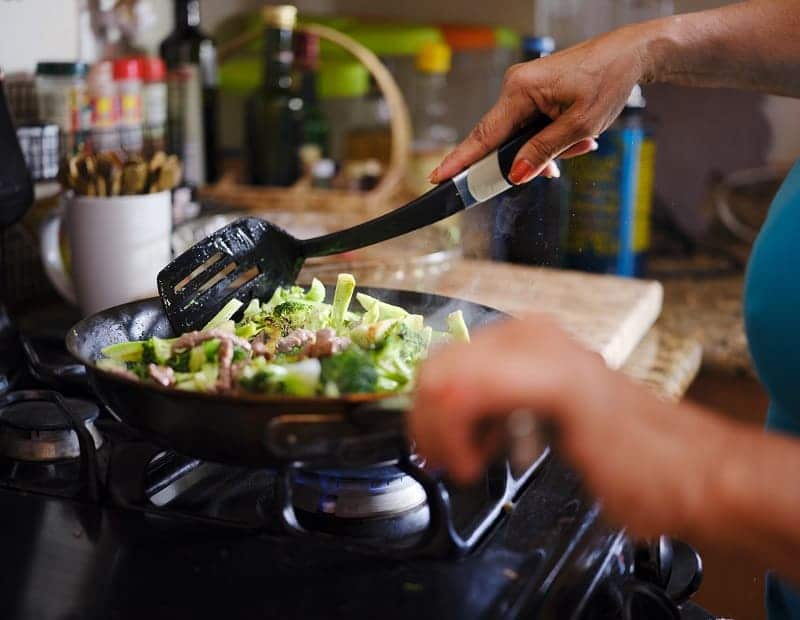 When you retrieve your broccoli from the freezer to cook it, it couldn't be easier. Blanching has already partially cooked it, so it can be boiled briefly, sauteed in a little oil, or add to a stir fry. 
Overcooking really damages broccoli. The color, taste and texture will all suffer. Cook until just tender, and no more. 
There is no need to defrost the broccoli before cooking. Date your containers of frozen broccoli to ensure freshness. But rest assured, properly frozen broccoli will stay good to go for up to a year.
A Word About Stems
Some would argue that the stems of broccoli, when properly frozen and prepared, are the most delicious part of the vegetable. Just peel off the heavy outer layer, and chop into ½ inch pieces.
Read Other Related Article: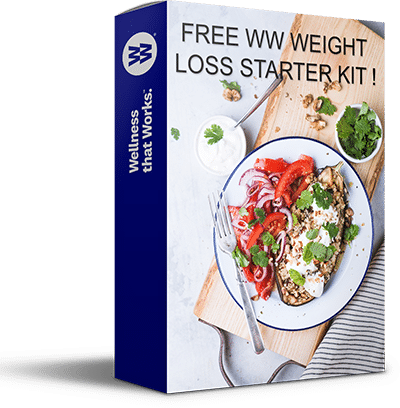 FREE WW WEIGHT LOSS STARTER KIT
+ exclusive tips, recipes & more to lose weight, increase confidence, and live a healthier and happier life !