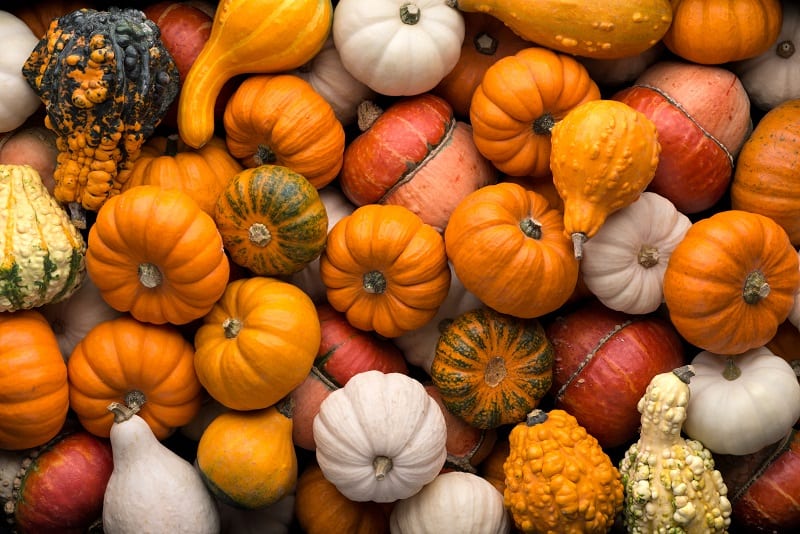 So you see a great deal on fresh squash in season at the farmers market and can't resist buying a whole lot. Or maybe you are a gardening enthusiast and squash is your current crop. 
In any case, if you find yourself with large quantities of fresh squash on hand and don't want it to go to waste, you can always freeze it. Squash can be frozen fresh, but you will pay the price in terms of the quality of color and freshness of the vegetables. 
A good solution is blanching or steaming, and then freezing, to help retain the vibrant orange and yellow color, and healthful vitamin and fiber content of squash after freezing. 
But it must be done right, in order to maintain its vibrant, bright color and wonderful nutritive properties. There are a variety of types of squash, from summer squash and zucchini, with their edible skin and yellow or green color, butternut squash and pumpkin, which have an inedible skin that must be removed, and a wonderful bright orange color.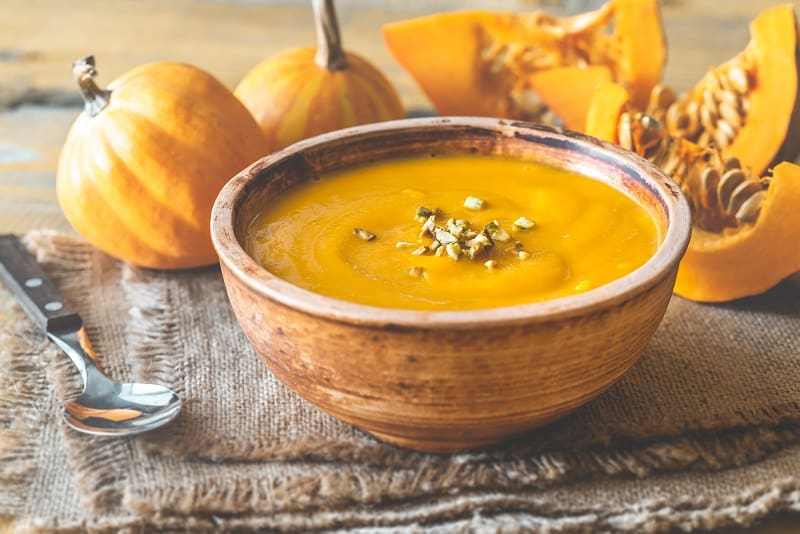 Pumpkins are not just for Halloween and pie. Cut up fresh pumpkin is a delicious and healthful addition to soups, chicken and vegetables. 
They become tender and delicious when boiled or baked. They melt in your mouth in soups, retaining a lovely texture with a low-calorie count, so you can eat as much as you want. 
Baked butternut squash with butter and brown sugar is one of the most delicious vegetable meals imaginable. 
Summer squash is high in vitamins A, B6, and C, folate, magnesium, fiber, riboflavin, phosphorus, and potassium. Butternut squash is also a good source of vitamin E, thiamin, niacin, vitamin B-6, folate, pantothenic acid, and manganese. 
A cup of cubed butternut squash also provides 582 mg of potassium, more than the amount available in a banana. One cup of cooked acorn provides more potassium than two bananas. 
But the absolutely most healthy squash is the acorn squash, with higher amounts of folate, calcium, magnesium, and potassium than butternut, hubbard, or spaghetti squash. 
Freezing vegetables is a time honored tradition. Those who endeavor to eat locally raised produce will need to lean on frozen fresh produce for the lean winter months.
For nutritional value, freezing is the healthiest option. It will give you the many benefits of fresh squash during the winter months when that good nutrition is crucial for your health and well being.
First, squash should be blanched. To keep the bright color and full flavor of all types of squash. Blanching is easy. It basically means parboil, or "part" boiling; immersing it in boiling water for just a few minutes.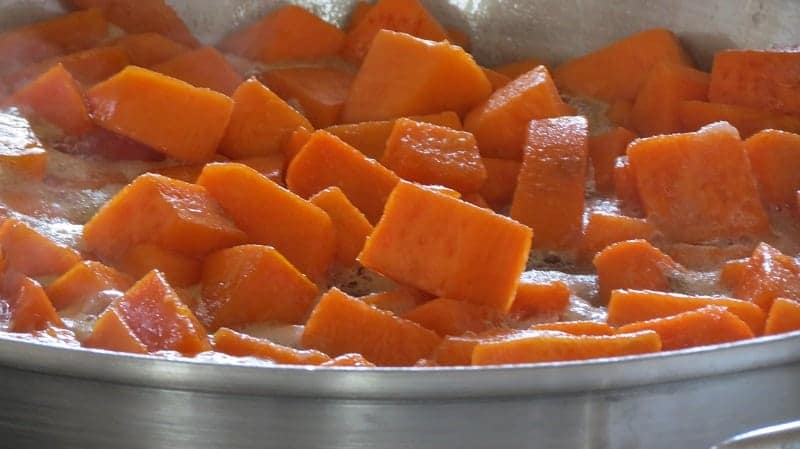 By blanching, you preserve the color and vitamins perfectly, while transforming the squash to a freezable state. 
Another option for freeze prep is steaming. You can steam cut up chunks of squash for five minutes, drain the water, and it will freeze beautifully as well. 
Just follow these instructions, and you will have an easy, healthy component to a weekday meal waiting for you in the freezer. 
Blanching has several advantages. It is basically a quick cooking process that is stopped at just the moment when the vegetable is at its peak vibrant color. 
Blanching brings out the orange even brighter than when the squash is raw. It will taste fresher, and look better when you are ready to use it, and the short blanching process preserves vitamins and minerals to a maximum extent. 
Prepare the squash by cutting off the tough outer layer skin. Either peel this layer off, or cut it away with a paring knife. Cut into uniform pieces so they cook evenly.
If you can fill a large container with ice water, you can place the chunks of squash in the water after blanching to speed the cooling process. This will help stop the squash from continuing to steam in its own heat and prevent overcooking.
As we mentioned above, you can use one of two methods for flash cooking your squash: blanching or steaming.
Blanching
Bring a large pot of water to a rolling boil. Boil the chunks of squash one pound at a time for 3 minutes. Time cooking from the moment the water is boiling. 
The water may cool down for a moment when your first add the squash to the pot. So time your 3 minutes from when the water returns to a boil. 
Steaming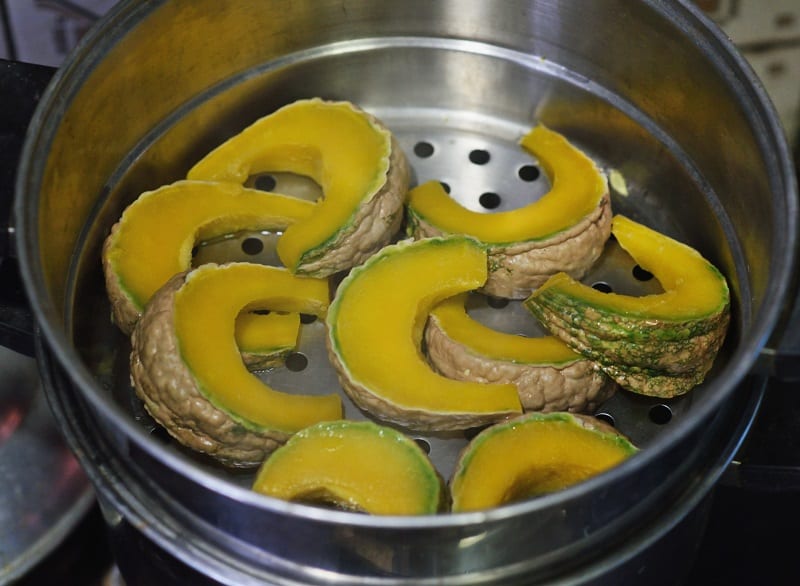 For steaming you will need both a pot, and a basket, as the squash will cook by steam, yet not be actually immersed in water. 
Again, steam a pound at a time, adding your squash to a wire basket or steaming insert that fits your pan. Cover and steam for 5 minutes. 
Once you have either blanched or steamed the squash, immerse it in the ice bath to cool it down. Remove it and drain away all the water. 
Now you can pack and freeze the pieces. You can either use plastic freezer safe boxes, leaving a little room at the top or just throw into zip lock bags. Don't overstuff, as the shape of the chunks will suffer. 
The very best way to freeze veggies is to spread the pieces on a single layer on a tray, freeze, and then transfer to another container. This keeps the chunks separate, so that you can use just what you need for cooking each time, instead of being stuck with a gigantic ice block of vegetables that is all or nothing. 
Cooking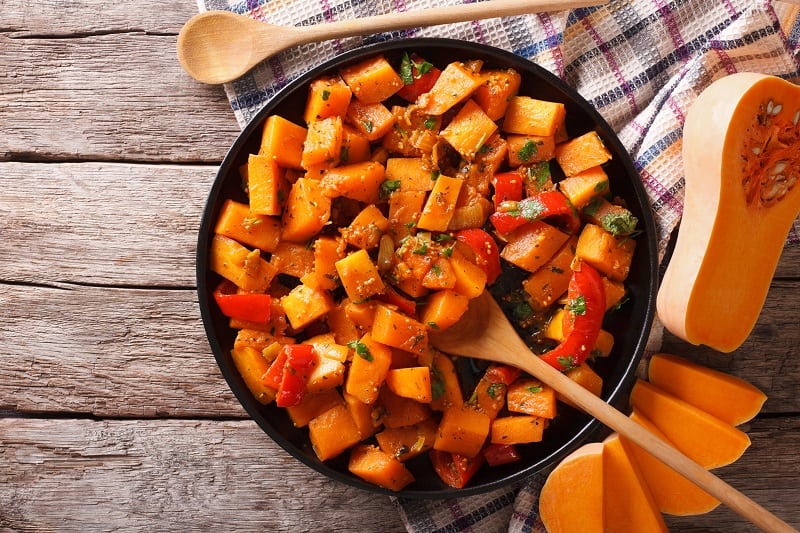 When you retrieve your squash from the freezer to cook it, it couldn't be easier. Blanching has already partially cooked it, so it can be boiled briefly, sauteed in a little oil, or add to a stir fry. 
Cook until just tender, and no more. There is no need to defrost the squash before cooking. Date your containers of frozen vegetables to ensure freshness.