Homeschooling is one of those adventures that can be expensive! You think it's going to be inexpensive, but then everything starts adding up. That's why I am happy to share How to Homeschool Multiple Grade Levels on a Budget.  If you have multiple grade levels to homeschool, it can be hard to do it on a budget. You aren't the first person to homeschool multiple grade levels though, it's all about learning from those who have gone before you!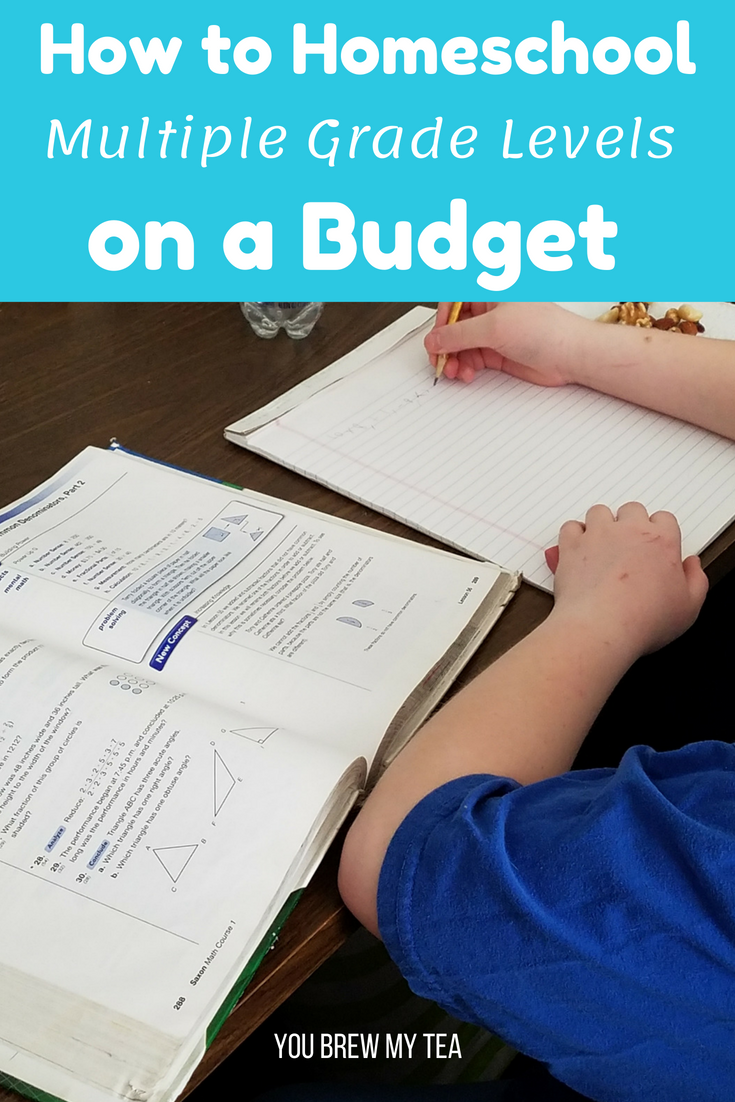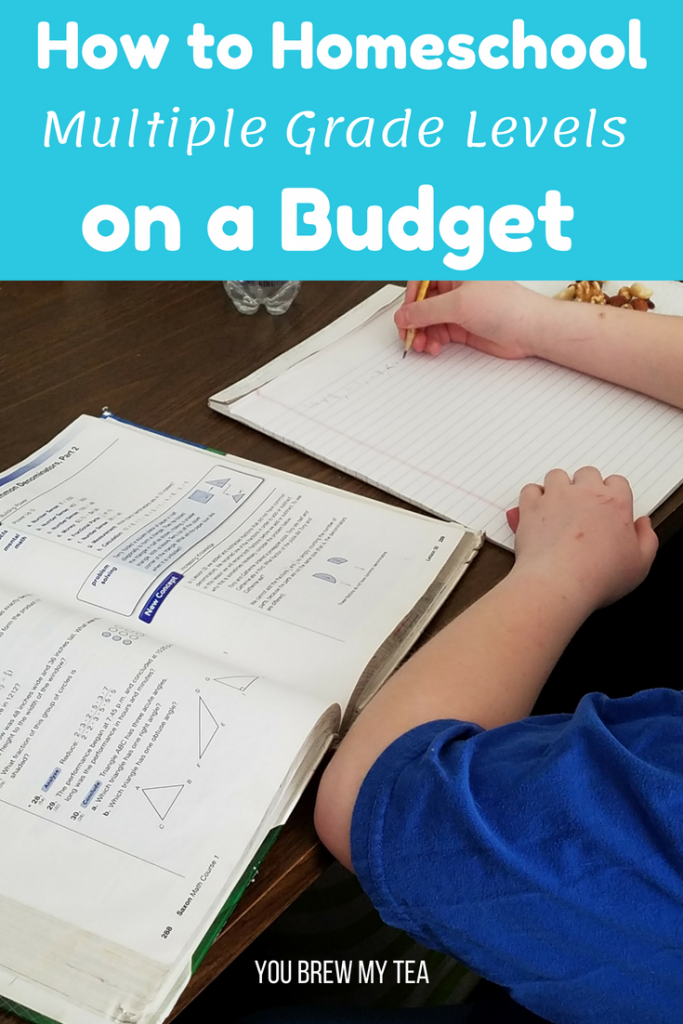 How to Homeschool Multiple Grade Levels on a Budget
I am a BookShark Homeschool Curriculum partner this year.  While I was not paid for this post, I did receive free curriculum in exchange for sharing my opinion. 
Homeschooling on a budget is a must for most of us.  When you have children of all ages, it can get expensive fast.  That's why learning how to homeschool multiple grade levels on a budget is a must and is truly easier than you think!
Choose a curriculum that covers multiple ages
This is one of the biggest reasons that BookShark is a highly recommended curriculum.  Being able to use one level over a few ages and grades really has a ton of benefits.  Katie started with Level 6 for her son who was in 5th grade early this year.  While they didn't finish the full curriculum by the end of their school year, they can go back and use this level for him to continue into what would traditionally be 6th grade.
How is this possible?  Because this curriculum is all about teaching naturally on the level your child is currently learning.  With the History and Language Arts working together so well, all you have to do is chose additional things like a spelling program, creative writing program, or your own additional homemade worksheets.  So, for my 5th grader and my 3rd grader, I could easily use Level 4 or even Level 5.  I would work through the same books and timeline with them together, but then add in closer to grade level spelling drills, handwriting practice or even creative writing prompts.
BookShark gives you a chance to cover multiple ages of children all for one price.  You can do read aloud books together, and let children take turns with the books, or even pick up extra copies if desired.
Reuse curriculum from an older child
If you're going to continue homeschooling, don't get rid of your previously used curriculum. You can easily rescue that curriculum for your next child. Reusing curriculum is a very budget friendly way to homeschool multiple grade levels on a budget. Here are some tips for reusing curriculum.
Make copies of worksheets instead of having the student write in the workbook.

Use a separate sheet of papers for the answers.

Remind your child to take extra good care of the curriculum.

Take precautions to protect the outside of the workbooks and books!
This is a perfect way to use curriculum that you can purchase and use multiple years without spending so much up front.  With BookShark, you naturally have an option to reuse for younger children or use together if close in educational level.
Visit local science museums
One of our favorite things is to visit local science museums.  There are tons of great learning experiences that appeal to all ages in one location.  We've often spent hours learning about waterworks, plant life, or even engineering.  The best thing about science museums is that they usually have the same concepts repeated in multiple areas on multiple levels to ensure everyone can understand and learn no matter their age.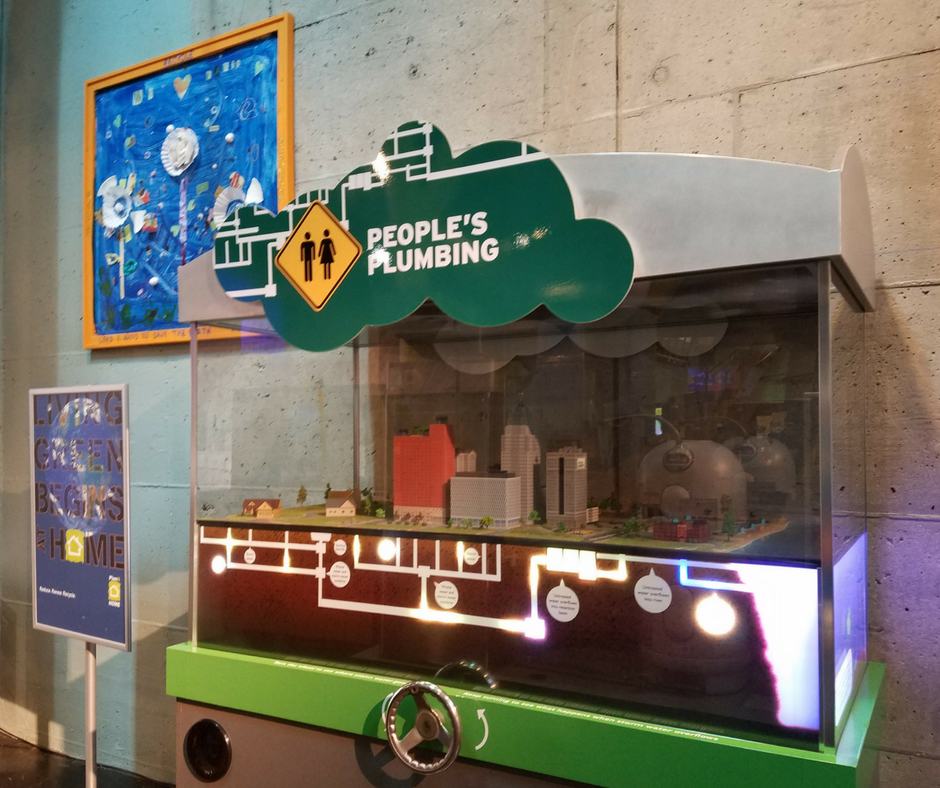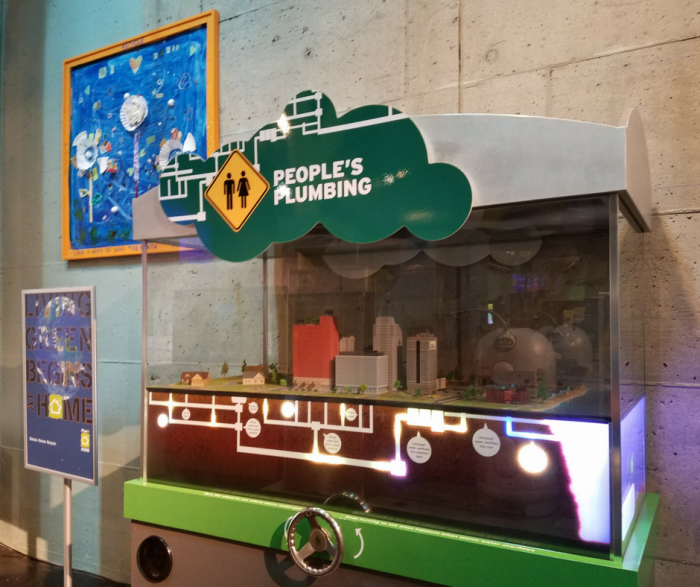 We have used our BookShark Science curriculum to learn about many things, and even done the experiments that come with the curriculum, but sometimes we want to see things on a larger scale.  Heading to the local museum helps us to do more hands on learning while still having fun with science.
Spend time teaching your children the same concepts
Not every concept has to be taught differently. For example, you could spend time teaching all your children about fractions. They don't have to be a certain grade level to necessarily learn a new concept. You can do unit studies to help save money, but also your sanity.  This is one of the best methods of education, as it also allows you to dive into deeper concepts with older students while reviewing basics. 
It is also another great reason that using BookShark works so well.  You are teaching a lot of the main concepts together but can also break things down to grade level if needed.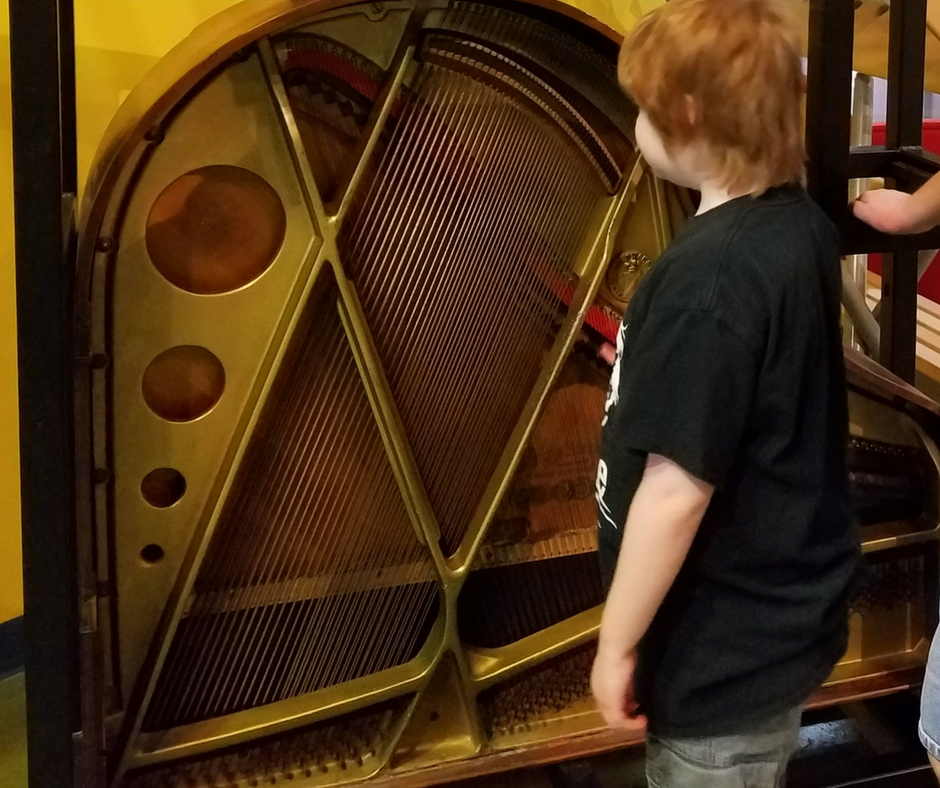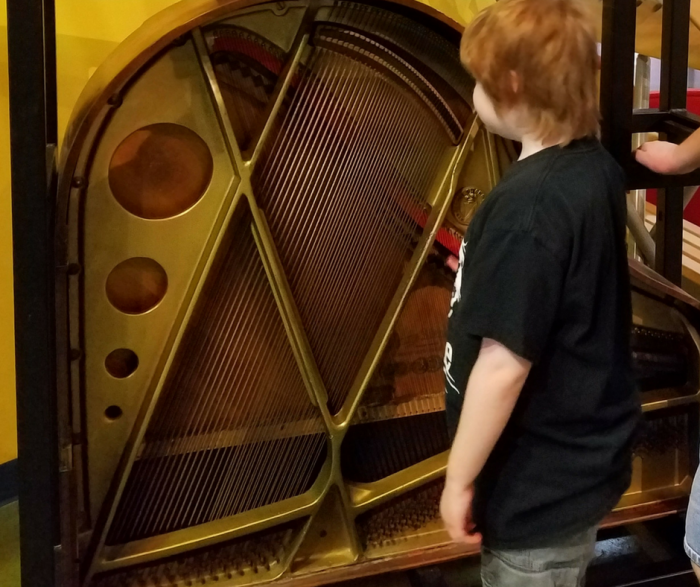 Head to the library - for real
If you have not used the library as a resource for homeschooling multiple grade levels on a budget, then you're missing out. You can even look online to see what is available before you head to the library. There are apps in which you can use your library card to read books. You can put books on hold and you can go exploring to find books you never thought you'd use. Utilize the library as much as you can, especially if you're using a homemade curriculum with your kids.
BookShark really fosters a love of reading in your children.  The library is a great resource that can help you find even more books that fit the topic of study, or those extra copies needed for you to read together.
Go on field trips to regional locations
Weekly field trips are a huge part of our homeschool routine.  We can easily teach while exploring a museum, a local arboretum, the capital building, or even city hall.  In fact, one friend took her children recently to a local grocery store and had the kids learn a little about each department and how they work.  It is simple to adapt to individual needs of your children but still be family-friendly in the process.
BookShark gives you a 4-day school week that makes field trips fit easily into your routine.  You aren't tied down to a Monday-Friday school schedule, and that makes it a ton easier to manage fun field trips and downtime.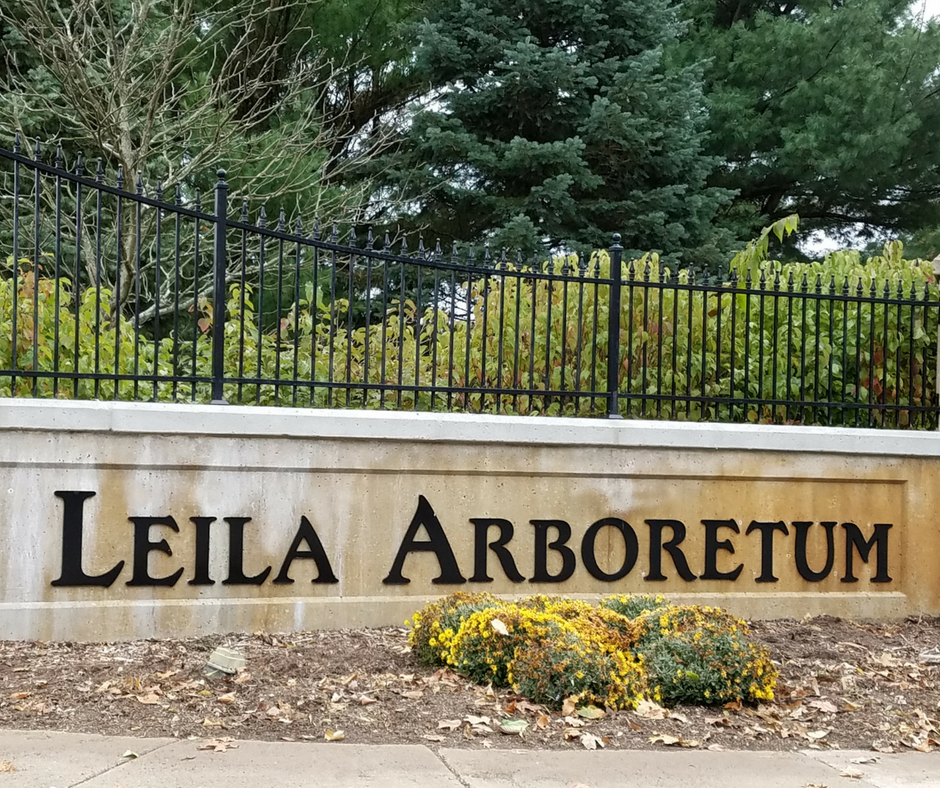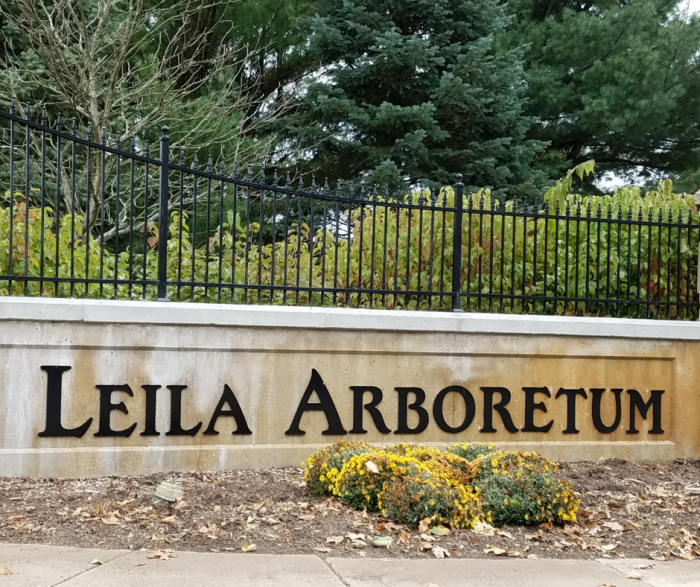 So, the next time you're wondering if you can homeschool multiple grade levels on a budget, know that you can. Do you have any tips to pass on to other homeschool parents?
More Homeschool Tips: